Four NGOs come together to get children back into education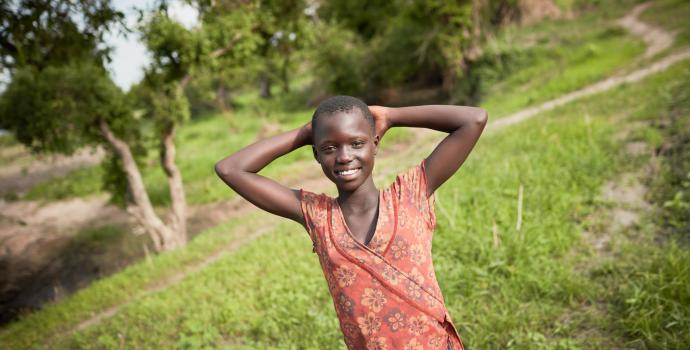 A new Education Consortium consisting of Finn Church Aid, Norwegian Refugee Council, War Child Holland and led by Save the Children, is providing a future for refugee and host community children.
12-year-old Sofia* (above) fled the fighting in South Sudan and arrived in Uganda without even her shoes.
Her father was killed in front of her eyes: "I came here because of war. People were slaughtered as we were fleeing."
Sofia loves the feeling of safety here, but she still dreams of becoming a doctor, going home and contributing to rebuilding her country: "When I grow up I want to become a doctor, so that I'm able to support myself and my family.
"People should forgive each other and leave the fighting. I would love to go back."
The Ugandan government and local communities have shown tremendous hospitality in hosting refugees like Sofia, who have fled horrific violence.
Children like this can make a vital contribution to Ugandan society and to building a prosperous and peaceful South Sudan, but they need to be given the chance to fulfil their potential. Education is vital to give refugee children the chance of a better future.
Yet 60% of refugee children in Uganda are out of school, mostly because they can't afford to go or because the schools are too few and far away. Many have had to drop out of education due to the war and displacement and now find it hard to re-join at an appropriate age level. Classrooms are severely overcrowded and there are not enough teachers. Facilities for Ugandan children in nearby host communities are also overwhelmed.
The scale of the challenge is so great that we need to work together to overcome it. That's why Finn Church Aid, Norwegian Refugee Council, Save the Children and War Child Holland have joined forces to form a new Education Consortium. Its first project, INCLUDE, is an innovative and inclusive accelerated education programme for refugee and host community children.
By working closely together and combining technical expertise, the Education Consortium will be able to have a bigger impact for out of school children and provide greater value for money.
Supported by European Union humanitarian funds, it will start work in West Nile by helping to get more than 10,000 out of school children aged 10-18 back into education, so they can develop their potential.
An innovative approach
Sofia went to school every day in South Sudan, but had to drop out when war started. "I love school because I want to continue reading so that when I grow up I can come and support my mother."
The INCLUDE project will run an Accelerated Education Programme (AEP) to provide children who have missed out on years of school with basic education and help them transition back into the formal education system, where appropriate. The AEP uses a specially designed, condensed version of the primary curriculum to speed up learning, covering two to three grades of primary education in one year, and uses teaching approaches that match the students' level of cognitive maturity.
As well as constructing new classrooms, and training and supporting teachers, the project will also:
Use innovative "Can't wait to learn" technology for education, by introducing specially designed interactive games that will help teach maths and reading via tablets

Provide "TeamUp" psychosocial support to reduce the stress refugee children experience as a result of war, their difficult journeys to safety and life in a new country

Improve the quality of education through ILET (Improving Learning and Education Together), a new package using assessments for improving learning environments in humanitarian contexts through community participation