"My name is Stella and together we can end child marriage"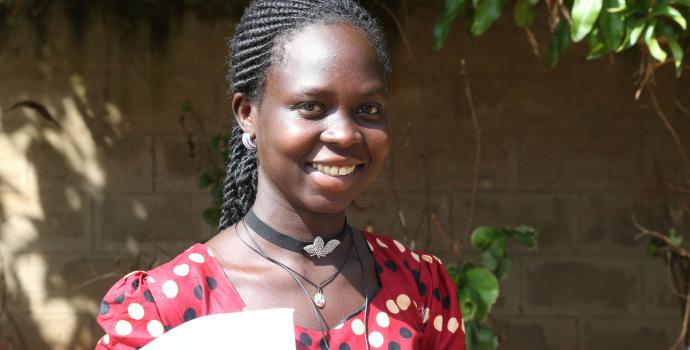 Save the Children supports youth groups to advocate for change in issues that affect them. The groups in northern Uganda have launched a new campaign to end child marriage in the region. Stellah Sandra Adyero, 19, was nominated by the groups to deliver the following speech to the Honourable Florence Nakiwala Kiyingi, Minister of State for Youth and Children's Affairs, at a youth conference held in Gulu.
Good morning.
My name is Stellah Sandra Adyero, I come from Te-ladwong village in Patiko sub-county. I am a youth advocate and I stand here today to represent the female youth and children from Amuru, Gulu and Nwoya districts.
Hon. Minister, today I present the issue that affects the girl child the most in Acholi sub-region, which is child marriage. Child marriage is the greatest form of child abuse affecting us in this region – it has violated and limited our right to education, affected our health and limited our access to opportunities. The girl child is the most sacrificed and burdened child in a household today. Early marriage is destroying our childhood and future.
Although the legal age for boys and girls to get married in Uganda is 18, the reality is very different. Nationally, at least one in 10 girls are married by the age of 15, while 40 percent are already married by the time they turn 18. One in four teenage girls over 15 have already given birth or are pregnant.
In Northern Uganda, the statistics are even more shocking, with nearly half of girls married before they turn 18. In Nwoya district, officials report a staggering 68 percent of girls are married before they are adults. Hon. Minister, child marriage has exposed us to violence throughout our lives and trapped us in a vicious cycle of poverty and gender inequality.
Recently, the youth in Nwoya district conducted a survey on deliveries by child mothers in the health centres. In Nwoya district, an average of 29 girls gave birth every month in Anaka Hospital, while in Pawel Angany Health Centre II in Gulu district there are 26. This has endangered the health of both the mother and baby, not to mention that over 50% of the young girls are prone to suffering from fistula. Child marriage also costs the Ugandan economy nearly US$ 3 billion (more than 10 trillion shillings) a year.
Ending child marriage will benefit the children, the parents, the wider community, and the whole nation.
Discrimination against the girl child is rooted in the Acholi culture. The education of the girl child is the least priority in a household. Consultations with youth in Amuru district showed a widespread belief that girls are better off being wives, so many are not taken to school. As a result, cultural and political leaders have participated in officiating over child marriages. Hon. Minister, since the Government of Uganda funds the political and cultural institutions, how can cultural and political leaders be held accountable to reduce child marriages?
According to police records from the police stations in Gulu, Nwoya and Amuru districts, defilement cases form the highest number of reported cases. Most times, the defiled children are forced by their parents and communities to marry the people who defile them. Also, although the 2016 Children's Act indicates that the police remains an important enforcement arm for ensuring that children are protected, the corruption as well as lack of facilitation of the police instead exposes children to secondary abuse. Is it possible for the government to increase budget to police departments to enable them to follow up on child abuse – especially marriage cases?
In the Acholi sub-region, only one in eight (12.4 percent) of 15 year olds have completed primary school, while 13 percent have no formal education at all. The gender gap is the highest in the country, with 69.9 percent of boys but only 48.9 percent of girls able to read and write. The highest drop-out is experienced by the girl child due to lack of sanitary towels, teenage pregnancy and child marriage. The children in this region will not study if there is no affirmative action to keep pregnant children in school, and return child mothers back to school. Hon Minister, what can our government do for us?
We therefore recommend the following:
Develop national laws to keep the girl child in school – including pregnant girls
Support adolescent girls and boys to stay in school, through steps including: providing sanitary pads, and training children in producing re-usable sanitary pads from local materials; building and providing changing rooms and gender-appropriate facilities in schools; skills training; and setting up and supporting school clubs and youth centres where discussions on child marriage and sexual and reproductive health can be held
Strengthen the capacity of local police, cultural leaders, probation offices and local councils, through budget support and training on how to identify, respond and manage cases of defilement, teenage pregnancy and child marriage. For example, to ensure that statements are properly recorded so that they are not dismissed by courts.
Ensure that the budget to implement the recommendations of the National Strategy to End Child Marriage and Teenage Pregnancy is fully funded – for instance increased access to adolescent health services, community child protection structures, and improved facilities for girls to keep them in school
Ensure that information about Ugandan law and key legal instruments such as the 2016 Children (Amendment) Act and the Penal Code Act are translated into local languages and are effectively disseminated at community level.
Honourable Minister, I am very happy to see you and I especially note that you are a lady minister, which gives me hope that that issues of the girl child relating to child marriage will be addressed. We wait to hear from you and our leaders on the national and district commitments to eliminate child marriage.
Thank you for listening to me
Save the Children supports youth advocacy groups in the Amuru, Gulu and Nwoya distrcts of northern Uganda to identify issues affecting youth and their communities and advocate for change. The groups are supported as part of our Youth Empowerment Programme, with funding from the Italian jewellery company Bulgari. Read more about our partnership with Bulgari.