"It's helped me know who I am and what I want to be"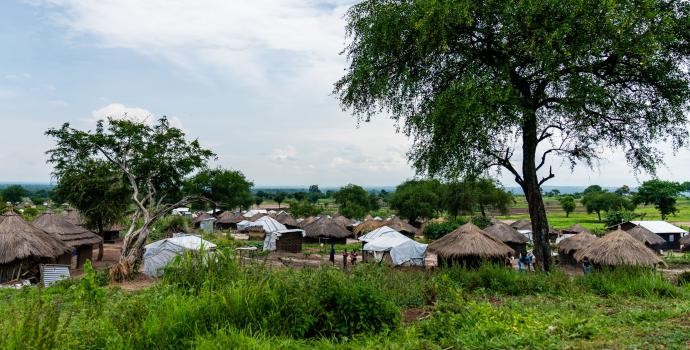 Northern Uganda's Bidi Bidi refugee settlement (above) is now home to more than 230,000 South Sudanese refugees. Save the Children, with funding from the Canadian government, has set up Youth Friendly Spaces to provide vulnerable young people with support.
As Elisa and Viola made their way to the new Youth Friendly Space (YFS), they saw 15-year-old Pamela* (name changed to protect her identity) sat outside her home looking sad. As two of the Community Action Champions (CACs) attached to the YFS they stopped to talk to her and find out her problem.
"Both of them got concerned and inquired why I sat so miserably like that," recalls Pamela*.
"When I started explaining the whole issue, my uncle who was inside the house at the time came out quarrelling at me, which made me cry. I could no longer speak up," Pamela says.
Elisa and Viola left the house and hurried to the YFS to report the issue. They returned shortly after with Jesca, one of the counsellors, and found Pamela* still crying and her uncle still shouting at her. They stopped him and called the family together to find out more.
"During the meeting I explained to my family and Jesca that I was not sure if I was pregnant, since I had slept with a boy that I didn't know so well," says Pamela*. "I became more concerned when I heard my school mates talking about it. After telling the story, my uncle became rude and wanted to chase me away from home but the counsellors kept telling him to stop and my mother started crying.
"Jesca counseled my family and requested me to have a pregnancy test, which turned out positive. Later my family members backed down and accepted me to be at home after two weeks of counseling and follow-up by Jesca and the CACs. The counsellor also linked me to the YFS and advised me to start attending Antenatal Care (ANC).
"With support from my family, I reported back to the school. The senior woman teacher, together with my class teacher, were very happy to receive me back. The counsellor and senior woman teacher visited me at home regularly, during which they advised me to attend ANC, regularly visit the YFS and ensure I fed well.
"My mother escorted me for my first ANC visit at the health centre managed by Save the Children. There I was counseled on good feeding, ensuring that I continued with school, regularly visiting the YFS and preparing for delivery of my baby. The health workers tested me for malaria, syphilis and HIV; they gave me medicine for the abdominal pain I was feeling and a return date for my subsequent visits which I complied with support from my family."
A few months later, Pamela* gave birth.
"I started feeling backache that was associated with lower abdominal pain. I informed Jesca about it through Elisa, who coordinated for an ambulance. At the health centre I was welcomed by two midwives, Rukiah and Gloria, who helped me through the pain until I gave birth to a live baby girl that weighed 2.7kg. Both my uncle and my mother were very happy and supported me with several items for the baby, such as clothes, basins and smearing oil.
"The midwives discharged me two days later after counseling me on the best ways to keep myself and the baby clean, how to breastfeed and to return to school when I was ready.
"I returned back to the health center one week later for a review, as instructed by the midwives when I was discharged. During the review, my baby was found to have flu. The midwives advised me to continue exclusively breastfeeding the baby to keep the baby healthy, and encouraged me to go back to school and sit for my mock papers.
"My midwife Gloria and counsellor Jesca paid me regular visits at home to check on me and my baby Sandra. My uncle, mother, sisters and I were very happy for the support that Save the Children offered towards my future. My family is willing to take care of my baby when I am at school, support with baby materials, my school needs and feeding.
"I am worried that some key materials are still missing like beddings for the baby and that no follow up has been made of my case. It was reported to the Police (via World Vision) to trace the boy and provide me with necessary materials by child protection unity.
"Otherwise, I am so grateful for the great support from Save the Children. The support has made me know who I am and what I want to be, and I want to be a mentor to support my colleagues. I am so ready to pull the hands of my fellow peer mothers."