100 years of changing children's lives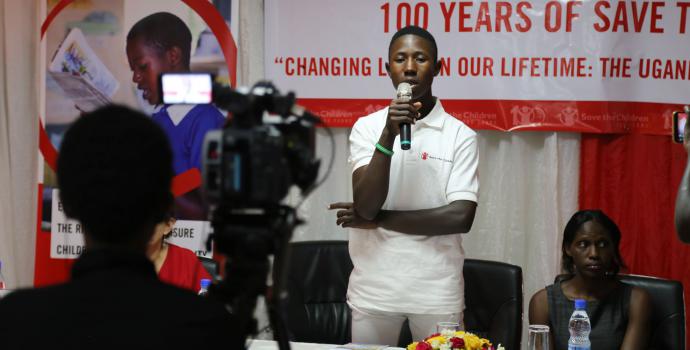 Save the Children celebrated our 100th year anniversary in Kampala this week.
That's right, 100 years!
Our movement started in 1919 when one woman, a teacher and activist named Eglantyne Jebb, became outraged at children starving in eastern Europe after the first world war. She campaigned in the streets of London, even getting arrested, and raised money to send food aid.
But Eglantyne knew that humanitarian aid alone is not enough. She wanted to make the world recognise that children have rights, and that it is the world's shared responsibility to make sure these rights are upheld. In 1924 she drafted the Declaration on the Rights of the Child, which eventually became the UN Convention on the Rights of the Child – the most fundamental and important text for children worldwide, signed by almost all countries in the world, including Uganda.
Over the following decades Save the Children evolved into the organisation we are today.
More than 150 people – including government officials, our partners, donors, the media and private sector companies – joined us to reflect on childhood in Uganda and what still needs to be done to ensure that every last child survives, learns and is protected.
Our new Childhood Report shows there has been a lot of progress, but there's still a long way to go.
Children and youth from across Uganda spoke about issues that affect them.
Davis, from Wakiso (pictured at the top) says adolescents like him need more information and services on reproductive health.
He works with other youth in his community to spread messages and run adolescent health corners.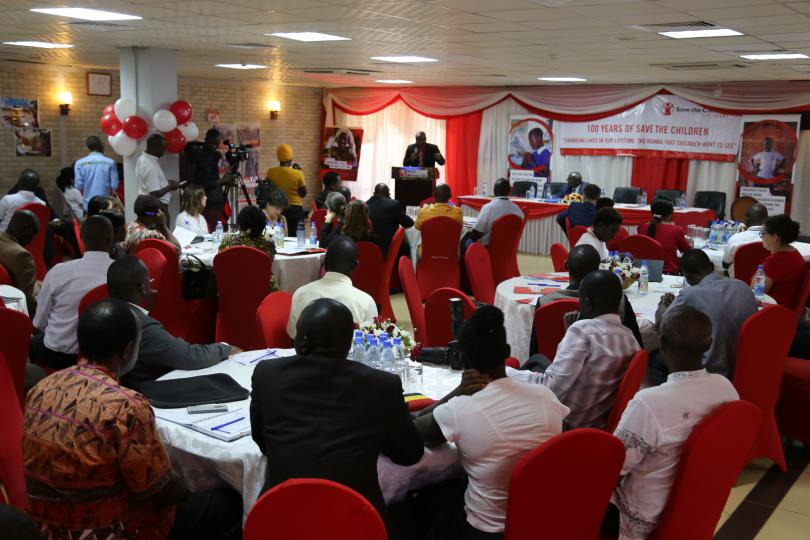 Daina from Nwoya district told how she had to drop out of school and get married while still a young girl.
She called on the government to invest more in girls' education and vocational training. Thanks to such training she's started her own thriving business to support her children.
Uganda has taken great steps to improve access to education, but there was a lot of discussion on how to improve the poor quality of learning.
Ochang Patrick, a head teacher from Gulu, explained how his school has increased children's literacy rates: "We make reading fun!"
His school uses Save the Children's Literacy Boost approach and encourages parents to read at home with their children, and sets up community reading clubs to make reading a part of everyday life.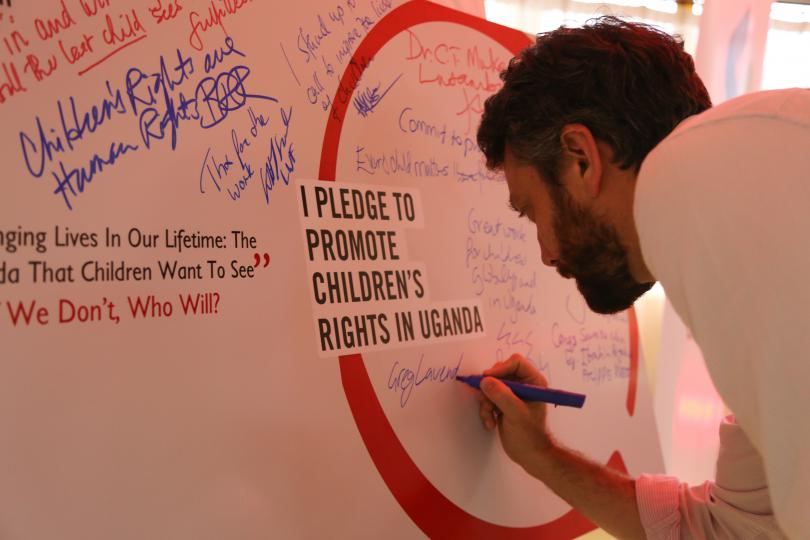 Above: Government officials, donors and partners signed a commitment to promote and protect children's rights
The long-term power of education was made clear by another speaker, Mark Loli, who grew up in rural Karamoja where many of his friends did not go to school. With Save the Children's support, Mark attended the Alternative Basic Education Programme in Karamoja (ABEK). From there he managed to get into the formal education system and graduate from university. Today he's a government official responsible for developing agriculture in the region.
"Without that first chance at school none of this would be possible," he says.
Despite this, the government's investment in children's education is decreasing. Imelda Namagga from Uganda Debt Network – a Save the Children partner – presented shocking trends showing that the percentage of the national budget allocated to education and health has fallen in the past few years, putting recent progress at great risk.