Alarm as first Ebola case confirmed in Uganda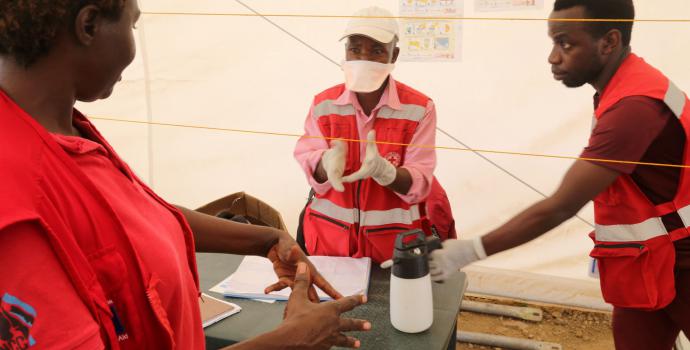 Save the Children is extremely alarmed at the confirmation of the first case of Ebola in Uganda, and warns that donors and agencies must act immediately to ensure it does not spread further.
A 5-year-old boy in western Uganda was diagnosed with Ebola on Tuesday, just a few miles from the Congolese border. He has been quickly isolated and admitted for treatment. More than 2,000 cases have now been reported in eastern DR Congo – including hundreds of children – and fears have been growing that it could spread across the border.
Brechtje van Lith, Save the Children's Country Director in Uganda, said:
"Tragically, the first confirmed case in Uganda is that of a very young and vulnerable child. Now is the critical time to step up efforts to make sure that this one case does not become many. The Ebola outbreak is already devastating lives and communities across eastern Congo – action and funds are needed right now to stop it spreading further across the region."
For the past year, Save the Children has been working with local communities and district authorities in western Uganda to help mitigate the spread of the outbreak. The agency has trained more than 1,000 Ugandan health workers, volunteers, teachers, village health teams and laboratory staff on key steps to prevent and respond to cases; provided key Infection Prevention Control materials at health facilities and points of entry; and installed handwashing facilities in rural communities to reduce the risk. If the disease spreads further in Uganda Save the Children is also ready to ensure critical child protection and psychosocial services for children and families affected by Ebola.
Western Uganda is already struggling to cope with an influx of Congolese refugees – nearly 20,000 so far this year alone and more than 300,000 in total. Services for refugees are severely overstretched and the response is critically underfunded, with just 2% of the money needed for 2019 committed by donors so far. Critical Ebola screening facilities in refugee settlements and host communities urgently need upgrading.
The spread of misinformation and community mistrust about Ebola continues to be a major factor in its spread in DRC, and Save the Children urges donors to invest more in community-led prevention activities in Uganda. It is vital that donors invest in strengthening and supporting the existing work of development and humanitarian partners who over the years have built up strong relationships with communities, district officials and Village Health Teams. These teams have extensive local knowledge and experience of carrying out successful community campaigns.
Last month, Save the Children and 17 other aid agencies warned of an increasing risk of Ebola spreading due to a crackdown restricting people fleeing violence in eastern DRC from crossing into Uganda. As a result, more people have been avoiding official border points and crossing through forests or across Lake Albert. It is vital that refugees and other civilians are allowed to cross lawfully and can be properly screened at official border points.