Back in school and excited for the future again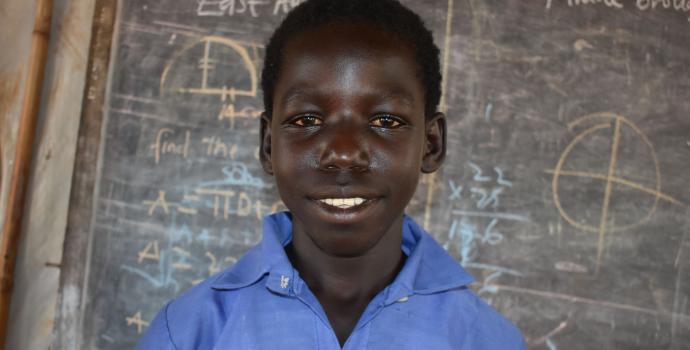 "I lost hope of studying as soon as the war started in my village," says 16-year-old Amos, from South Sudan. "Everyone ran away, including my teachers. Some of my fellow pupils were killed and my parents became refugees in Uganda."
Amos was in the sixth year of primary school when he and his family had to flee. They ended up in Agojjo refugee settlement in the Adjumani district of northern Uganda.
Amos wanted to go back to school but couldn't afford to.
"My parents didn't have a way of paying for my school fees in Uganda, since they depended only on food rations. I decided to stay at home supporting my parents with domestic work instead.
"Life was so difficult for me. I thought I will become like other children who loiter in the community with no good education."
Amos's situation is not unusual. More than half of refugee children in Uganda – 57% – are out of school. Uganda is now hosting more than 1.1 million refugees, the most in Africa, and the influx has put great strain on already limited local services. One third of local Ugandan children in the refugee-hosting communities are also out of school.
Then last year Amos's mother registered him at Save the Children's free Accelerated Education Programme (AEP). "I got extremely happy and my heart felt relieved when my mother told me," he recalls.
The AEP is designed for children such as Amos. It provides children who have missed out on years of school with basic education, using a condensed version of the primary curriculum to speed up learning. It covers two to three grades of primary education in one year, and uses teaching methods that match the students' level of cognitive maturity. It is an opportunity for children to continue and complete their studies after having to drop out of school due to the disruption and uncertainties of conflict.
The AEP class Amos attends is part of the Support Programme for Refugee Settlements and Host Communities in Northern Uganda (SPRS-NU) – a project funded by the European Union Trust Fund which works to improve living conditions and services for both refugees and host communities. Since it started in 2016, it has enrolled 1,118 children in Adjumani into the AEP, where they can acquire numeracy, literacy and life skills.
Back at school, Amos is doing well. "I've improved my English speaking – I'm now able to read and write well compared to when I was in South Sudan. I registered for the Primary Leaving Examination and am revising hard to make sure that I pass with good grades."
He then hopes to go on to secondary school. "After that I want to be a medical doctor so that I can treat my family members."
"I'm proud that Save the Children has given me an opportunity to continue with my studies away from my home country."