Braving long distances to teach children in their homes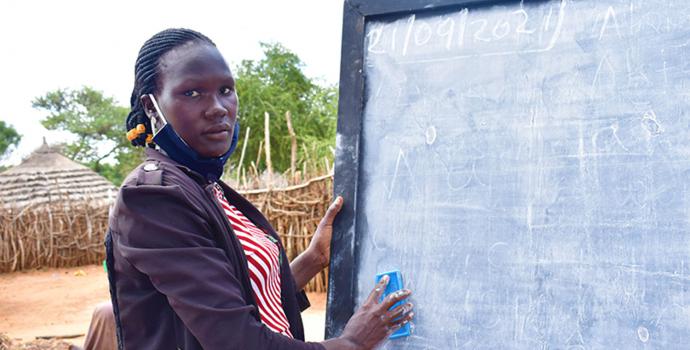 At exactly 7am for two days a week, Lochoro Scholastica, alongside some of her colleagues leaves home to ply the long village roads in order to teach children in her community. Scholastica is also the class teacher of Primary One at Lokodoikodoi Primary School in Napak district, Karamoja sub-region. Ordinarily, she would be finding her learners at school but schools in Uganda have been closed for close to 18 months since March 2020.
"We have seven villages and reaching all of them is a bit challenging. We have to wake up early and start walking by 7am so as to reach the far villages by at least 9am. Sometimes we walk for 2 hours to reach these villages," Scholastica narrated.

"Most of the children would meet me in the community and they would ask me, madam when are they going to reopen schools? I kept giving them hope that learning would eventually resume," she said.
Since the closure of schools in Uganda in March 2020 due to Covid-19, children have been home with limited access to any form of learning.
In order to support continuity of learning, Save the Children has teachers like Scholastica in Karamoja sub-region on how to conduct home based learning because it was a new concept for them.
Scholastica said: "The biggest idea I picked from this training is inclusive learning, where by you teach all categories of learners without discriminating against any of them due to disability."

"Currently, I have two students with physical disability and I'm well equipped to support them attend the classes," she added.
To teach these children, Scholastica finds these children gathered under a tree in their villages twice every week on Tuesday and Friday. She works with the village chairmen who inform the learners in advance to prepare themselves for classes.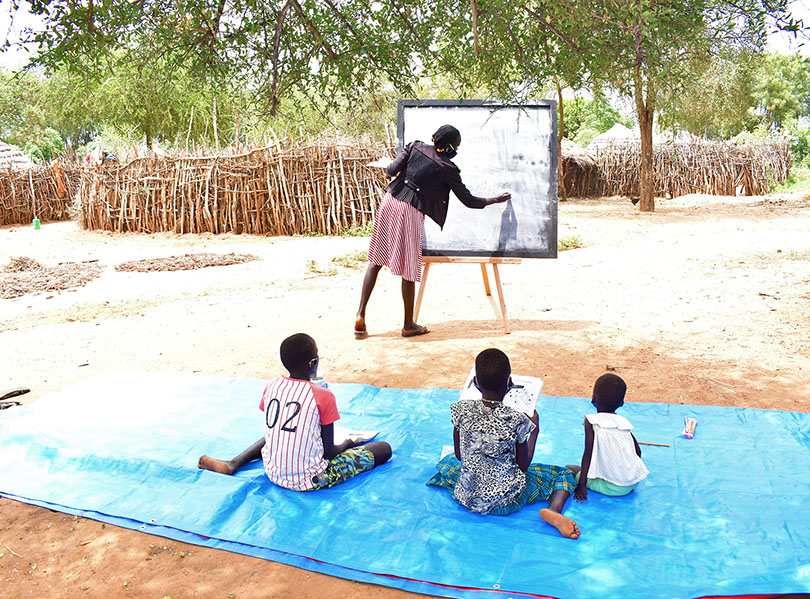 Scholastica teaches her pupils from under a tree twice a week.
The classes run from 9am to 2pm because the learners have to do the exercises and have their books marked before they go home. In total, Scholastica teaches seventy-six (76) children who are in Primary One in the seven villages.
"I started doing home learning four months ago and before this, children were just at home doing nothing and they had totally lost track of school because most of them don't have access to radios to listen to school related radio programs," she narrates.

"I mainly teach the children Mathematics, Literacy 1 &2, and English because I want them to learn how to count, recite the alphabet and also learn how to read and write," she added.
Scholastica is happy that Save the Children is supporting her to teach the children in her community by providing her with a portable chalk board, boxes of chalk, liquid soap, hand sanitizers, tarpaulins for children to sit on as they learn and two bicycles for the school to aid movement of teachers across the villages.
"The home learning is really helping the children because when we had just started, the children didn't have any books or pencils to use and they would write on the ground using sticks, it was very difficult to have the classes. After a while, Save the Children supported us and gave the learners books and pencils which has now enabled us to easily track progress of the learner's ability to read and write," she said.
Amonyang Maritina, 8, one of Scholastica's pupils says she is happy because she was missing school but now the teachers come to teach her from the village.
"My favorite thing about my teacher is the way she treats us, she doesn't beat us," she said.
Maritina's favorite subject is Mathematics and she has learnt how to add and subtract numbers. She dreams of becoming a nurse in future to treat the people in her community.
"Home learning is very good for my daughter. Many people have approached me asking me to send Maritina to work for them as a babysitter during this school closure but I refused because I want her to stay in school by attending the home lessons," said Achia Nakut, Maritina's mother.
Scholastica is also happy because through trainings organised by Save the Children, she has learnt about positive discipline as opposed to beating them. She says she now knows that when a child does something wrong, you can correct them without inflicting pain and wishes other teachers could adopt this kind of disciplining.