Cash grants give a new lease of life to a young South Sudanese mother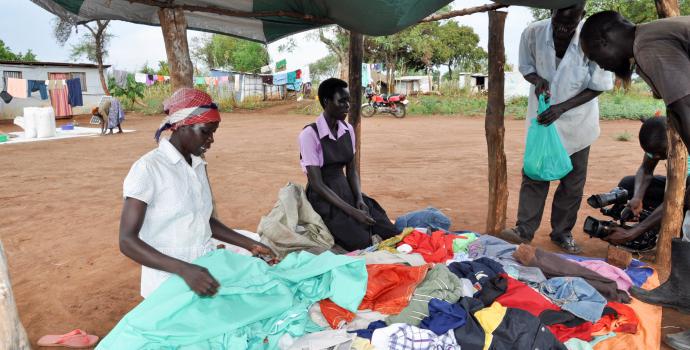 Above: Emma (centre) and her mother at their clothes business
When Emma, 17, fled from South Sudan to Uganda two years ago, she had mixed emotions. On one hand her life was safe; but on the other, her education was uncertain.
Before fleeing South Sudan, Emma lived with her single mother and three siblings.
"Our mother had been supporting us from the time we lost contact with our father, who worked as a policeman in (South) Sudan. Despite her weak health, she did menial jobs to pay our school fees and food," Emma says.
Although her mother did everything she could to pay her school fees, whenever armed men attacked her village, Emma and the rest of the children would miss school for days, sometimes months – something which often disrupted her studies.
One fateful night in February 2017, an armed group attacked her village and killed people indiscriminately, including children. They were only saved because they had gone to the neighbouring village to find work. Her mother decided to move her children to safety in Uganda.
On arrival in Uganda, life was hard. Emma together with her 2-year old baby and her family had to adapt to a new environment, culture and people, and learn a new language - English.
The family settled in Palorinya refugee settlement – one of the largest in northern Uganda, hosting more than 118,000 refugees. While in the settlement, her mother heard of Save the Children's Accelerated Education Programme, and registered her. The programme helps children who have missed out on school to get a basic education, using a condensed primary curriculum to speed up learning. Emma will now be able to complete her primary education.
Although the programme is free, as a breastfeeding young mother she still faced difficulty to attend school. Whenever she's at school and her mother at work, Emma has no one to take care of her baby and when she takes the child with her to school, she's bullied by some of the older male learners. She also struggles to afford a uniform and scholastic materials.
"Taking care of my baby's needs is very expensive especially when he falls sick," Emma says. "Besides, my siblings and child are growing and soon will barely survive on the rations provided by aid agencies."
Emma was registered on Save the Children's cash transfer programme – part of a multi-sectoral assistance programme to South Sudanese refugees and host communities funded by the European Civil Protection and Humanitarian Aid Operations (ECHO) in a consortium with Mercy Corps, Dan Church Aid, Oxfam, and Care International. The programme works to improve child protection and education in the region. The cash grants of 100,000 Ugandan shillings per month (approx. $27) help poor children aged 15-17, who dropped out of school for various reasons and have enrolled on our Accelerated Education Programme, to stay in school.
Families use the monthly cash grant differently. For Emma, she used part of the money to buy a school uniform and scholastic materials such as a school bag, books and pens, and saved the rest of it to start a used-clothes business.
Asked how she juggles school and business, Emma says her mother takes care of the business and they usually sell during market days. "Life is much better now because on a good market day we make sales worth Shs. 150,000 ($40.5) and a Shs. 30,000 ($8) profit," says Emma's mother, Grace Daret, 42.
The cash grant came as a welcome relief to Emma's single mother. For a long time, Grace bore the burden of scraping around for food and school fees for her children. "Emma is now paying fees for her siblings, contributes to the food budget at home and, sometimes, helps with medication for her sick mother."
Emma received entrepreneurship skills training from Mercy Corps and Shs 400,000 ($108) start-up grant from Save the Children, after which she realised the need to grow her business beyond the impoverished settlement. "We don't have enough customers in the camp yet I want to grow my business," Emma says. "I want to save and buy a bicycle to transport my merchandise out of the camp."
As a future aspiring nurse, Emma is now focused on working hard to join secondary school and be able to take care of her sick mother. "I want to be a nurse in Uganda because I want to help sick people like my mother. And also because it pays well."
Although Emma wishes the cash grant continues, she's quick to agree, "it has given me, my child, siblings and mother a new lease of life".