Changing attitudes to education and getting girls back into school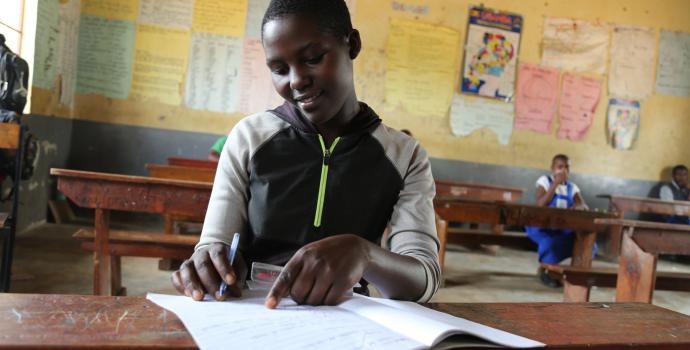 When the class ends Grace* is always one of the very last pupils to leave. She stays at her desk, enjoying the extra space and getting on with her latest work.
"She often stays behind as long as she can," says her teacher, Alex. She's catching up on the years that she was out of school.
Grace was 11 years old when her family fled the war in eastern DR Congo. She had already been out of school for three years because of the conflict, and when they arrived in Uganda her parents needed her to work. As a poor family uprooted to a refugee settlement, they struggled to get enough food.
Grace had to spend her days digging the land instead of going to class.
By the time she was 13 she had not attended school for five years.
One day she heard her friends talking about Save the Children's new Accelerated Education Programme (AEP), funded by Education Cannot Wait. The AEP is specially designed for children like Grace, who wish to go to school but had to drop out. In Rwamwanja refugee settlement in western Uganda, where more than 70,000 refugees live, there are many children in this situation. The AEP uses an adapted and condensed curriculum to teach the seven years of Ugandan primary school in just three years. It's free and flexible so that older learners can juggle going to school with their other daily responsibilities.
Her friends enrolled but Grace wasn't sure at first.
Her parents – focused on where the next meal is coming from – didn't see the value in education. So she started attending the classes in secret. "I had no money to buy a pencil and a book," she says, but the programme provided them free of charge.
Gradually, Grace learned how to read and write, and to understand English. According to her teacher she's made great progress: "She was a bit slow at first but quickly picked up and now she's very active," says Alex.
The secret did not stay secret for long. Her mother soon found out where she was going but noticed how much happier she seemed since she started attending school. After a long discussion her mother gave Grace her blessing to continue.
Grace was doing so well in the AEP that she caught up with other girls and has now moved back into the mainstream primary school, where she's thriving and rising quickly towards the top of her class – aided by her commitment to staying behind.
She hopes to complete primary school in the next two years.
"I want to pass my primary exam and go to secondary school. My parents now say it's important for me to get an education!"
* Names changed to protect identities