Children in Karamoja try to keep learning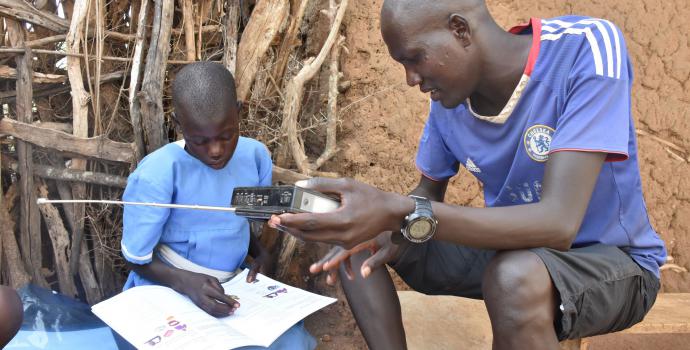 While schools are closed during Covid-19, Save the Children has distributed home learning packs to more than 100,000 children across Uganda. These contain study materials, story books and child-friendly information on how to stay safe and healthy and relieve stress.
In Karamoja region we are also supporting radio learning programmes and working with teachers to visit homes and villages and provide more direct support to small groups of children.
We spoke to a few children in Karamoja who are now out of school about how they are trying to keep learning:
Anna, 12, was attending primary school in Napak district (pictured above with her older brother)

"My parents did not go to school but they love education which is why I go to school with my brothers and sisters. I came to know about Coronavirus on the day our school was closed. We were told that the President had ordered the closure of schools until further notice.
"I am happy to Save the Children for providing us with the home learning packs. Before this I was doing gardening (small farming) and had little time to read. The schools closed without providing us with home packages, so I lacked plenty of materials to read and no teacher.
"I've liked reading the study material, story books and comic strip as they are easy to read and understand. These materials have helped me to discover myself and new things, and how to prevent the spread of Coronavirus. Sometimes when I get stuck my elder brother assists me to read together. I also listen to the radio programmes (learning sessions) because my parents have got a radio. When the lessons start other children come to gather to listen. These have helped us learn during the lockdown."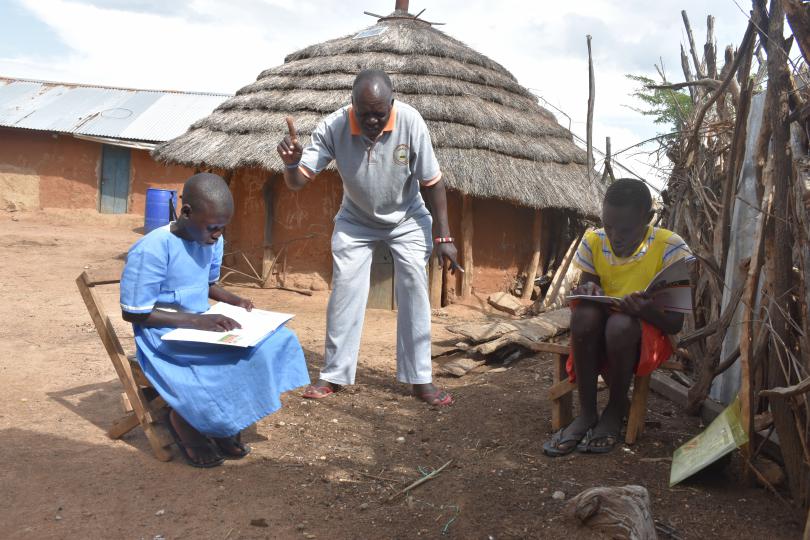 Above: A teacher visits homes to help children learn in a socially distanced way
Peace is in the third year of primary school
"During my stay at home, I was doing nothing other than playing with my friends and little sister. Then one day my mother told me about the radio lessons. We have a radio at home, so my friends and I have been seriously learning through the radio. The lessons are similar to what my teachers used to teach us at school.
"My home learning pack has different subjects like English, maths, literacy and also other materials that help me learn how to prevent myself from getting Corona virus. Every day I revise at home or learn on radio and my mother has been supporting me to read and write correctly. She also makes me do small assignments concerning what I revised or what was assigned to us. During the time for mathematics, I collect stones and wild fruit seeds which I use for counting, addition, division and subtraction.
"The same things we learn on radio are similar to what is in the learning pack and this helps me to understand what the teachers teach us on radio."
Below: Parental support is crucial to help children keep learning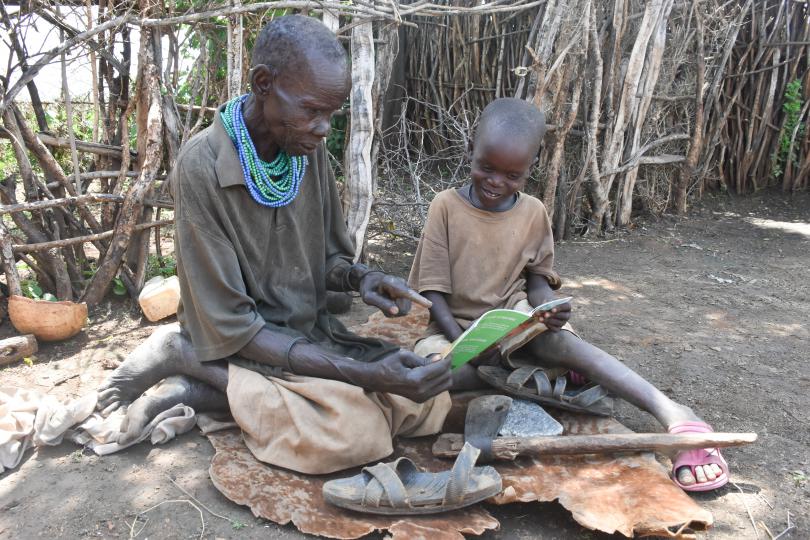 Ronald, 12
"Right now I am just staying at home, since the government decided to close our schools because of Coronavirus. I'd never heard of it in my entire life!
"Before Save the Children distributed the home learning packs, I spent all my time playing and helping my mother with domestic chores at home. Now I'm able to revise at home with my friends and I am already ahead of what our teachers taught us. Some of the topics are new to me but my friends in upper classes support and guide me. My friends support me a lot when I give wrong answers.
"The radio programmes really help me because the lessons are very clear, and the terms used are simple and understandable to me. We do not have a radio at home but our neighbours have, so when it reaches midday I always go to their home with my books and pen to attend to the lessons together."