Children's Parliament marks Day of the African Child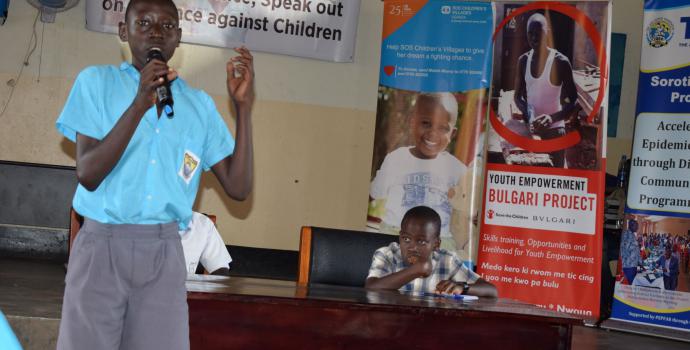 Every year, the Day of the African Child celebrates children standing up for their rights and contributing to the future of the continent. It's held to honour the thousands of children and students who marched in apartheid South Africa on 16th June 1976 to protest about the poor quality of their education. Many were shot, beaten and killed, and it led to the Soweto uprising against the apartheid regime.
This week children all over Uganda marked the day by speaking out to claim their rights to education, healthcare and protection, and to highlight issues that affect their lives.
Uganda's national celebrations were held at Acet primary school, which Save the Children supports in Omoro district in the north of the country.
Events kicked off with a Children's Parliament. Hundreds of primary school children came together to discuss their most important issues and raise them with politicians. All kinds of topics were discussed, under the guidance of schoolchildren Awacango Priscilla and Akena Joel, who acted as Speaker and Clerk of Parliament for the day:
Children called on men to take greater parental responsibility in raising their children, recognizing that much of the parental work is done by mothers
They called on the government and parents to expand the school feeding programme, which provides a meal at school to children who otherwise go hungry all day, negatively affecting their learning. The parliament said the programme has been proven to improve retention and learning at school, yet has not been embraced in all areas
They criticized the government for failing to strengthen the reporting and referral system for cases of defilement and abuse against children. They also called for fences to be put around schools to protect children, and for gender-appropriate changing rooms to be built
They said more should be done to monitor teachers' attendance and time at school, to reduce the number of teachers who arrive late or not at all
The next day national and local leaders joined for the national celebrations, hosted by the Ministry of Gender, Labour & Social Development (MoGLSD) and presided over by the Deputy Speaker of the Ugandan Parliament, Honourable Jacob Oulanya and the Minister of State for Gender and Culture, Honourable Peace Mutuuzo. More than 2000 children attended.
The children handed over a petition to the Deputy Speaker, setting out highlights and recommendations from the Children's Parliament. Young pupils from the school's Child Rights Club – set up with support from Save the Children – also presented, with civil society partners such as World Vision, Thrive Gulu, ChildFund and Plan International also participating.
Many of the politicians echoed points made by the children. Okello Douglas Peter Okao – the District Chairman in Omoro – noted that mothers often take on the sole burden of raising and educating children, and that there needs to be more shared responsibility within the family.
Uganda has many positive laws and policies in place to promote children's rights – but they are often not implemented or enforced, and many people in rural areas are not even aware of them. Hon. Minister Mutuuzo committed that the amended Children's Act is being disseminated to all District Community Development Officers and Probation Officers, and urged them to share with local council leaders to aid implementation.
Hon. Mutuuzo also announced the development of case management guidelines to standardize the response to and management of child-related cases and abuse. She said the MoGLSD will hold to account people who sell children into labour – especially girls from Karamoja who are sold in markets into domestic work and prostitution.
The guest of honour, Hon. Oulanya, then applauded Save the Children's support in making Acet school and the wider world better for children; and the contribution to establishing Uganda's Parliamentary Forum for Children. He spoke out against child labour, expressing concern that children are still being ferried on charcoal sacks and under bus seats and lorries to come to cities in search of opportunities. Many of these children drop out of school as a result.
He then planted a tree given to him (below) by members of Acet school's Disaster Risk Reduction (DRR) club, which was established by Save the Children with support from Norad to help children actively engage on protecting their environment. The children explained the importance of having planting trees at school.
The tree will now have pride of place in the school grounds – a constant reminder of the importance of children speaking up for their rights.