Day of the African Child: Children speak out on protection concerns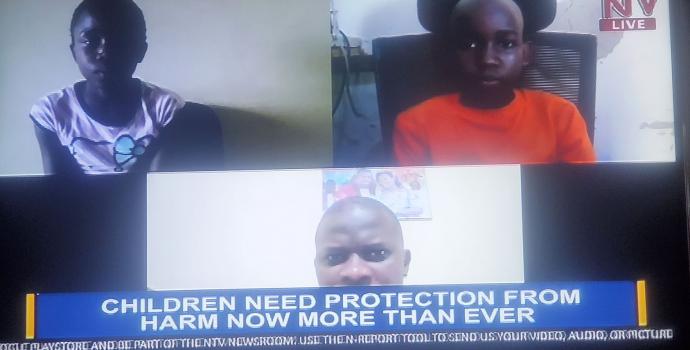 The continued surge in COVID-19 cases is having a big impact on the lives of children across the world, especially children in Africa. In Uganda, we have seen an increase in violence and abuse against children in form of child labor, corporal punishments, neglect and child marriage.
In commemoration of the Day of the African Child (DAC) 2021 under the theme, 30 years after the adoption of the charter: accelerate the implementation of Agenda 2040 for an Africa fit for children, children were engaged in a number of activities in the country.
In Western Uganda, children from Rwamwanja Refugee Settlement participated in article writing and drawing pictures through which they were able to raise issues that are affecting their safety and protection like teenage pregnancies, limited access to medical care due to long distances to reach health facilities, child neglect and closure of schools, among others.
Additionally, focus group discussions between Save the Children staff children, parents and community leaders were held in the settlement to raise awareness on the theme of the day.
These activities were followed by a commemoration ceremony on June 18, where children from the settlement were hosted on a radio talk show to dialogue with duty bearers broadcast live on Radio Nyumbani FM. The discussion was led by a child guest Gloria, 15, and the probation and social welfare officer.
Gloria presented issues affecting children such as poverty, limited access to education, child labor, and child marriage.
Gloria said: "Children are excluded in decision making on all important issues at home and community at large, they are given little platforms and spaces to express themselves."

"Due to lockdown, domestic violence has increased in the homes and some of the children have been injured, we are feeling a lot of stress and feel headache seeing our parents fighting," she added.
From the dialogue, the duty bearers representing various agencies like Kamwenge District local government, Office of the Prime Minister, UNHCR, ALIGHT, Uganda Red cross, Finn Church Aid, Refugee Welfare Council, and Save the Children validated their commitment to address these issues by signing the children's submission.
Rogers Golooba, who represented the Ministry of Gender, Labor and Social Development, Gabriella, the children's representative and Hon. Esther Anyakun, Woman MP Nakapiripirit District and State Minister for Disaster, Relief and Refugees during the talk show
In addition to these, Save the Children together with the Joining Forces coalition (ChildFund, Plan International, SOS Children's Villages, Terre des Hommes and World Vision), brought children together with government duty bearers in an online discussion on June 15, that was broadcast live on national television. The children spoke about how they feel about the lockdown in the country, being out of school for over a year, and the rise in violence against children.
Sharon Twikirize, the Child Protection Specialist, Joining Forces Coalition, said,
"Children have talked about corporal punishments as one of the cases of violence affecting them. Children don't know how to protect themselves because no one is talking to them about anything." "We need to accelerate agenda 2040 to firmly protect the rights of children."
Rogers Golooba, who represented the Ministry of Gender, Labor and Social Development, said,
"When I see that Gabriella is able to sit and talk about these issues on national TV, I feel that we need to do more to empower all the children out there." "Our commitment is to strengthen child protection systems through collaboration with the various agencies, especially the justice law and order sector to be able to convey the message that human rights are children's rights. Children are the same as any other human being so they have a right to be free from any degrading treatment."
Hon. Esther Anyakun, Woman MP Nakapiripirit District and State Minister for Disaster, Relief and Refugees said,
"We have to continuously sensitize everyone on the rights of children and what penalties await those that violate them." "We need adequate legal protection framework at all levels, that's one of my recommendations and I will implore Parliament to bring it to life."
Here are some of the comments from the children.
Apio Gloria, Wakiso District
"In our community, I have ever seen a child when he is beaten, given work for long hours. Some of the children are defiled. When they go to the borehole, when they come back they get some men, the men start deceiving them and they get defiled."
Justice Barack,12, MP Children's' Parliament, Busia
"Right now, children are out of the schools which means they're in danger because in most cases when children are at school, they're sometimes protected. But right now, children are being exposed to the outside world." "Some of them have lost hope for education and have even decided to start their own businesses at a very early age, and some of them as you know children are careless they move around as they want, which has led to increased cases of defilement."
Gabriella Abomujuni, Kampala
"This day, to me as a child, it means I can express everything that is on my heart and help all the other children in Uganda." "Some police officers don't care, you report a case of violence and they just tell you that you are accusing people falsely, they even chase us." "This goes to the government, they should do more! The government should put advertisements where they say that if you see anybody doing this to a child just call this number and then they will arrest this person and they should ban all forms of violence in Uganda."
Gloria,15 years, Rwamwanja refugee settlement
"We are grateful that the government and organizations support us to fully access all the services we're entitled to. However, on behalf of my fellow children, I request that parents should continuously be sensitized on children's rights because there are parents that still violate our rights."

"As we commemorate the Day of the African Child, we suggest that protection partners should conduct community policing across the settlement to sensitize people on the laws of Uganda to reduce cases of child marriage and partners should encourage meaningful child participation both at home and in the community."
Akilimali,15, Rwamwanja Refugee Settlement
"I call upon parents and stakeholders to respect our rights, and children to do their responsibilities as well."
Ahadi,13, Rwamwanja Refugee Settlement
"I am proud to be African child, and I appreciate Save the Children and other partners for giving us an opportunity to fully participate in issues that are affecting us."
Save the Children implements child protection activities throughout the world aimed at preventing and responding to concerns of violence against children including, exploitation, abuse, and neglect.