Emergency feeding saves a baby girl's life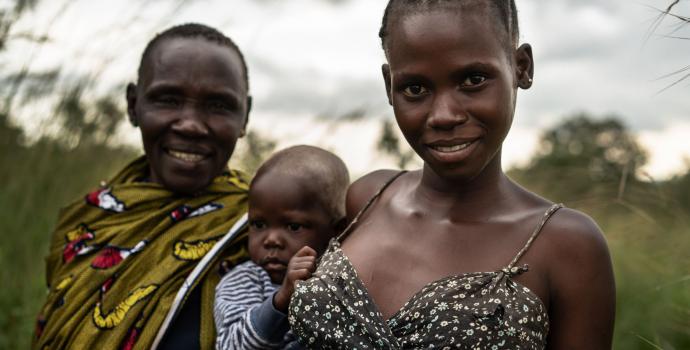 Baby Phoebe*s body was shrivelled with hunger when her mother Joanne* carried her into a refugee settlement in northern Uganda.
Fleeing the violence in South Sudan, Phoebe was vomiting and had diarrhoea, and her bones were visible through her baggy skin. Her hair became blonde and sparse, a symptom of malnutrition.
19 year-old Joanne was herself painfully thin.
"When the fighting started, we ran for our lives," says Joanne, who hasn't seen her husband since they fled. "We adults ate as little as possible on the journey, as the little we had that was edible was for the kids."
Sadly it wasn't enough.
Dangerously undernourished, Phoebe was likely to die. She weighed just 6.1 kilos – around half the normal weight of a healthy 18 month old – and was diagnosed with severe acute malnutrition.
Save the Children's team from the on-site feeding centre immediately stepped in to provide emergency nutrition and healthcare.
Phoebe and her mum were both given a corn and cereal 'porridge', with Phoebe also receiving supplements of fortified peanut paste (Plumpy'Nut), made with milk powder, sugar, vegetable fat, vitamins and minerals.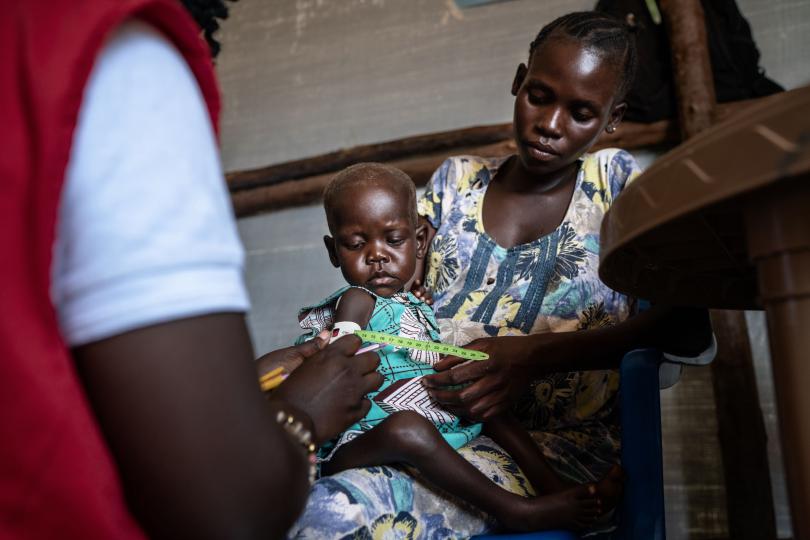 Above: A now-healthy Phoebe receives a check-up
Within just a few weeks, Phoebe had gained a kilo and was smiling and playing again.
"The porridge is so good to take," says Joanne. "It's sweet because they add sugar and give us some oil to mix into it. Phoebe likes the peanut paste so much. After eating the peanut paste, she has flat skin and her bones are not showing.
"It is good that I came to Save the Children to get help. I don't know how I would have fared without them."
Victoria Akello, a Save the Children nutrition officer, regularly admits malnourished children to the feeding centre. "The children have different complications from malnutrition. They get anaemia, hypoglycaemia (low blood sugar), hypothermia. Different diseases come in because their immunity has gone low.
"Chronic malnutrition has long-term effects," she says. "For example, the child will not grow as a child normally should. The child will be stunted. Brain development is slow. The child will not catch up in class like a child who has eaten a normal balanced diet. That's why it's very important for us to treat these children as soon as possible."
Joanne was pregnant at the time with her second child and eventually gave birth under the care of the Save the Children health centre in the settlement. When the time came for the family of three to be discharged, Joanne, Phoebe and the newborn were healthy enough to begin to rebuild their shattered lives.
Now, almost a year later, a healthy Phoebe, Joanne and their new baby have made their way back home to South Sudan with the hope of a happy future.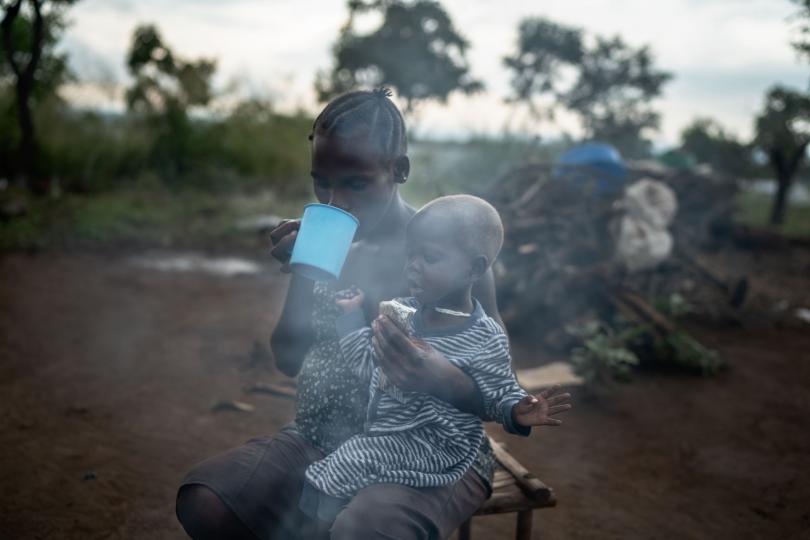 Above: Joanne and Phoebe drink the porridge and peanut paste
*Names changed to protect identities