Ending impunity: Getting children justice for sexual violence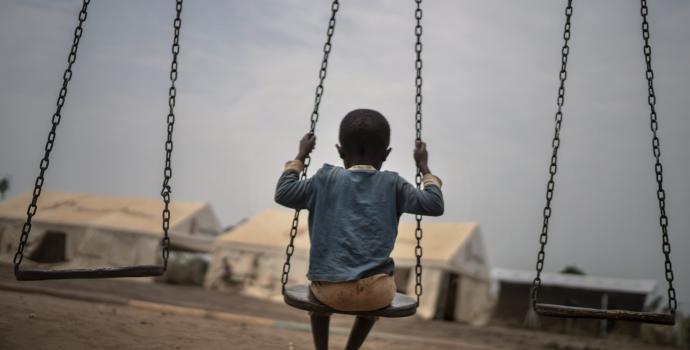 The first in a series of new policy briefs by Uganda's National Child Protection Working Group looks at the need to improve access to justice for child survivors of sexual violence.
In Uganda, a shocking one in four girls and one in 10 boys aged 13-17 have experienced sexual violence in the past year. Yet only a few cases are reported to authorities, and even when they are, perpetrators are rarely brought to justice. Of the thousands of child defilement cases reported in 2017, only 32% resulted in arrests. Most sexual violence against children is carried out with impunity.
There are numerous reasons why impunity reigns.
Due to the social stigma that continues to be associated with sexual violence, many families choose to stay silent and settle the case informally. Perpetrators pay compensation, or sometimes even end up negotiating to marry their victim, rather than face charges. Having to marry their abuser can condemn children to a lifetime of abuse, and once they are married it's even harder to bring any future charges.
If the case does get reported, the high burden of proof on the accused, Uganda's poorly resourced criminal investigation capacity, and the length of time it takes to hear cases in court, all make a conviction even less likely.
About one in four child rape or defilement cases registered with the Office of the Director of Public Prosecution (ODPP) gets closed due to lack of evidence. Health workers are rarely trained how to document the evidence and complete necessary forms at the time of examination. In some areas the police have no proper evidence storage facilities, so vital evidence is kept and carried in regular polythene bags for years. It often ends up contaminated or eaten by rodents as a result, so is unlikely to stand up in court. Most of the necessary chemical analyses for defilement cases can only be carried out in Kampala, further reducing and delaying prosecutions in rural areas and outside the capital. The lack of professionals who can work with evidence means sexual violence cases are often delayed.
Only about 5% of sexual violence cases get concluded within a year. There is a long backlog of thousands of cases, and defilement cases can take up to 5 years to be resolved.
In that time, evidence is often lost. Defence lawyers demand children retell their story five years later the same way they told it in the original affidavit. Any minor change can result in the case being dismissed. After five years, survivors may feel they have moved on with their lives and don't want it to be dragged up again, and courts often lose interest and dismiss cases due to the unavailability of witnesses.
Multiple other challenges face children and families trying to get justice. In defilement cases especially, children are often afraid to testify in open courts due to fear and intimidation, which can also lead to the case being dismissed.
The time it takes and the difficulty of getting a conviction makes it even more likely that families choose informal settlements instead of going through the legal system. In many ways the current system is deterring justice for children more than promoting it.
So what can be done?
Given how widespread sexual violence is against children, we need a national grassroots campaign to address the stigma attached to it – similar to the national campaign against HIV/AIDS that was successfully adopted in the 1990s. Children and communities need to know that sexual abuse is nothing to be ashamed of, and the abuser is the one who should be punished.
The government should also speed up adoption of the National Child Policy, which clarifies the legal age of marriage as 18 and above. This will help ensure the informal arrangements of settling offenses by marriage are not allowed.
A survivor-friendly court environment is needed, with provisions for children to testify behind screens or on camera rather than in public court; priority for cases involving children as litigants or witnesses, so they can be resolved quicker; and provision of services such as child care and temporary shelters for survivors seeking justice, especially in rural areas. High Court judges should hold sessions in the child-friendly courts. Greater investment in justice and policing – particularly around handling of evidence and regional capacity for chemical analysis – is also very much needed.
Together we need to ensure that children in Uganda who suffer sexual violence receive justice, and that perpetrators are held accountable for their crimes. Only then will we be able to keep our children safe from abuse.
Download the full policy brief: "Child sexual violence: Enhancing access to justice"