Fighting child exploitation in her community: The story of Rosemary*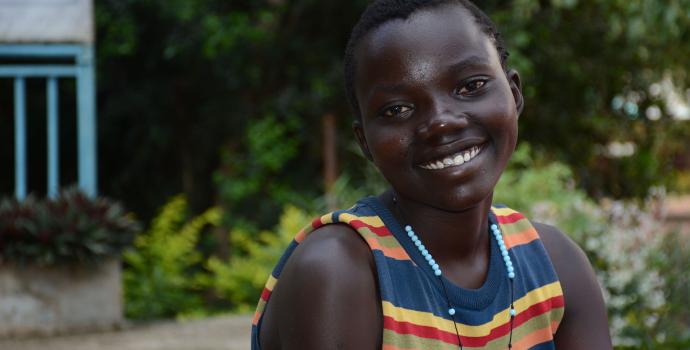 Rosemary walked for 40kms escaping abuse from her home.
When her stepfather kept denying her school fees and instead forced her mother to take her to beg on Kampala streets, 15-year-old Rosemary* decided to seek police help. The step father was arrested. Her biological father had abandoned her as a child and so she moved in with her aunt who enrolled her in school. But she moved schools only to come close to her mother and step father who put pressure on her to leave school and help with chores at home. She was 12 years old then.
"My aunt later lost her job and it became difficult for her to raise my school fees and basic requirements. I abandoned school and started selling firewood with my mother and raised enough to take me back to school at the time."
But her stepfather moved her to another village thus Rosemary quit school. She tried to talk to her mother about returning in vain. She was later to learn that her stepfather had exchanged her for Shs50,000 to work as a housemaid.
"I escaped from the home and walked for about 40KMs to my grandmother's home. Good Samaritans along the way would help me with food," she recalls.
Her stepfather was surprised to hear that she had returned but her uncle enrolled her back in school. In school, Rosemary joined Save the Children's Girls as Drivers of Change club which aims at empowering girls to come up with solutions to gender based violence such as child marriage. And during the Solutions Lab, she was one of the most active girls. In fact, she was elected group leader for her group.
And the school closure has affected several girls in Rosemary's home where some have been married off or become pregnant. But she has also been playing a key role in mindset change.
"One of my friends lost her mother's Shs23,000 and the mother threw her out and told her to go get married. I told her that at 15 years of age, although she had a boyfriend who was a boda boda rider, if she got married, she would leave school and her future would be bad. I also reminded her of the difficulties children face while having babies."
Rosemary also mediated between her friend and the mother and asked her to ignore the lost money and take her daughter back.
"The mother agreed. Now I am sure my friend, who is in Primary Five, will also return to school when they open."
About Girls as Drivers of Change project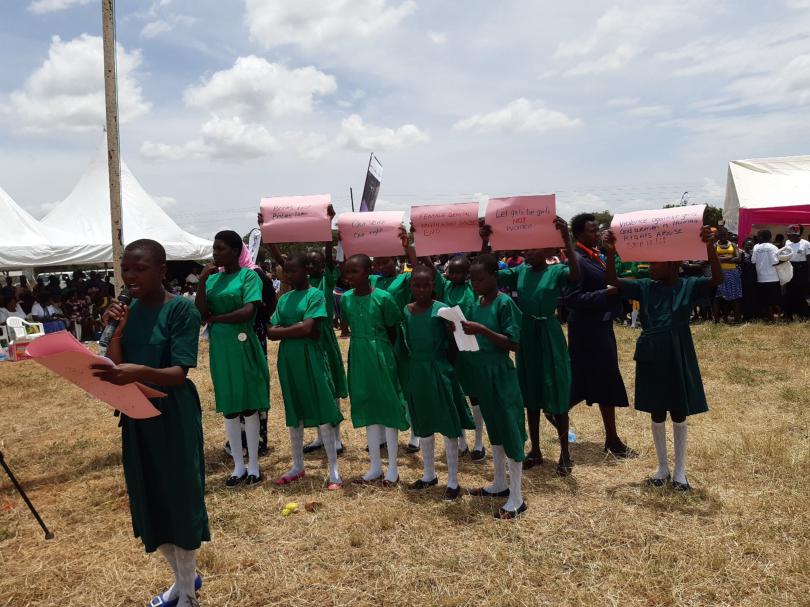 Some of the members of the Girls as Drivers of Change make a submission calling for an end to child marriage to district leaders on Women's Day 2020.
For two years, (Jan 2019 to Dec 2020), Save the Children in partnership with World Association of Girl Guides and Girl Scouts (WAGGGS) implemented the Girls as Drivers of Change-GADC Project in Busoga and Karamoja regions with funding from the People's Post Lottery-PPL. The project aimed at empowering, transforming and equipping girls aged 12-17 years with skills to identify the root causes of Gender Based Violence (GBV) and be able to respond to those challenges through the solutions labs by harnessing their safety from judgement, stereotyping and violence and enabling them to realize their dreams.
Out of the problem- into the solution: Girls as Drivers of Change was premised on three pillars: Component I, Rollout the Voices Against Violence Curriculum; Component 2, Inspire and Influence girls through the Solutions Labs. Component 3, Support of girls with direct grants to reduce GBV in the communities, champion gender equality and create change.