Girls in Karamoja campaign to end child marriage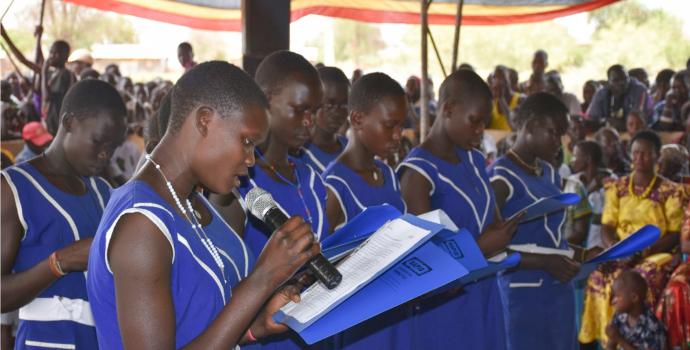 Christine* didn't go to school at all last year. Her father insisted she should drop out and get married, but her mother wanted her to continue her studies. When Christine said she wanted to stay in school, her father disowned her and refused to pay the fees.
"He threw me out of the house, saying I should go and marry those boys," says Christine, now 16 and living with her grandmother, who works a tough job crushing rocks in a local quarry to earn enough to send Christine back to school.
This week, to mark International Women's Day, Christine joined schoolgirls from all over Karamoja to march and speak out for an end to child marriage.
Our Girls as Drivers of Change project aims to support teenage girls to bring positive change in their communities and end gender-based violence. Funded by a partnership with the UK People's Postcode Lottery and the World Association of Girl Guides and Girl Scouts (WAGGGS), it works with girls' clubs in schools to help them stand up for their rights.
The girls came together to write a petition which they then submitted at a series of events held all over Karamoja with government officials, religious leaders, police commanders and other influential community members.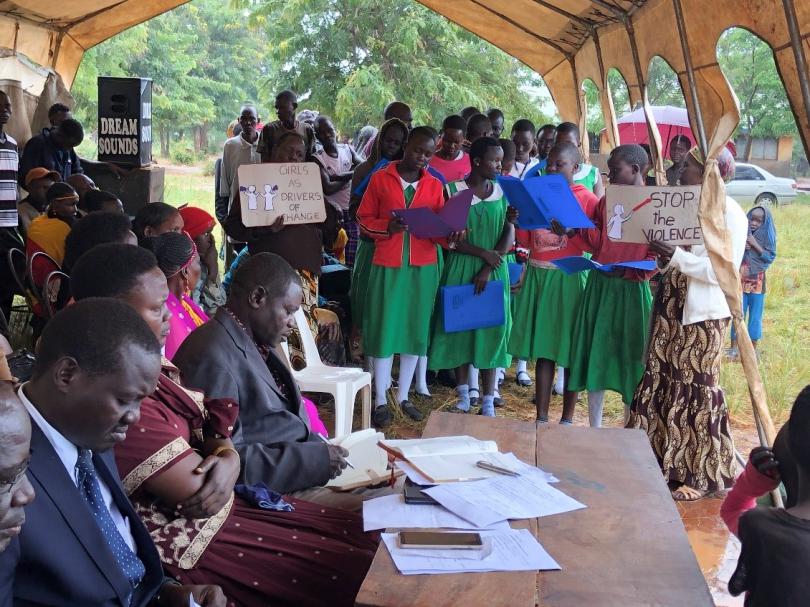 The legal age of marriage in Uganda is 18, but the law is rarely enforced and local traditions often override the law - especially in rural areas. In parts of Karamoja, one of the most impoverished regions of Uganda, half of girls are married off while they are still a child.
The girls' petition highlights some of the challenges young girls in Karamoja face:
"Girls are faced with the sad cultural reality of being seen as a source of wealth, usually in the form of cows. This is why when most parents discover their daughter has experienced their menstruation or has started developing breasts, they force them to find a suitor and get married. Most times they find the suitor for them regardless of how old they may be. If they have the cows, the age does not matter!"
The girls say that climate change and water shortages in the region put them at greater risk of sexual violence:
"Women and girls walk for long distances in search of water. This sometimes exposes them to sexual assault. Because of the marginalization, the victims are unable to report and getting the perpetrators to face the law is usually not a realistic possibility. Besides, the parents usually use the rape as a reason to throw the girls out of home to get married to the perpetrator. Rape is also used as a way to book a wife because culturally nobody will marry a girl whom they know has had intercourse with another man before."
The girls marched from their schools to events held in Napak, Kotido and Moroto districts. They spoke passionately to the officials, many of whom then signed a commitment to act - including the President's Representative for Moroto (Peter Ken Lochap), District Police Commanders of Moroto and Kotido, Woman MPs, and religious leaders such as the Anglican Bishop of Kotido and Sheikh Akida.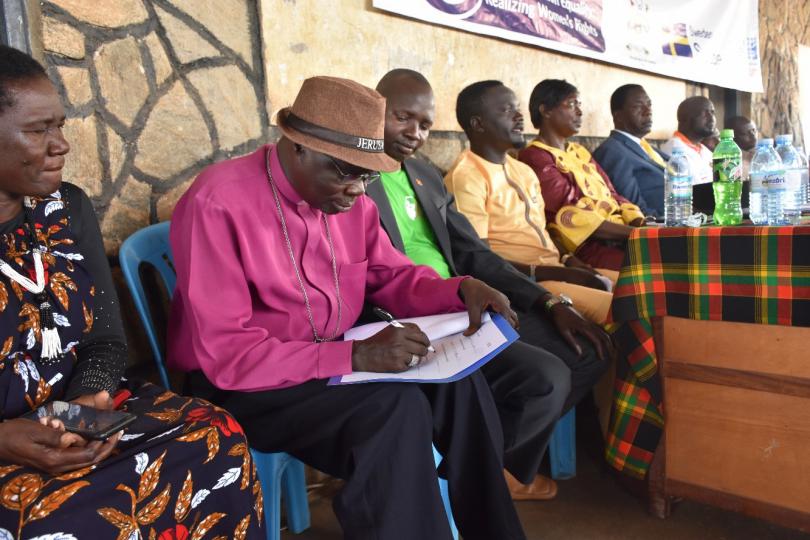 Parents were also called to act. The girls' petition stresses how the whole community will benefit from an end to child marriage:
"A child who keeps in school will get a decent job after their education and benefit their family through the income they earn and eventually help them out of poverty. An educated child is not just a family's pride but the pride of the whole village.

"Getting married young robs children of a chance at education, exposes them to the risks of teenage pregnancies, increased health risks and limited chances to explore their life skills thus reducing their chances at decent employment. In addition to these, child marriage exposes children to poverty, violence and abuse.

"This year, the theme of Women's Day is Generation Equality: Realizing Women's Rights. As we all work hard to realise a world where women and men will enjoy equal opportunities, we must remember that if we do not end child marriage, this might remain a dream. We cannot have equality if girls are still looked at as sources of wealth for their parents.

Ladies and gentlemen, we need to support girls to become the best they can be. How will they become nurses, doctors, teachers, lawyers, lawmakers for generations to come if they are married off young and forced out of school? As girls who are ready to drive change, we call upon the following people to join this cause and use their power to end child marriage.
THE GIRLS' ASKS IN FULL…
LOCAL COUNCIL CHAIRPERSON (LC5)

Come up with ordinances against any union involving a child/child marriage.
Make bylaws outlawing any marriage between/of people below 18 years of age.
Sensitise the public by participating in talk shows on radio stations to end child marriage.
Approve budgets for activities geared at ending child marriage such as (community-based services), awareness programmes on radios.
Sponsor outstanding performers at PLE or in school in secondary school as a way to motivate girls to stay in school and parents to enroll them.
WOMAN MEMBER OF PARLIAMENT
Please move a motion on the plight of girls in Karamoja in Parliament.
Lobby for sponsorships/scholarships for girls to keep them in school.
RELIGIOUS LEADERS (INTER-RELIGIOUS COUNCIL)
We request you to include messages against child marriage in your sermons especially long-term negative impact on the victims.
Use your various platforms/fellowships to teach about child marriage such as youth gatherings and marrieds fellowships.
DISTRICT POLICE COMMANDERS
Enforce the existing bylaws against child marriage.
Arrest perpetrators of child marriage at all levels and ensure they face the law.
Ensure proper management of child marriage cases through thorough investigation of cases reported.
PARENTS
It is sad that parents are some of the major perpetrators of child marriage. We call on you to:
Report a fellow parent trying to marry off children.
Keep the children in school and also guide them on staying in school.
Ensure no marriage involving children happens in their community by reporting.