Health teams step up efforts to prevent the spread of Coronavirus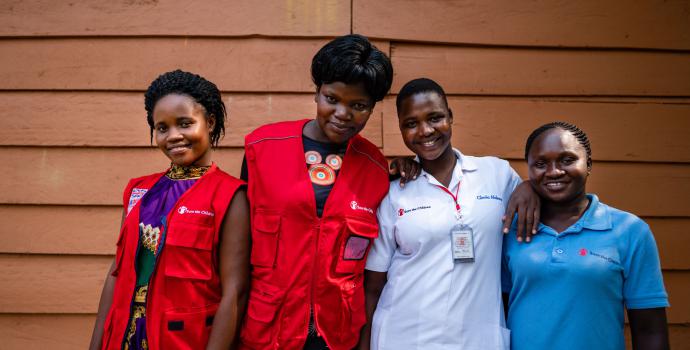 Above: Jimiah (far left) and other midwives at Ayivu health centre, before social distancing came into effect.

As we mark World Health Worker Week, our health teams in northern Uganda are working around the clock to keep essential life-saving services going during the COVID-19 outbreak and prevent its spread. Jimiah Onzia, a midwife, and Sauda Kalulu, a clinical officer, explain:

It's early in the morning when Jimiah Onzia arrives to start another shift at Ayivu health centre in Bidi Bidi refugee settlement – the largest in Uganda.
She washes her hands thoroughly, gets her temperature checked, changes her clothes, puts on her new gloves and face mask, and heads straight to the antenatal clinic. As a Save the Children midwife she works closely with children, expectant mothers and lactating women.
At today's antenatal class she checks the women are sitting four metres apart. No touching or hugging is allowed. Jimiah is using the regular class to inform the women about the Coronavirus pandemic. Uganda currently has 52 confirmed cases, including many children and an 8-month old baby.
"I give them updates of Corona's status in Uganda, and brief them on the signs and symptoms," says Jimiah. "I answer their questions and address their fears. I emphasise basic preventative behaviour such as social distancing, avoiding close contact with people with flu-like symptoms, crowded places and touching their face, good handwashing, and – for those who can afford it – the use of hand sanitisers."
There are a lot of myths and rumours about the virus and how it spreads, so sharing accurate information is life-saving.
"Public health measures must be emphasised," says Sauda Kalulu (pictured below), a clinical officer at Ocia health centre in Omugo, another vast refugee settlement. Like in many countries, she says that people in northern Uganda are not yet taking the outbreak seriously enough.
"There is still a lot to do in sensitising the communities. For instance, we get them to wash their hands and practice social distancing because they still crowd around one another. People still sneeze and clean up with their hands and then go ahead to touch surfaces. They know basic information about the virus but don't know how easily it can spread."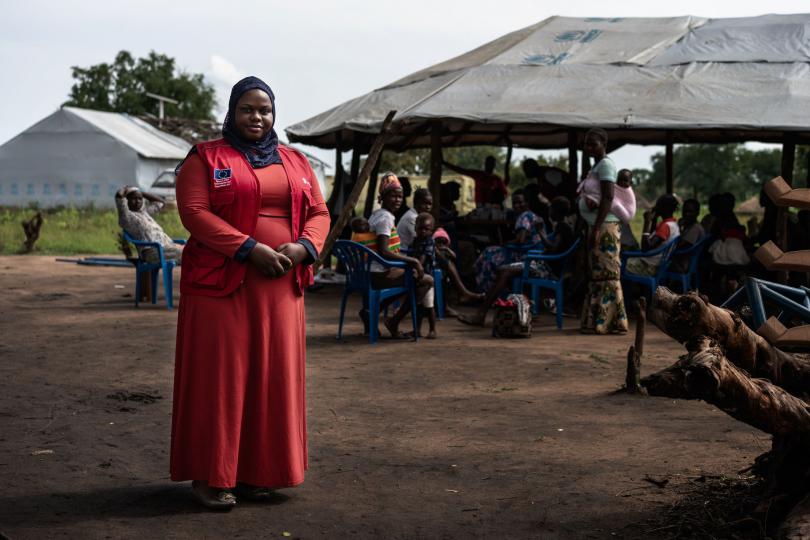 Preparing for the worst-case
The health centres normally see about 100-150 patients a day, ranging from children with malaria, pneumonia or breathing problems to pregnant women and other emergencies. These centres offer the only such health services for many communities.
Movement of most vehicles has been banned in Uganda and people are warned to stay at home to try and prevent the spread of COVID-19, but the district authorities have given Save the Children's health teams a waiver so they can keep this life-saving support going.
There have not yet been any confirmed cases in Bidi Bidi or Omugo – although there has been one in a neighbouring district – so the teams are focusing on prevention and preparedness.
Sauda and the team at Ocia have spent today setting up an isolation space, with beds and specialised equipment, where any suspected cases can be monitored and isolated while the district's rapid response team is alerted.
The health centre guards have been trained to check temperatures as people enter, so they can identify and direct any patients with high temperatures for immediate attention and further assessment by the clinician. The Out-Patient Department (OPD) waiting area has also been reorganised so that patients sit further apart.
Away from families and loved ones
It's a particularly difficult and stressful time for everyone, and many health workers are working around the clock while far from their families in other parts of the country.
"The situation is worrying – especially when you hear of what is going on in the world and the much that needs to be done in our preparedness here," says Jimiah. "But I don't regret working when others are at home because as health workers we are always at the frontline, even in war. It's my responsibility and I'm happy to help. I call my parents and keep them updated about the situation, as well as how they can prevent themselves. Sometimes I feel cut off from them and wish I could be with them. They call me often and tell me to take maximum care."
Sauda agrees. "This is the time that health workers are needed the most and must stand to be counted. I miss my family but now is not the time to put tools down, but rather sharpen them and make the world a better place! I'm putting in even more effort so that soon this is behind us and then we have enough time for family and friends."
This year World Health Day is celebrating the work of nurses and midwives and the critical role they play in keeping us all healthy. Take a minute to say thank you.