Helping babies breathe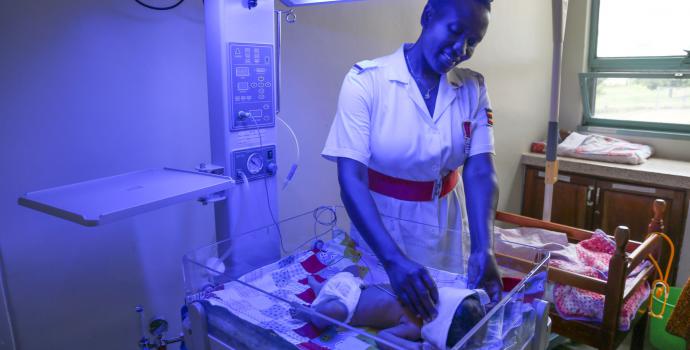 Eva Nangalo has gone far beyond what's normally expected in her job.
As a midwife in central Uganda, she's delivered babies during power cuts with only the light of a mobile phone, bought medicine with her own salary to help her patients when the hospital's supplies run out, and visited the homes of malnourished newborn babies to buy them food and support their mothers.
Asphyxia, or inability to breathe at birth, is the biggest killer of newborn babies in Uganda. That's why Save the Children – in partnership with Johnson & Johnson, through the Helping Babies Breathe project – has been training nurses and midwives like Eva in 92 health facilities on the basic skills to resuscitate babies immediately after birth.
"I was born to be a midwife," says Eva.
"When I was at primary school, we would role-play and I would always be the nurse and the midwife. When my siblings got sick I would look after them, making them juices and things to make them better. I always knew this was what I wanted to do.
"But we grew up poor, deep in the village. Even today there is no electricity there. None of my family ever got a diploma or finished education. We used to do farming at home, but when there was no money I couldn't afford to go to school. When I did go, it was very basic – we had classes sitting on bricks under the tree. I managed to go to secondary school, but there were no science teachers so I didn't learn any sciences."
Most nursing schools turned down her applications as a result, but after a lot of persistence she managed to get a place. While other students went dancing at night, Eva studied to catch up. "There were 103 of us on the course at the start, and by the end I was one of only 26 to graduate."
Like many health facilities in Uganda, the hospital struggles with a lack of basic equipment and medical supplies to treat patients – most of whom come long distances from poor rural areas.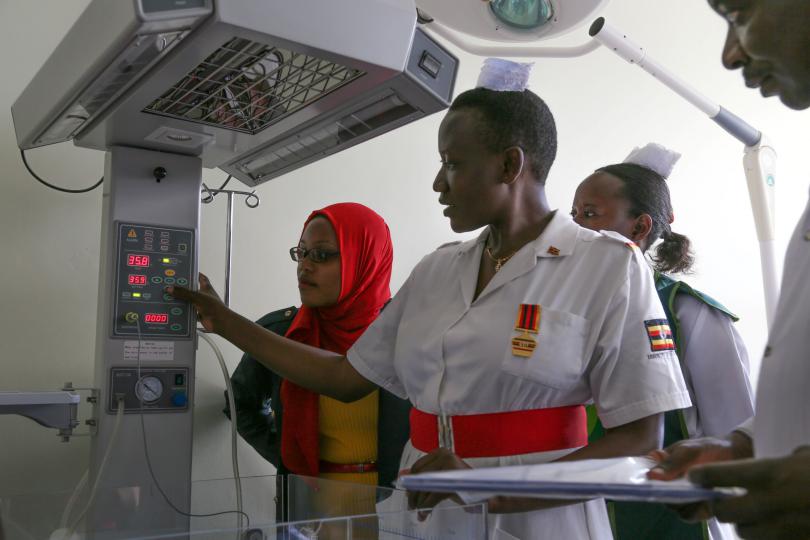 Above: Eva testing the new phototherapy machine provided by Save the Children and Johnson & Johnson
"I love my job so much. (But) there are a lot of challenges and we need to improvise – sometimes the hospital has no drugs to stop the mothers bleeding, so I have to buy the drugs myself to give to them.
"Sometimes the electricity goes and there's no light, so I have to deliver babies with the light of a cellphone. Here we receive very poor mothers from the villages. Some don't even have clothes, so I get some sheets from my house to keep them warm."
One case in particular sticks in her mind.
After an extremely difficult labour the mother and baby had to go straight home to a shack with no door and holes in the roof where the rain leaked in. "The baby had survived in hospital but I knew she was now at risk of dying at home," Eva says. Over the following weeks Eva bought her clothes, sheets for the roof, and porridge to help the mother breastfeed. "That was three years ago. Today the baby is healthy and doing ok. Her mother named the baby Eva after me, which made me feel so proud. At Christmas they visited our home."
"It was after the training that I started following up with some of the babies I deliver. Too many of them risk dying when they get home without proper care. When I deliver a baby I find myself asking what their future will be – will they go to school, will they have enough to eat? I'm sure some of them will grow up to do great things."
Eva and the other midwives at the hospital recently set up a new neonatal unit, which has received a new radiant warmer and phototherapy machine provided through Save the Children and Johnson & Johnson to help sick newborn babies suffering from illnesses such as hypothermia, pneumonia and jaundice.
"So far we've had 69 sick babies admitted, mostly with things like septicemia, asphyxiation and pneumonia, or premature births. We don't always have the equipment to help them and our incubator is broken. That's why the radiant warmer will be so important for us and for them. One of the babies we have in the unit at the moment was just born yesterday and has bad jaundice, he's very yellow. He's only one day old and he'll be the first to benefit from the new phototherapy unit. Without that we hardly have anything to help him."