Home-based approach turning homes into classrooms during COVID-19 in Uganda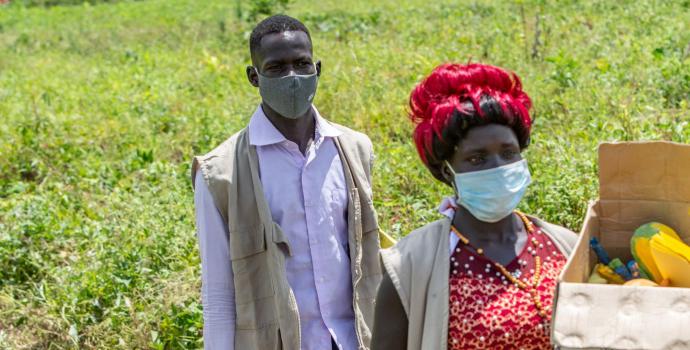 Robert walks miles to teach children in Rhino Camp.
For five months, Robert, the head caregiver at Eden IV ECCD centre in Rhino Camp has been walking miles to different homes in the settlement to teach children during the school closure.
Rhino Camp, in Arua District, is home to more than 190,000 South Sudan refugees. Save the Children is implementing ECCD in 20 centres in Rhino camp and five in Kiryandogo Refugee Settlement.
With schools still closed for children who are not in candidate classes due to Covid-19, Robert is determined to ensure these children keep learning at home.
Save the Children supported Robert and other caregivers in March with training on Emergent Literacy and Maths to enable them teach children at home. This home learning approach was an adaptation strategy formulated following school closure in March.
And so, several other caregivers like Robert, move to homes in the settlement every day, visiting some of the most vulnerable pupils to answer their questions and give one-on-one support in literacy and numeracy as they observe standard operating procedures, which is allowed under government guidelines.
"I teach these children to ensure that they do not forget what they learnt at the ECCD centre and when schools are open it feels like a continuation of learning," Robert says.
Under the home learning approach, communities were divided into zones. Caregivers move in pairs as they go into homes to uphold the approach of coteaching even in homes. Robert moves with Chandiru as co-teacher and in a day, they reach five homes interacting with children aged 3-6 years.
While engaging children, these caregivers were also trained to engage parents as well so that they can help these learners with simple assignments and activities they leave behind.
Onzima Kamel, is one of the parents in Rhino Camp, who has embraced this approach. "I used to spend most of my time drinking in the bar and hardly interacted with my children. I have since changed and now sit with the children to help them with their school work every evening when I return home."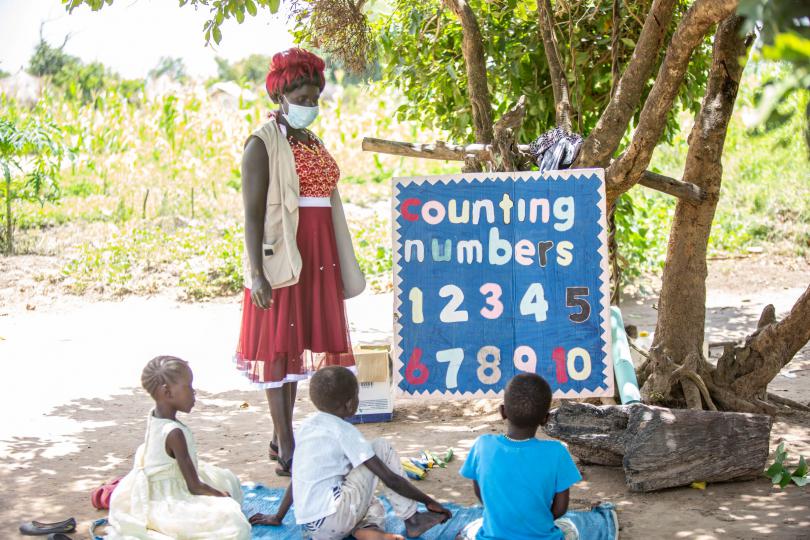 As part of the response to the COVID-19 outbreak in Uganda, Save the Children supported caregivers with a refresher training in Emergent Literacy and Maths and inclusive education with major focus on supporting the children to improve their skills in literacy, numeracy and social well-being while at home. The approach is implemented for Early Childhood Care and Development targeting children aged 3-6 years. The teaching is being implemented in refugee settlements.
Using radio sets to learn
When she heard that there were lessons being delivered on radio stations during closure school, Poni, a pupil of Komonyo Primary School in Omugo Refugee Settlement, would visit friends whose families owned one to listen.
Poni is a Level 3 learner under the Accelerated Education Programme who is passionate about education because she believes it is the key to success.
"I was hopeful at the start of the year but then schools were closed due to COVID-19 preventative measures. Life became uncertain because even after hearing that there were teaching radio programmes, I did not own a radio set," she says.
Fortunately, Save the Children distributed scholastic materials to learners and also gave out radio sets to vulnerable learners to enable them listen to the radio teaching programmes. "I am so grateful that the radio and scholastic materials have enabled me to continue studying smoothly while at home. At least I am now busy during this school closure."