How do we end corporal punishment? Children's views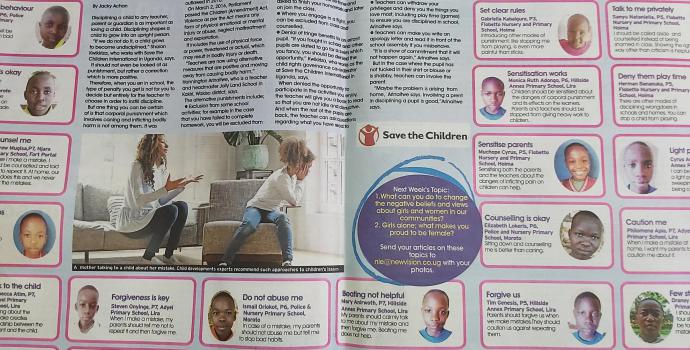 Corporal punishment is illegal in Ugandan schools, yet at least 75 percent of children say they've been beaten in class. The law is seldom enforced and teachers are rarely held accountable.
Save the Children, with support from Norad, partners with the New Vision newspaper to produce a weekly Newspapers in Education (NiE) publication. The latest issue asks primary school children across Uganda for their views on corporal punishment and how to keep effective discipline without violence.
Here are some of their answers:
Talking and explaining is much more effective than beating
"If I make a mistake I should be counselled and told never to repeat it. At home our father does this and we never repeat the mistakes." – Andrew from Fort Portal

"Shouting at me and beating me cannot correct me. The right way is telling me the consequences of mistakes in life." – Favour from Hoima

"My parents should calmly talk to me about my mistake. Beating me does not help." – Mary from Lira

"I should be told the danger of my mistake rather than being abused." – Eva from Hoima
Corporal punishment can cause serious injury to children
"Parents and teachers should be sensitised about the dangers of corporal punishment because I have seen many of my friends nursing injuries inflicted on them while punishing them." – Evelyn from Fort Portal

"Parents and teachers should know that subjecting children to corporal punishment is a bad practice and they should stop. It can cause permanent disability or death to the child." – Marylyn from Fort Portal
Laws need to be enforced
"The perpetrators should be arrested and prosecuted in courts of law. It is against the laws of Uganda to give corporal punishment." – Eden from Fort Portal

"The offenders should be arrested by the police. This would be a lesson to others." – Maureen from Fort Portal
Children also have a responsibility to behave
"Children should be disciplined, read hard and respect their teachers." – Jonathan from Lira

"Children should learn to respect teachers and do what is required of them at school." – Christine from Moroto
There are other alternative non-violent forms of punishment
"There are other ways of disciplining wrongdoers in schools and homes. You can stop a child from playing." – Herman from Hoima

"Introducing other modes of punishment, like stopping me from playing, is even more painful than sticks." – Gabriella from Hoima

"I should be called aside and counselled instead of being shamed in class. Showing the right way other than criticism is helpful." – Sanyu from Hoima

"Talking about the mistake creates friendship between the parent and the child." – Rebecca from Lira