"It all started with a few dollars!"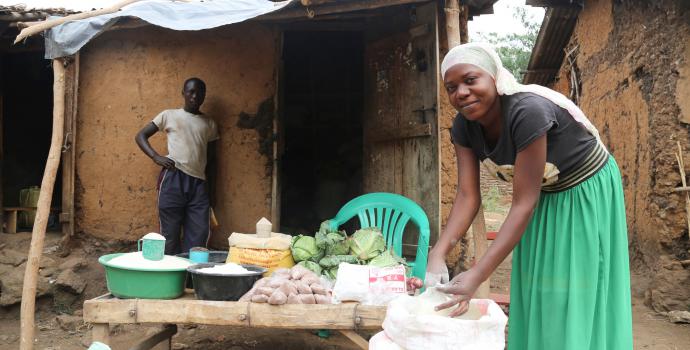 Between 2013 and 2018 Save the Children and The Mastercard Foundation ran a programme called Youth in Action, to support rural youth in western Uganda to find decent work or start their own businesses. It helped more than 11,000 young people to gain employment and increase their income. The programme aimed to ensure sustainable and long-term change, so two years after it ended we went back to visit some of the youth and find out if the impact has lasted.
Today 23-year-old Lilian Musabe is the speaker for Karagutu sub-county local council. She's influenced the budget allocation for a new health centre, and lobbied for its site to be relocated so that it's more accessible for most community members. She's influenced new road construction and played a key role in setting up a new community action health group.
A lot has changed since she had to drop out of secondary school when she got pregnant as a young teenager.
"For the next few years I stayed at home as a mother," she recalls. "Then in 2014 I heard about Youth in Action."
Aged 18, she enrolled in the training and remembers being told that young people can do something with even a small amount of money – if it's invested well.
"I had 20,000 shillings (then about $7), so I thought… 'ok then I'll start with that!'
"I bought a few small things like tomatoes and cabbages. I bought a cabbage for 600 shillings, and I found that if I cut it up into smaller pieces then I could sell those for a total of 1,000.
"After one month I had 80,000 shillings – four times what I started with. Other friends saw and started calling me a businesswoman. I liked that!"
Youth in Action then invested 300,000 shillings as her capital and encouraged her to join a local savings group. Gradually she expanded, in small steps.
"With the savings I bought a goat. Then by 2015 I had six goats. I sold five and bought a cow, then another cow. Then I traded the cows for a first instalment to buy some land. By 2017 I owned the land completely. Now I grow cassava, cocoa and matooke (bananas) for us to eat at home and sell in the market.
"Today I have land, goats and savings, and it all started from my 20,000 shillings!"
The economic boost is just one of the long-term impacts. The programme also ran training on civic empowerment.
"Youth in Action taught us how to speak in public and engage in the community," she says.
Growing in confidence and with her business thriving, Lilian's peers persuaded her to run to be the sub-county's Female Youth Councillor, an elected local government post.
"I was doubting to contest at first, but Youth in Action really encouraged me. I won the election and was known to be hardworking, so next I became the sub-county Speaker. In these roles I advise youth groups in the area and help other young people to access livelihoods programmes and the government's Youth Livelihoods Fund."
Now earning a good income, Lilian was able to enroll back in school. Last year she started university in the regional capital of Fort Portal, where she's studying a two-year weekend course for a certificate in Public Administration. "I pay the fees myself," she says proudly.
Two years after the Youth in Action programme ended, Lilian is still feeling the benefits.
"The biggest impact is that now I'm respected by people," she says. "I'm someone who people trust. I used to stay home and ask my husband for money. Now I'm a businesswoman, a councillor and Speaker for the sub-county. Now I can do everything!"
John trained to become a beekeeper under Youth in Action. Read his latest updates