Japan government and Save the Children launch natural disaster response project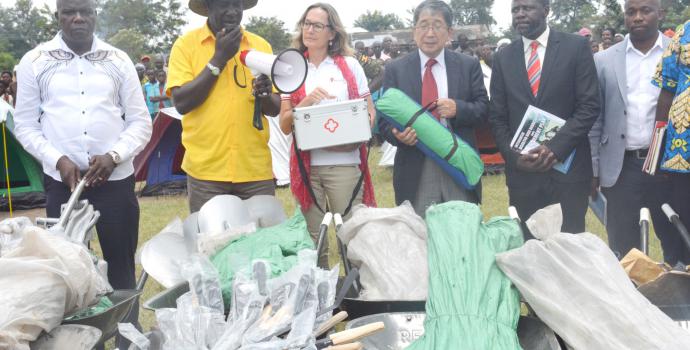 The Government of Japan and Save the Children today launched the second year of the second phase of a project to improve the response to natural disasters and climate change in Kasese District. The lives of families across the district are being devastated by changing weather patterns such as increased flooding and prolonged dry seasons.
The Ambassador of Japan, His Excellency Kazuaki Kameda, today launched the project at Katojo Primary School, Kasese District, with Save the Children's Country Director, Brechtje van Lith, at a function attended by the Minister of State for Relief and Disaster Preparedness, Hon. Musa Ecweru, and the district local leaders.
The event kicked off the new phase of a project which is in its fifth year. Since 2015 it has introduced climate-smart agriculture and irrigation; built bridges, flood defences and other infrastructure; and helped communities and districts establish committees to develop preparation plans for disasters. 43 villages in the district have benefited so far.
The Ambassador of Japan, H.E. Kazuaki Kameda, said;
"Investment for precaution and prevention is much more cost-effective than the investment for dealing with the aftermath of disasters.

The establishment of disaster management committees in villages, however, does not automatically assure the success of disaster prevention. The key to determining the success of saving people's life depends on local people's awareness and day-to-day preparedness."
Kasese is one of the most disaster-prone districts in the country. In the past few years, communities have suffered from flash floods, landslides, prolonged dry spells, storms, crop diseases and epidemics. For rural communities the impact of disasters has been particularly disastrous – ruining crops, threatening food security and increasing poverty.
Speaking during the launch, Save the Children's Country Director Brechtje van Lith said:
"As a result of these disasters, many families are struggling to feed their children or send them to school. This project shows how practical, affordable and effective community-led interventions can be undertaken to significantly reduce the threat and impact of disasters and climate change. We hope the lessons learned from this project can be used to build greater community resilience in other disaster-prone areas of Uganda."
Among other interventions, the project has set up early warning systems using community radios to disseminate information to vulnerable rural communities, and set up Disaster Risk Reduction (DRR) clubs in 38 schools in Kasese where children are now actively involved in assessing their environment for risks and developing local solutions.
The second project phase focuses on strengthening community disaster risk reduction structures at village, sub-county and district levels, training committees to implement their risk reduction action plans, support information sharing and engage district leaders to mainstream risk reduction in their district plans and budgets
Minister Ecweru lauded the government of Japan for its continued support to the people of Uganda and committed to mobilise ministers to use Kasese as a model district in Disaster Risk Reduction and replicate its successes in other disaster-prone districts of Uganda.
Below: School children deliver a poem about preventing disasters