Loi goes from swapping labour for food, to her own plantation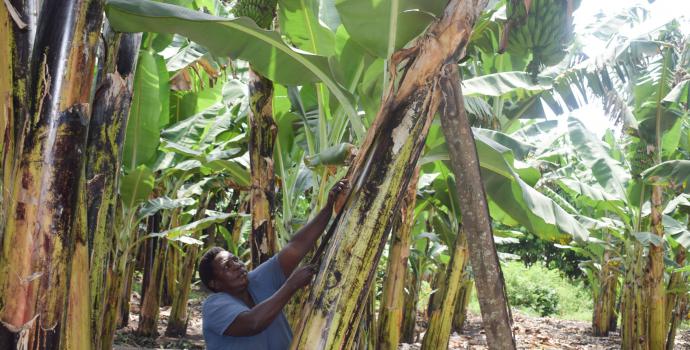 In her flood-prone village, Loi struggled to grow food and used to collect firewood to swap for bananas. Now she has her own banana plantation
Loi Habirurema knows very well the dangers of flooding. One day, her father drowned while trying to cross the flooded river near their home, as there was no bridge. Her adopted daughter, Loice, was also rescued just in time from drowning in the same river.
Kabarodi village in western Uganda, where Loi lives, is in the flood plain of the Mubuku river. The area is prone to flooding during the rainy season and prolonged dry spells at other times –extreme weather patterns that are becoming increasingly frequent in recent years. It makes farming a challenge.
Last year, Save the Children worked with the community and the district government to build a new stone bridge over the river – part of a Disaster Risk Reduction (DRR) project to help communities like this cope with the effects of climate change. The project – funded by the Government of Japan – also helps people like Loi to produce sustainable food for their family.
Loi, 53, had some land but didn't know how to use it for agriculture in the harsh weather. She and her husband, Victor, relied on collecting firewood which they would exchange for food in a nearby village, and offering casual labour such as digging in return for food.
"I used to collect firewood and walk with it on my head for two miles to exchange it for bananas – even when we had the land!" says Loi.
Now she's turned from swapping labour for food to producing her own and supplying others.
In 2016, Loi was selected to join Save the Children's new DRR programme, getting training on agricultural skills, drainage management, river bank protection, food security and flood defences.
"I talked to my husband about the training and how it was going to support us to have our own food. He agreed that we should work together and stop giving away our labour when we have land," says Loi.
"We started caring for about 30 banana stems that we had. We'd been trained to remove the dry leaves, excess suckers (offshoots) and also the dry stems."
Loi and Victor were taught skills needed to start a new plantation, such as proper digging of holes, how to select the best suckers, and the correct use of manure. The family didn't have any animals to get manure, so they carried some cow dung from a neighbour's home.
Things didn't work well straight away. The manure wasn't enough and the bananas failed. "Then a Save the Children staff member advised us to use a local weed that was more abundant," says Victor. The couple applied the weed under every sucker and the bananas flourished.
"After one year we started harvesting our own matooke," (as this variety of bananas is known in Uganda) Loi says.
Save the Children provided the family – and other farmers in the groups – with 100 new suckers to expand the small plantations. With these, Loi and Victor expanded to two acres of bananas. It was such a success they've recently bought another two acres of land for planting, and a cow for additional manure.
As well as preventing more people from drowning, the new bridge constructed under the project also helps the farmers access markets and sell their produce. "Vehicles come to load matooke from my own compound every week," says Loi.
As a result of their efforts, Loi and Victor are now able to take their daughter to university and support another child in secondary school. Their adopted daughter Loice, who they took in after she was rescued from the river, says she has plenty to eat. The family saves money every week, and in the next year they hope to build a new modern house. Under the project, farmers who receive the training also pass on the knowledge to others, so Loi is currently advising 10 other farmers on planting and harvesting.
"I'm very happy that I who used to walk and dig in search of food now have a plantation. Even if me and my husband are away, our children don't lack food to eat," Loi says.