Meet Save the Children Uganda's first female driver!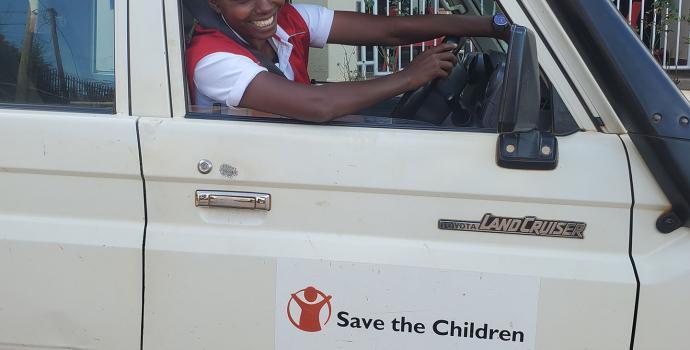 On March 22, Prudence Kyasimiire graced roads in Kyangwali Refugee Settlement as Save the Children Uganda's first female driver. She joins a team of 50 male drivers which makes her coming timely and exciting. She talks about how driving is part of her life and how joining SCI has come to further her dream of working in a humanitarian setting.
Is driving a job you have always wanted to do?
I love to drive. I am a girl of the road! I started off with riding a bicycle at the age of five. I rode a motorcycle at 14, and started driving cars while at university to date. And I have immense love for big cars such as Land cruisers that I have grown up wishing I would drive one. But I also knew that it would not be easy to buy myself one as it requires a lot of money. I knew I had to find another way.
What's your level of education?
I have a Diploma in Accounting from Uganda College of Commerce, Kabale.
How many years have you been driving as a job?
I started in 2018 while working with Esco Uganda Limited, Bundibugyo branch. That is three years ago.
Were you happy about getting this role with SCI?
I have also always had a dream of working with a humanitarian organisation. Seeing the job advert re-energised this dream. I applied and when I was considered for the role, I was extremely happy.
How do you feel about the attention you are getting?
Being the only female driver for the organisation in Kyangwali Refugee Settlement, I have all eyes on me within a very short period of time. People are surprised by my role and they even verbalise their shock. How it feels? Definitely, good!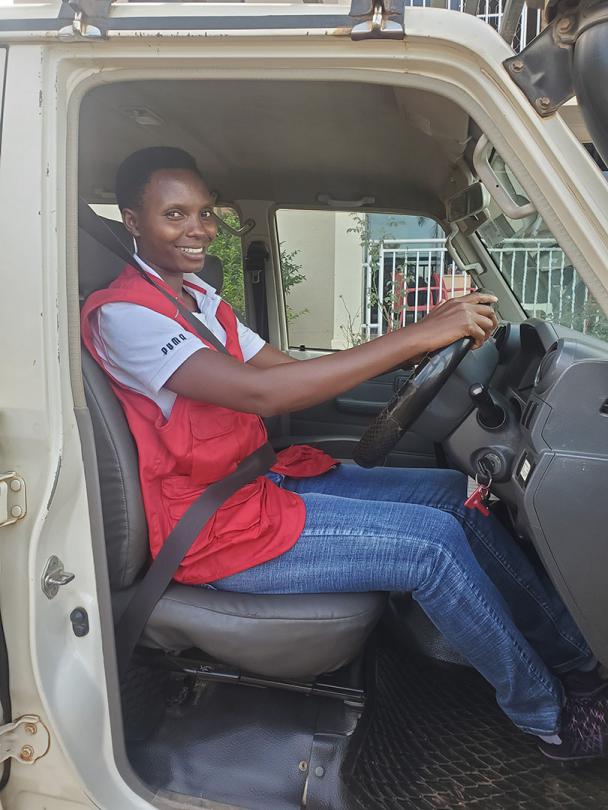 How are you going to exploit this opportunity to impact children's lives?
I will seize every chance to protect children whether I am on or off duty. I will not hesitate to report cases of neglect or violence against children if I encounter any. I will be happy to educate caregivers and parents on the consequences of violence and neglect of children each time I get chance. Majorly, I hope to play a role in making communities a better and safer place for children.
Have you ever been despised because of this work?
Yes, sometimes when I drive past a group of people and they see me in an organisation car or a truck, I hear some remark that they cannot be driven by a woman. But some others have told me drivers earn little pay why did I opt for a job that pays so little.
What makes you happy?
I love listening to gospel music. In terms of work, when I am driving on a smooth tarmac road with less traffic such as the Fort Portal-Kampala highway. That is an exciting and relieving but altogether wonderful ride.
I get angry when…
When someone despises me.
The place on your bucket list in Uganda and beyond is…
Definitely America! (chuckles)
If you were to come back as an animal, which one would it be?
A cat! I love cats. I love playing with them and I also love how they carry themselves.