Millions of children in Uganda are still being left behind, new Save the Children report warns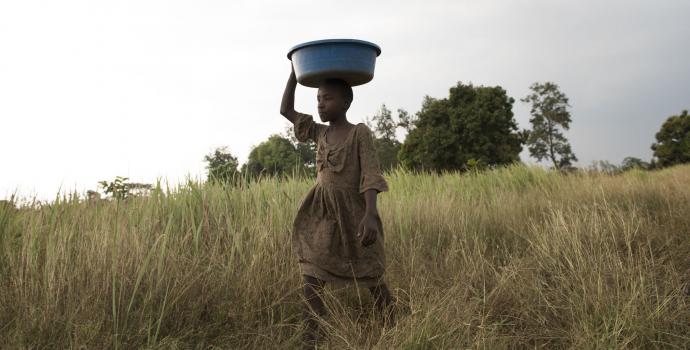 Uganda has moved up by two places and 20 points in Save the Children's annual global End of Childhood Index – but much more still needs to be done to reach the millions of children in Uganda who are being left behind without adequate education, healthcare and protection.
The 2018 End of Childhood Index – launched in commemoration of Day of the African Child, under this year's theme of "Leave no child behind for Africa's development" – examines the factors which rob children of their childhoods. It ranks countries on a range of indicators including poor health, malnutrition, exclusion from education, child labour, child marriage, early pregnancy and extreme violence.
This year Uganda ranks 130th out of 175 countries worldwide – up from 132 last year – and comes third in East and Central Africa. The small improvement is largely due to better child nutrition, on top of recent years' commitment to increase access to essential services such as healthcare, immunisation and basic education. However, many of the poorest children and regions in Uganda are missing out:
Education: One in five children are still out of primary school, and enrolment for other stages of education is even lower. Only 28% of children get to attend secondary school and only 13.4% are enrolled in vital pre-primary education. Children with disabilities are particularly at risk of missing out on learning, with only 9% able to attend primary school.
Healthcare: Although childhood and maternal mortality rates have improved in recent years, they remain far too high, with 64 deaths under 5 years old for every 1000 births – more than double the SDG target. Neonatal mortality – the deaths of new-born babies within the first 28 days of life – has shown no improvement at all since 1995. More than a quarter of these deaths are caused by birth asphyxia, which should be easily preventable. Nationally, one in four families cannot afford to visit a health facility or buy medication for sick children, and 29% of children suffer from chronic malnutrition
Protection: Despite numerous positive laws and policies in place to protect children, in reality they are often ignored. More than 2 million children are involved in exploitative and harmful forms of child labour – some as young as five years old. Early teenage marriage is rife and nearly one in five girls aged 15-19 have already given birth or are pregnant, forcing them to drop out of school and often putting their own lives at risk.
A child has no say in where she or he is born, but that has a defining impact on their experience of childhood and access to services. In Kampala, 87.8% of children are enrolled in primary education, compared to just 35.5% in Karamoja. A child from a wealthy family is almost 10 times as likely to attend pre-primary education as a child from a poor family.
Brechtje Van Lith, Save the Children's Country Director in Uganda, said:
"It's good news that Uganda has moved up the rankings, but the reality is that millions of children are still being left behind. Too many children in Uganda are still out of school, dying before their fifth birthday, malnourished and at risk of violence or harmful practices such as child marriage or child labour.

"These lost childhoods are increasingly concentrated among the poorest children and the parts of the country where poverty is highest and access to services is lowest. Children are denied a fair start in life just because of where they are born. A prosperous future for Uganda will only be possible by investing in every child's development and ensuring no child is left behind."
Save the Children is calling on the Government of Uganda and international donors to invest more in children, especially those who are most excluded from development, to ensure Uganda meets the commitments made in the Sustainable Development Goals (SDGs).
Globally the report found that more than half of all children – over 1.2 billion – are threatened by conflict, widespread poverty or discrimination against girls. Singapore and Slovenia both rank first, with Norway, Sweden and Finland rounding out the top five. All the bottom 10 countries are in Africa, with Niger ranked last for the second year running. In East and Central Africa, Rwanda and Kenya came ahead of Uganda – however, all of Uganda's neighbouring countries fell in ranking or score this year.
Helle Thorning-Schmidt, CEO of Save the Children International, said:
"Without urgent action, we'll never meet the promises made three years ago by every country at the UN in 2015 to ensure that by 2030 every child survives, learns and is protected. Governments can and must do more to give every child the best possible start in life. The fact that countries with similar levels of income deliver such different outcomes for children shows that policy, funding and political commitment make a critical difference."
Download the Uganda report here