Mobile clinic saving lives in West Nile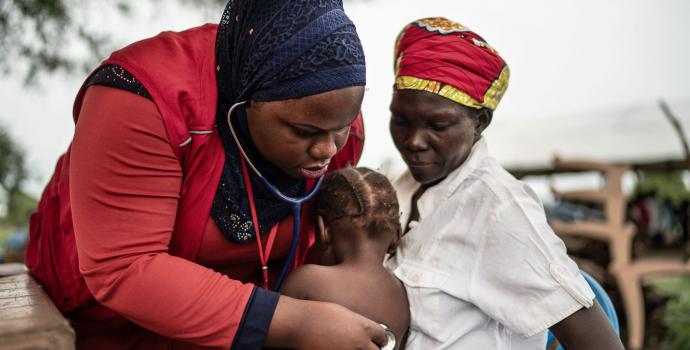 Five days a week the Save the Children mobile clinic moves around the vast Imvepi refugee settlement in northern Uganda, bringing vital health care and medicine to sick children and parents, like baby Rose.
A crowd of around 30 people are already waiting when Sauda Kalulu and her team arrive. They are running slightly late as heavy rain turned the red mud road into a quagmire.
Sauda and the team quickly get to work, setting up plastic tables and colourful umbrellas near a water tank in northern Uganda's vast Imvepi refugee settlement, where 50,000 South Sudanese refugees now live. Every day the team moves to a different part of the settlement to set up Save the Children's mobile clinic. There are tables for consultations, lab work, maternity, vaccinations, and a dispensary handing out drugs for everything from malnutrition and malaria to coughs and rashes.
Sauda, a clinical officer, is soon treating people. She carries out hundreds of consultations every week. "If the mobile clinic went away people would really suffer," she says. "Many patients won't go anywhere but the mobile clinic as they trust us so much."
Celina* says her 20-month-old baby Rose*, who had malaria, may have died without the clinic.
"Last night when Rose* got the symptoms of malaria I said to God, 'just let her survive'. I saw the (mobile clinic) vehicles this morning, and I brought her right here," says Celina, who fled both war and an abusive husband in her native Yei in South Sudan. "She was coughing and had difficulty breathing. Her temperature was high and she had lost her appetite."
Malaria is one of the most common illnesses among the more than 100 patients Sauda sees in a day. She spotted Rose's symptoms and got her immediately tested and diagnosed, then given anti-malarials, paracetamol and cough medicine.
"The medicines given to us really help so much," says Celina. "They tell us how to use them and it helps us not to have to buy medicines so we can save the little we have for fish, soap and the other items we need."
Without the mobile clinic, Rose may not have got treatment. The closest health facility is several kilometres away – at least a two hour walk, difficult with a small, sick baby. "At the other clinics it can take hours before you are attended to and they don't give you enough medicine," says Celina.
Celina herself also feels unwell – she has a cough and heart palpitations which Sauda suspects are caused by the stress of refugee life. "When I dug deeper into the history of (her) palpitations she told me she was worried about many different things – her children not going to school, having enough food. I prescribed some antibiotics but I didn't give her anything for the palpitations because I felt it could be handled through psychosocial support."
Celina says the antibiotics will help but seeing baby Rose* receiving good treatment has already made her feel better. "Now that medicine has been given to my child my heart is calming down. If I see my child playing around me it makes me happy.
"When a child plays, laughing and running, as a mother I feel elated. It is only a healthy child that makes a home happy."
Sauda says patients like Celina and Rose* are the reason she loves her job at the mobile clinic.
"We are helping the most vulnerable people in the community. Making a difference in someone's life makes me happy about what I do. We are saving lives."