Open Call for Funding Applications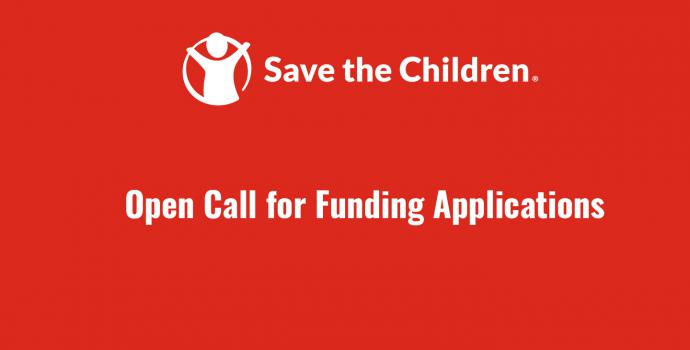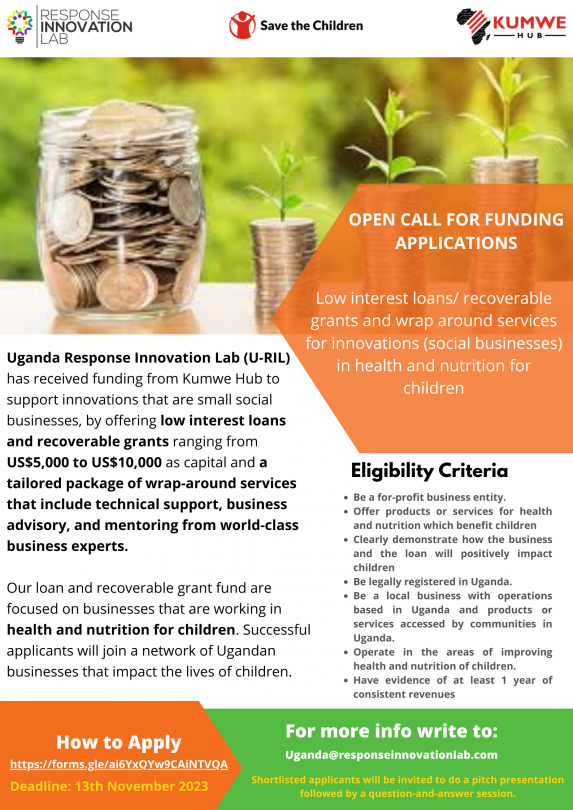 Low interest loans/ recoverable grants and wrap around services for innovations (social businesses) in health and nutrition for children
About U-RIL
Through problem and solution analysis, localized adaptation, support to sound innovation models, and investment to pilot and scale, the Response Innovation Lab (RIL) network of country innovation labs serves all organizations in humanitarian and protracted crises which address the needs of the most vulnerable people, including governments, NGOs, entrepreneurs, community-based organizations (CBO's), and the academia. The objective of RIL is to support addressing the needs of the people most impacted by inequality and discrimination through problem and solution analysis, localised adaptation, support to sound innovation models, and investment to pilot and scale. RIL supports innovators to maximise their ability to deliver successful innovations in humanitarian context. One of these support avenues is seed grants.
The Uganda Response Innovation Lab (U-RIL) was launched by SCI in Uganda in 2018. It provides a solutions system for the humanitarian innovation ecosystem in Uganda and supports nexus solutions that enable crisis-affected populations to shift from emergency aid to progressively more durable solutions, with a focus on supporting locally-led solutions. Localisation and strengthening of the innovation ecosystem are two strategies of the U-RIL to encourage a sustainable transformation in Uganda and an environment that is more favorable to humanitarian innovation and social-impact-driven innovation and entrepreneurship.
The implemented activities are grouped under the key functions of RIL including Convening, Matchmaking, Supporting, Evidence generation and dissemination.
About Save the Children
Save the Children (SC) is the world's leading independent organization for children. Our vision is a world in which every child attains the right to survival, protection, development, and participation. Our mission is to inspire breakthroughs in the way the world treats children and to achieve immediate and lasting change in their lives. The SC Theory of Change informs all programming and commits to: Be the voice, Be the innovator, Build partnerships and Achieve results at scale. Save the Children's global strategy prioritizes five thematic areas to inspire breakthroughs for children: Health and Nutrition, Education, Child Protection, Child Poverty, and Child Rights Governance. SC works in 120 countries, focusing on the most deprived and marginalized children, helping them survive, learn, and reach their full potential.
SC Uganda's work began in 1959 with child-rights focused programming. We work in partnership with the government, communities, civil society, and the private sector to deliver programs that have lasting impact, inspire change, and uphold children's rights. Our work supports long-term development and humanitarian emergencies and bridges the gap between the two.
About Kumwe Hub
Kumwe (Kinyarwanda for Together) is an Africa-Focused innovative finance and social investment entity within Save the Children. Kumwe Hub supports the success, growth, and sustainability of local businesses who are having a positive impact on children. Kumwe Hub backs these businesses through an array of technical support, investments, and service. These include providing space for start-ups to pilot new approaches within Save the Children's existing programmes, providing advice to businesses on their operations and impact, and providing capital through grants, loans, and investments.
About the call
Uganda Response Innovation Lab is launching call of investments in start-ups and small businesses which make a positive difference for children and communities in Uganda in the areas of health and nutrition.
Uganda Response Innovation Lab has received funding from Kumwe Hub to support innovations that are small social businesses, by offering low interest loans and recoverable grants ranging from US$5,000 to US$10,000 as capital and a tailored package of wrap-around services that include technical support, business advisory, and mentoring from world-class business experts. Our loan and recoverable grant fund are focused on businesses that are working in health and nutrition for children. Successful applicants will join a network of Ugandan businesses that impact the lives of children.
Who Should Apply?
Innovations that are small social businesses with a proven track record or clear potential for making a positive impact on the health and nutrition of children, that are restrained by lack of appropriate financing or need business support to grow and increase the impact on the lives of children and communities.
What are the eligibility criteria?
Eligible businesses must:
Be a for-profit business entity.
Offer products or services for health and nutrition which benefit children
Clearly demonstrate how the business and the loan will positively impact children
Be legally registered in Uganda.
Be a local business with operations based in Uganda and products or services accessed by communities in Uganda.
Operate in the areas of improving health and nutrition of children.
Have evidence of at least 1 year of consistent revenues
How to Apply
To apply, please follow this link: https://forms.gle/ai6YxQYw9CAiNTVQA
If you have any questions on the application, send email to uganda@responseinnovationlab.com
NB: Applications are open from October 30th to November 13th 2023.
Shortlisted applicants will be invited to do a pitch presentation followed by a question-and-answer session.