Photo series: The female experience of war and displacement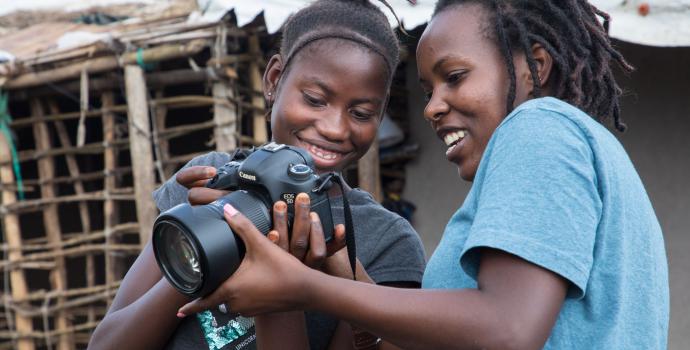 To mark this year's International Women's Day, Save the Children worked with three award-winning photographers to document the stories of young women and girls living through war.
The photo series is an intimate portrayal of the pain, resilience and hope of girls growing up in conflict around the world.
Ugandan photographer Esther Mbabazi visited Kyaka II refugee settlement in western Uganda to document the lives of girls who have fled eastern DR Congo, one of the most dangerous places on earth to be a girl, where they are frequently abducted by armed groups and at extreme risk of sexual violence – with rape used a weapon of war.
The consequences for those who survive are devastating: their lives changed forever and their trust in other people profoundly shaken. But the photo series shows how their power and humanity endure.
HELEN* 16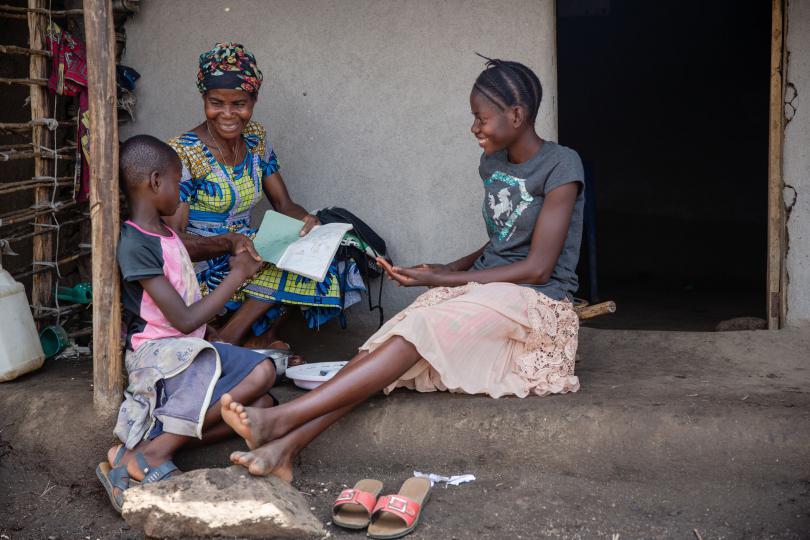 Above: Helen with her younger sister Rita and foster mother Prudence, now safe in Uganda
As Helen ran from scenes of horrific violence, she did not have time to dwell on them.
"You see people running, others had been cut to pieces… we saw that with our eyes. I didn't see any women being raped but I could hear them scream.
"I did not think about anything. I only thought about running…"
It was only after she and her sister Rita*, who were just 13 and 6 at the time, reached the relative safety of Uganda that the thoughts began to come.
"I had a problem of screaming a lot because of overthinking… a lot of thoughts. I would see my mother and father being cut, or without eyes."
Helen and Rita's parents – who they had lost during the chaos – had both been killed.
They stayed at the refugee reception centre at the border for six weeks, safe from militants but still vulnerable, hungry and in limbo. Then, one day, their old neighbours from DRC arrived. One of them, Prudence*, began to visit the young sisters every day. "[Prudence] would come with fish and talk to us," says Helen. "She told us she would look after us. I felt happiness."
After a while, Prudence decided to foster the girls. She's supported by Save the Children case workers who visit the girls in their new home. "When they visit here, they talk and I've got (sanitary) pads, books and clothes."
They also encouraged Helen to restart her education. "I have friends that I play with at school. I love studying, especially composition – writing and reading. During the war there was no studying, everyone was running, looking for somewhere to live.
Helen writes poetry to help her cope, and spends time with other children to take her mind off things. "I look for a place where there are many children and I play with them so I get tired and stop thinking," she says.
"I want to be a doctor because doctors help people. I want to treat and help my friends," says Helen, pictured at the top showing photographer Esther Ruth Mbabazi the photograph she took of her.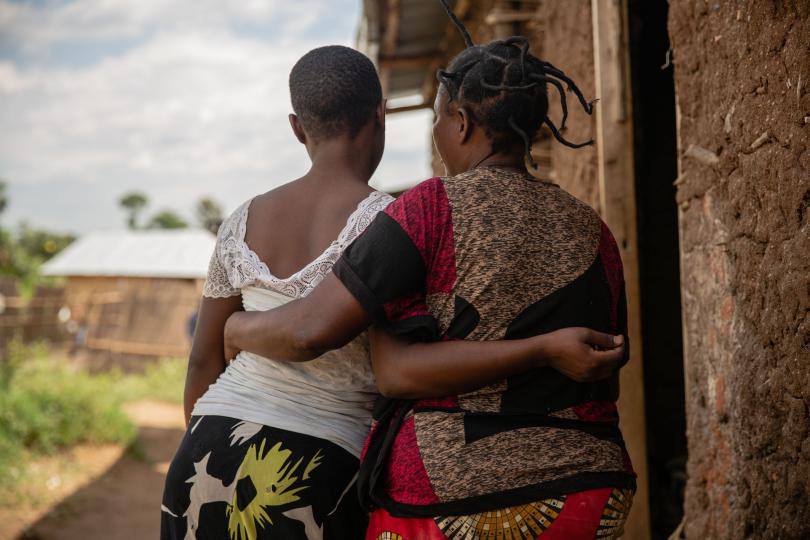 Above: Rehim with her mother

REHIM* 15
"When dad was still alive, things were very good," says Rehim. "When I came back from school, I could watch TV in the house. I would feel so happy to see and play with my father."
But five years ago, that ordinary, happy family life was shattered forever.
Rebels attacked their home. Rehim's father was killed and she was abducted, disappearing into the night.
She was missing for a year, before managing to escape while her captors were sleeping. Discovered asleep in a garden, starved and weak, Rehim was reunited with her surviving family.
When she remembers what she's been through, Rehim cries. "I wipe my tears. Sometimes I go to church and sometimes to the Save the Children child-friendly space."
The space – funded through humanitarian funding from the European Union – Is set up to give vulnerable children a safe place to play, make friends and get psychosocial support.
Rehim has ongoing urinary problems and abdominal pain, due to internal damage, which doctors believe has been caused by sexual violence.
At the child-friendly space, Rehim is given psychological first aid, counselling and the chance to learn and play. "I like swinging or playing Ludo."
These words are a heartbreaking reminder that Rehim is still just a child. She is, though, a child who is determined to build a life for herself: "I want to teach children. But if teaching fails, I would like to be a doctor and treat people.
"I want to get a job and live a good life."
Below: Rehim plays ludo with her friends at the Child Friendly Space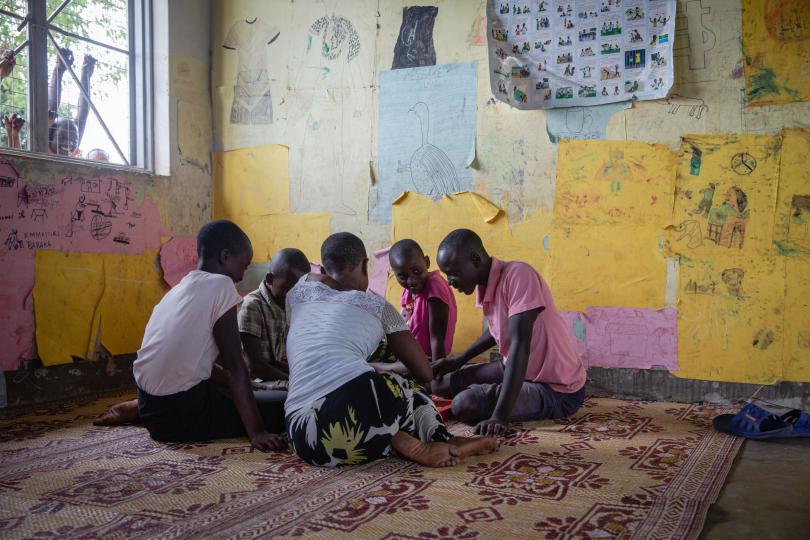 LYDIA*, 16
"My son likes it when I throw a bottle to him and he kicks it back. I also bounce a ball for him and put him down on the ground and play with him.
Back in the DRC, Lydia got home from school one day to find her mother missing. While searching for her, Lydia ran into a group of rebels, two of whom attacked and raped her. "I was 15 years old," she says. "I feel so bad, remembering those things."
After the attack she discovered she was pregnant and fled to Uganda. Her son, Bintu*, is now six-months old, and they have an incredibly tight bond.
"People from Save the Children brought clothes for me, blankets and baby clothes for him to wear."
"I want my child to go to school to study and to be clever in class.
Lydia never wants to return to DRC. Instead she is focused on a safe, happy future for her and her son.
"I would love to do vocational activities like tailoring and hairdressing. I would love to have my own salon.
Below: Lydia hangs up her baby's clothes to dry