Refugee entrepreneurs thrive with the right support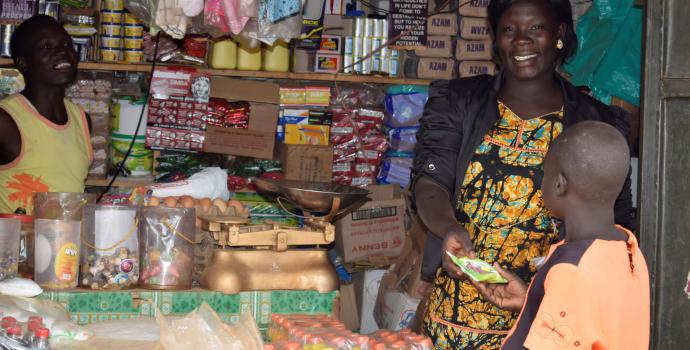 Above: Florence at her new shop
Feeding the family is a daily struggle for many refugees. But with a small helping hand, groups of refugee women have been able to start thriving small businesses to support their families.
Leila Watts, who fled violence in South Sudan in 2014, is looking after 16 children – five of her own and another 11 children who she has taken in as they had nobody else to look after them.
When she arrived in Kiryandongo refugee settlement, in Uganda's West Nile region, Leila found it tough to support her large extended family. Her husband returned to South Sudan, leaving Leila as the sole breadwinner. They scraped by, relying on aid rations of beans and posho (a local maize dish).
"I tried different ways of supporting the family, like doing casual work in people's gardens, but this was never easy to find," says Leila. "One day, as I was moving around and looking for casual labour as usual, I came across a community meeting."
The meeting was organized by Save the Children, to set up farmer's groups and savings and loans groups to help vulnerable families like Leila's. The groups are part of a project – the Support Programme for Refugee Settlements and Host Communities in Northern Uganda (SPRS-NU), funded by the European Union Trust Fund – which aims to sustainably improve refugees' food security, nutrition and livelihoods. It particularly focuses on supporting the livelihoods of women and girls.
Straight after the meeting, Leila joined the Ngoapa farmer's group and soon received training on producing vegetables.
"Save the Children supported us with different vegetable seeds such as Sukuma wiiki (greens, similar to kale), onions, eggplants, carrots and Ntula (garden eggs). We raised a nursery bed as a group and transplanted the seedlings to my kitchen garden. Shortly, after about a month, I started harvesting the vegetables and then my household could have greens in their daily meal."
Leila managed to produce more vegetables than her family could eat. "I sold the excess to the neighbours and this enabled me to start saving in the VSLA (Village Savings and Loan Association)," she recalls.
Since then, Leila (pictured below) has gone from strength to strength.
After two months of saving, she took a loan of 100,000 shillings (approx. €23) to start a small business. With the money she bought a carton of wheat flour, 4 kgs of sugar and 4 litres of cooking oil, and started making and selling pancakes.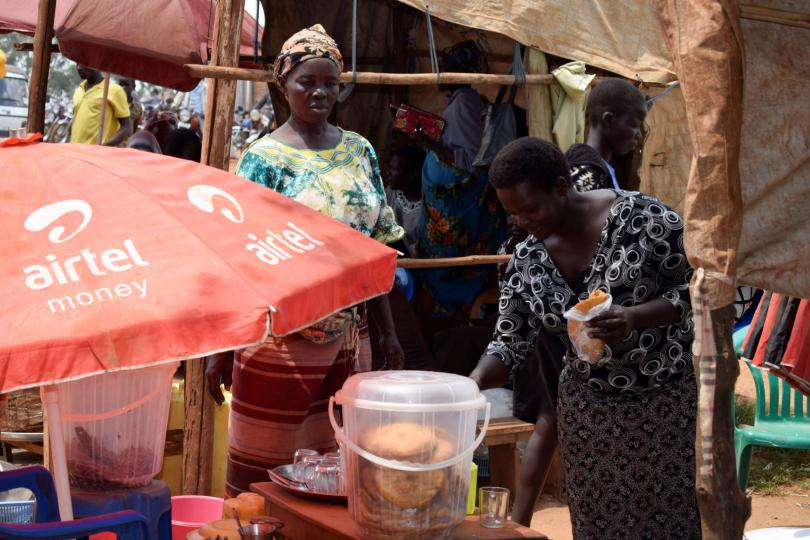 Leila's new business quickly took off: "Out of that, I made a profit of 60,000 shillings (approx. €13.5) which I used for buying 4 empty jerry cans and 2 pots which I use for selling water during food distribution. On a daily basis, I get 20,000 profit (approx. €4.5) and now my life has changed, including my family members. We are able to change our diet every week, pay school fees, buy scholastic materials and other household needs and I have continued saving in the group."
Leila is now the chairperson of the Ngoapa farmer's group, inspiring others to join and follow her example. But for Leila, this is just the beginning and she is already planning her next investment.
"According to the market research I have done, I plan to open a retail shop alongside the restaurant in the distribution center, to target the people who come to get their ration and the people in the surrounding area.
"My last word to my fellow farmers is, never fail to start small. Always try it."
Florence Achiro Odera (pictured at the top) is another successful businesswoman in Kiryandongo settlement.
Florence, 28, looks after her four children, as well as two of her sister's children. Through the saving and loans association she set up a small shop, which has not only helped her to feed, clothe and send her children to school, but also helped Florence herself to enroll in studies to fulfil her lifelong dream of becoming a teacher.
"After saving for one year, I received my share from the group of 560,000 shillings (approx. €127). I was overwhelmed and very happy to save such an amount of money. I flashed back to my vision and injected all my shares in a retail shop business. It was always my plan because in my community there was no shop to support people with the basic items like salt, soap, matchboxes and cooking oil. At the moment, the shop is operating very well and the community is very pleased and happy because I have saved them from moving long distances to acquire basic items. I am proof that the VSLA can be an entry point to success!"