Restoring joy to children amidst COVID-19 in Uganda: The story of Jack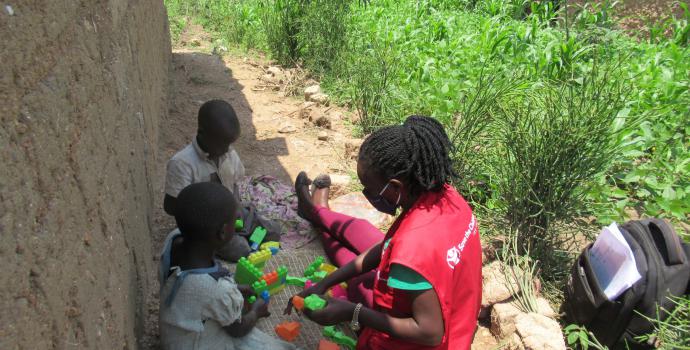 Here Seven-year-old Jack and his sister Five-year-old Uwineza play with a Save the Children staff.
As part of the response to the COVID-19 outbreak in Uganda, which resulted into closure of schools and Child Friendly Spaces, Save the Children through staff and community based caregivers visited children's homes to offer home based psychosocial support to children in order to reduce stress caused by the lockdown. On a daily basis, the staff and caregivers in Rwamwanja Refugee Settlement would visit homes to play with these children and distribute play materials such as blocks and balls. Seven-year-old Jack and his sister Five-year-old Uwineza, were some of the children who benefitted from this support. More than 2,000 children have been reached through this intervention.
Seven-year-old Jack, from Rwamwanja Refugee Settlement in western Uganda was enjoying school before they were closed due to COVID-19 in March. But even more sadly for him, Child Friendly Spaces where he would get psychosocial support were also closed to restrict gatherings and limit contact.
"I felt bad at first when my sister and I reached the CFS to play and interact with other children and we were told to go back home. Our teacher (Aline) told me that the centres have been closed due to the outbreak of COVID-19 so we cannot be there."
Jack and his sister Mahoro, 5, were spending their after-school hours at Wijagahe CFS because it is not very far from their home. Because of staying home without much activity, their mother revealed that they would always ask to go to the centre even when children were not allowed there.
Save the Children knows that playing is a need for every child and thus came up with an alternative plan (home based psychosocial support) in June and it started with a pilot study in three centers and was later rolled out to all locations in July 2020. With this, CFS facilitators engage children in their homes to avoid crowds and also observe Ministry of Health guidelines to prevent further spread of the pandemic. Jack and his sister were very excited to engage with home-based PSS facilitator Aline.
"I am very happy that you have come to visit us during this period when we are not going school." And Aline has been visiting Jack every week since then.
In addition, Jack's other young siblings were supported with some playing items including building blocks to keep them actively engaged at home.
Therefore, Jack becomes one of the 2,317 children that have benefited from home-based PSS which has improved on their general wellbeing.