Save the Children, Education ministry join hands in Back to School campaign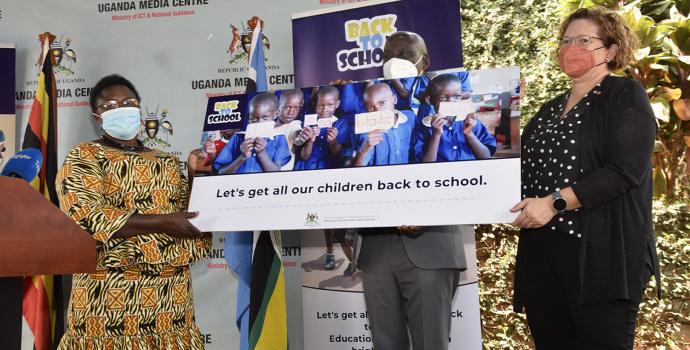 Left-Right: Hon. Dr. Joyce Moriku Kaducu, the State Minister for Primary Education, Dr. Ismael Mulindwa, the Director for Basic Education and Bev Roberts-Reite, the Director Programme Development and Quality at Save the Children during the launch of the Back to School Campaign in Kampala.
Scholastica Lochoro spent the better part of last year braving long distances in Napak District, Karamoja sub-region in Eastern Uganda, to teach children at home. She is one of the teachers Save the Children supported with skills to conduct home-based learning, a move adapted during school closure. Despite, learning from home, Scholastica says, children were always asking about when they would return to school.
"Most of the children would meet me in the community and they would ask me; madam when are they going to reopen schools? I kept giving them hope that learning would eventually resume," she said.
On January 10, schools officially reopened for learners of all levels ending close to two years of closure and giving children in Uganda hope to resume learning again.
The COVID-19 pandemic in Uganda and the rest of the world, created an unprecedented crisis in education. Several media reports indicated that children had taken on work to supplement home income, teenage pregnancies had increased and other child protection cases. Because of these, it is feared some children may never return to school.
In order to create awareness about the importance of education and popularize school reopening among caregivers and parents, Save the Children has supported the Ministry of Education and Sports to launch a Back to School campaign. The campaign that started on January 3, a week before the official school reopening day, was officially launched on January 13, and will run until end of January.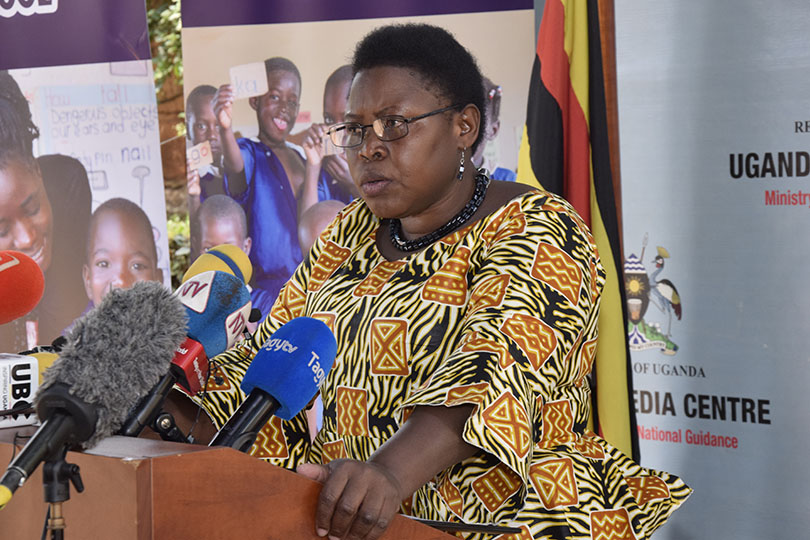 During the launch event at the Uganda Media Centre, the State Minister for Primary Education, Dr. Joyce Moriku Kaducu (above), said the one-month campaign will target the most vulnerable children, children with disability and those who had started working during school closure.
"If you are a young person who has had a baby, if you are a child living with a disability, if you are a young boy working in a quarry or out fishing with your father, today, you can return to school," she said.
Dr. Moriku also added that the campaign will popularize government announced date for school re-opening (January 10) and to impress the importance of sending children back to school to caregivers.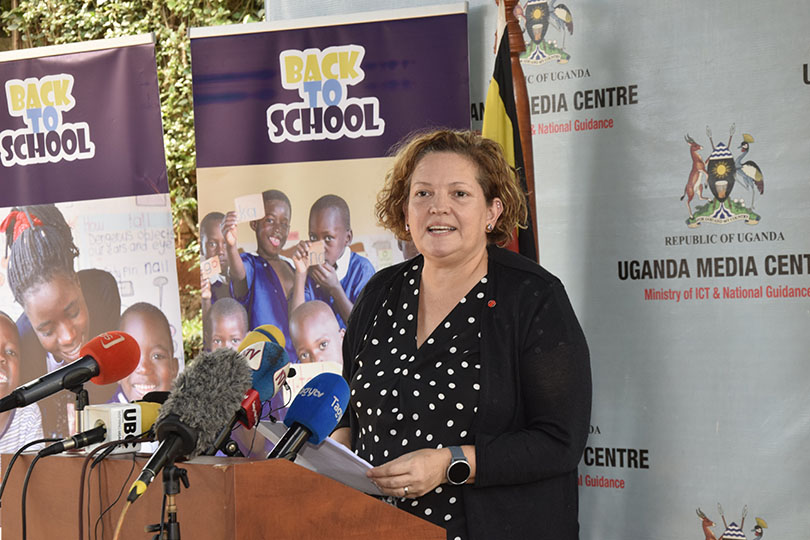 Every child has the right to education and Uganda has pledged to uphold this through Articles 28 and 29 of the Convention on the Rights of the Child. During the launch, Bev Roberts-Reite, the Director of Programme Development and Quality at Save the Children (above) could not emphasize this more.
"Education is a child right, a right of all children no matter their circumstances. No matter if you've had a baby while out of school, no matter if you use a wheel chair to move around your town, no matter if you are working with your mom in the market. Now is your time to go back to school to return to learning," she said.
She added: "Education is the most protective and nurturing force in a child's life after their family. Learning brings dignity, hope and wellbeing to all children and all families."
The campaign will employ a number of communication channels to reach the most vulnerable communities with back to school messages among them, radio messages, Television commercials, social media messages, posters, community caravan drives and talk shows.