Save the Children hands over 63 newly constructed classrooms to Office of the Prime Minister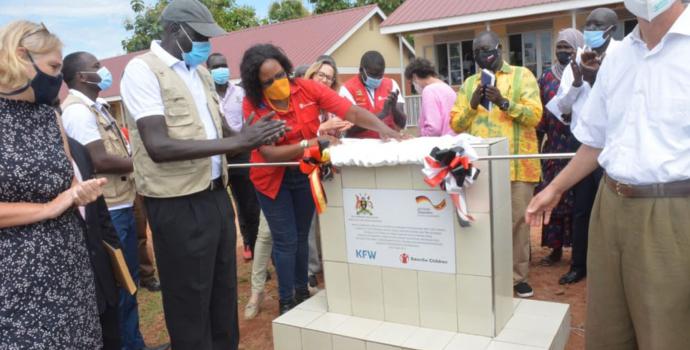 L-R: KFW representative Cornelia Penzel, Minister for Relief, Disaster Preparedness and Refugees, Eng. Hilary Onek and German ambassador to Uganda, H.E Matthias Schauer unveil a plaque to commission the new structures.
Save the Children has handed over 63 newly constructed additional classrooms in 13 schools, 105 latrines, and 16 teacher's houses to the Office of the Prime Minister (OPM).
The structures in Bidi Bidi Refugee Settlement in Yumbe District, were constructed with support from the German government through KFW and the Office of Prime Minister, in a project that boosts refugee and host community education through improved infrastructure and quality learning. The five-year project, implemented by Save the Children, aimed to ensure children enjoy their right to education through reduced class sizes and a conducive learning environment.
According to data from the UNHCR, there are currently 232,718 South Sudanese refugees in Yumbe District. Because of the growing numbers, the capacity of schools to accommodate both refugee and host community learners became strained in the past five years. As a result, children lacked access to school and classrooms were crowded affecting the quality of learning in the district.
The additional classrooms constructed, therefore, have reduced the pupil-classroom ratio from 156:1 to a current average of 83:1. Save the Children also distributed 1,026 desks which reduced the pupil-desk ratio to averagely 4:1 in the supported schools.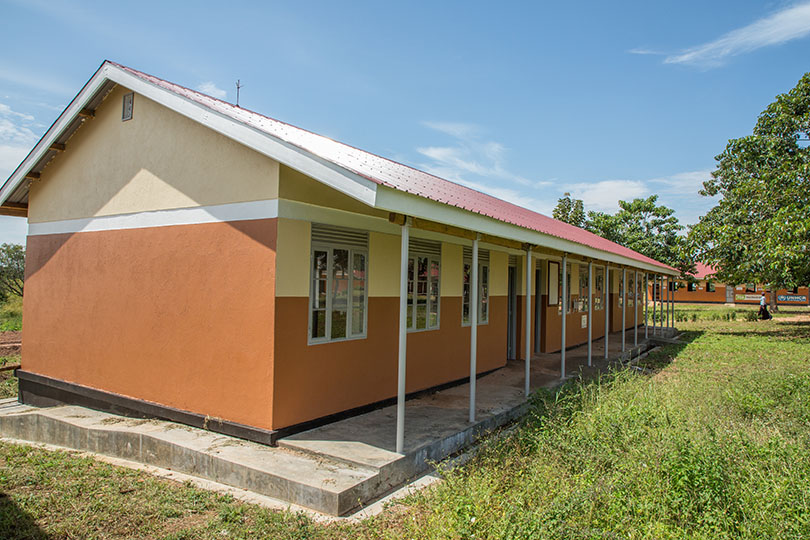 A complete classroom block at Mengo Primary School one of the schools that benefitted from the project.
In addition to school structures, the project has also been implementing the Accelerated Education Programme, where children aged 10-18 years who dropped out of primary school – whether due to conflict, poverty, child marriage or other reasons, are reintroduced to school through a compressed curriculum. These children, complete their primary school in just three years and can transition back into the formal school system or on to vocational training.
While handing over the structures on May 6, Save the Children Country Director, Brechtje van Lith said:
"All children have the right to quality basic education, regardless of where they live or who they are and Save the Children is committed to support children in accessing a conducive classroom setting.Today, we are proud to handover the new facilities to OPM that will enable more children to return to learning and stay in school."
The handover ceremony took place at Yoyo Primary School in Bidi bidi, Refugee Settlement and was attended by the German ambassador to Uganda, H.E Matthias Schauer, Minister for Relief, Disaster Preparedness and Refugees, Eng. Hilary Onek and KFW representative Cornelia Penzel, among other dignitaries.
In his remarks, Eng. Onek applauded Save the Children together with other development partners for the job well done in Yumbe and mentioned that OPM should keep giving Save the Children such projects.
"These kinds of projects were birthed out of the need to harmonise refugees with residents in the host communities so that they could have something they all benefit from. Through such projects, both the refugees and the hosting communities are brought together and they learn to live peacefully with each other," he said.
H.E Schauer urged the children to stay in school and focus on using education as a tool to make their lives better.
"Education is the tool to help you develop your gifts. This is why the German government is happy to contribute to your education and your future which is our future."
To commemorate the event, trees were planted by the different officials in both Twajiji and Yoyo primary schools as a symbol of new beginnings. Brechtje van Lith plants one in picture below.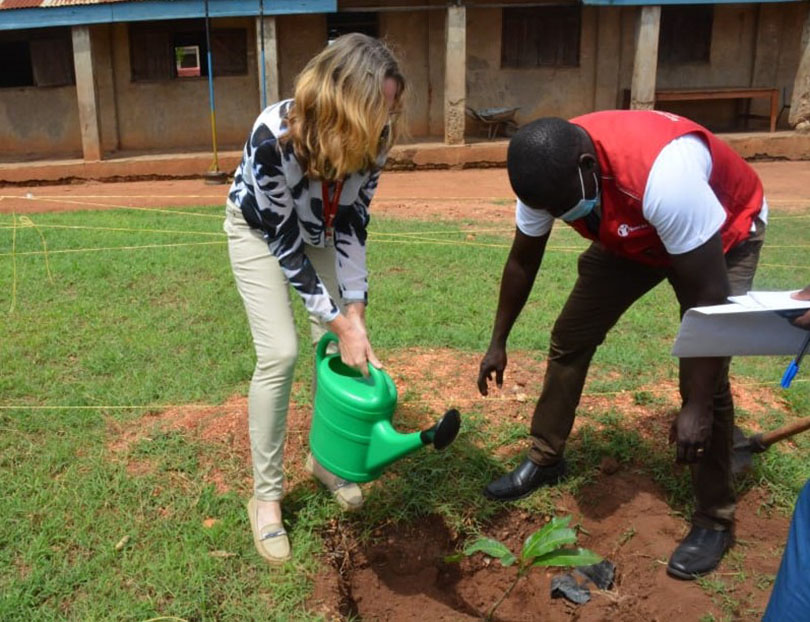 More education interventions in West Nile
Save the Children together with 14 other partners under the Uganda Education Consortium last year reached close to 300,000 refugee and host community children through continued and improved access to education. Over 148,000 children received home learning materials with resources to enable them to study by themselves at home and recruited 1,875 teachers and 305 Classroom Assistants to support the home learning.