School pupils in Kiryandongo plant trees to protect their environment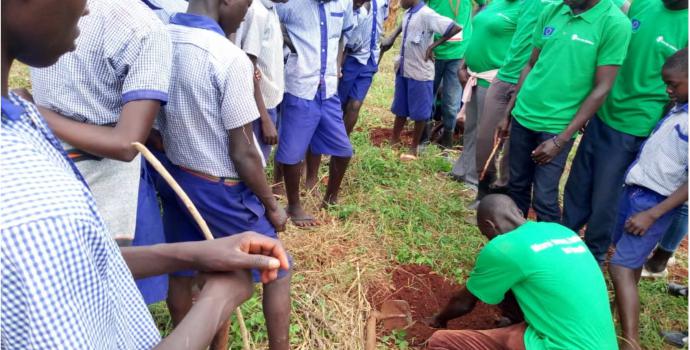 The influx of 1.3 million refugees into Uganda has added to the strain on the local environment. The population of regions in northern and western Uganda has massively increased as a result, and refugees and local host communities chop down trees and use other natural resources at a greater rate than they are being restored and regenerated. This could have a devastating effect on the next generation's future.
Wood is the primary source of fuel for many communities, and refugees in Uganda consume at least 1.1 million tonnes of firewood every year. Local communities consume even more.
The cutting of trees has a long-term negative effect on the environment, and can also put children at risk of violence. As the number of trees reduces, people have to walk longer distances. Young girls and women often spend 12-24 hours a week collecting firewood, and as they walk further from their homes they are at greater risk of sexual violence and harassment in open rural areas.
Planting trees and promoting sustainable environmental management is therefore a crucial part of the refugee response, and is part of the Support Programme to Refugee Settlements and Host Communities in Northern Uganda (SPRS-NU), which Save the Children implements with support from the European Union Trust Fund (EUTF).
In Kiryandongo – now home to more than 59,000 refugees – the programme recently supported school children and staff to celebrate World Environment Day, by coming together to plant trees around their schools and communities. Both refugees and local host communities took part.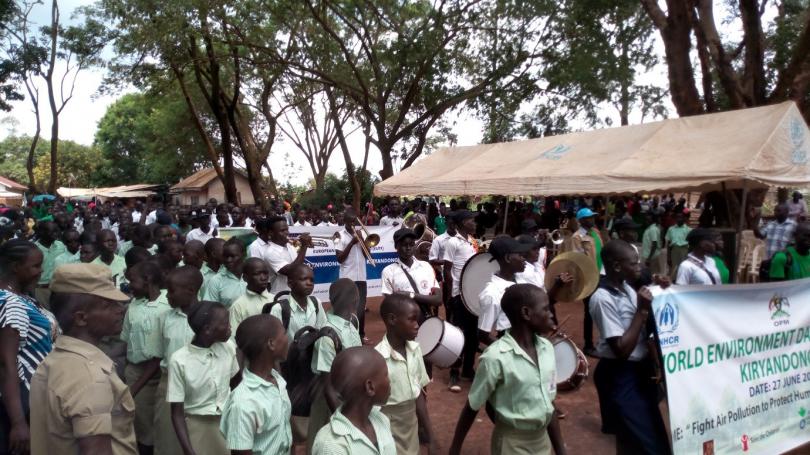 The theme of this year's celebrations was preventing air pollution, and trees are a great source of producing oxygen and improving the quality of the air that we breathe.
"We supported and actively participated in these World Environment Day events in order to set an example and inspire the wider community to act," says Kevin Aciro, Save the Children's programme manager.
At Nginga primary school, the pupils and the school management were shown how to most effectively plant and look after the trees – such as correctly spacing the seedlings; mulching (covering the soil to make it more favourable for growth); how and when to apply organic fertiliser; and pruning and weeding.
"This will ensure the trees grow upright and reach their maturity time earlier," says Aciro.
During the events, the speakers also emphasised other ways to protect the environment, such as using energy saving stoves and proper waste disposal.
"The events really catalysed everyone to work together to protect and restore the environment," says Aciro. "Children and the people in our programme, along with the wider community, have committed to planting a tree to save the future generation."