Supporting continuity of learning during COVID-19 in Uganda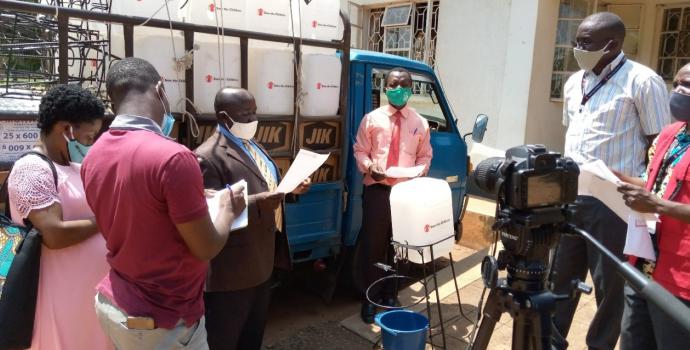 The government of Uganda opened schools for candidate classes on October 15, with strict SoPs. Save the Children has been supporting some of the rural poor schools to meet the SoPs by providing handwashing facilities, temperature guns and soap to 50 schools in western Uganda districts of Ntoroko, Bundibugyo and Kasese. The distributed items included 50 Infrared temperature thermometers, 150 Pedal tap hands free-dispensing hand washing facilities, 50 litres of liquid soap, 200 cartons of white bar soap, 200 cartons of Jik, 300 litres of anti-bacterial hand disinfectant and 19 spraying pumps.
At the time of school closure in March due to COVID-19, the government responded by proposing the production and distribution of learning packs, however, this was limited by the high numbers of children that needed educational support.
The second proposed option was conducting lessons on media such radios and TVs. Like the first one, this option also worked was limited by the big number of learners who don't have access to radios and TV sets.
Therefore, Save the Children engaged the third option which was the home to home learning where caregivers/teachers engage children in small groups or one on one in the communities.
Actions taken by Save the Children during school closure
Contributed to the MoES' in Uganda Education Preparedness and Response Plan
Supported the National Curriculum Development Centre for developing radio learning programs and home learning packs
Partnership with a local private school on production of television learning programs
Supported caregivers and primary school teachers to provide community-based learning through Literacy Boost, Numeracy Boost aligned to National Curriculum
Provision of solar based radios to facilitate participation of refugee children in interactive radio learning and access key child protection messages
Used radio spot messages and mobile speakers on vans to alert children, families and communities to the availability of materials and additional support
Produced and broadcasted 3-months long home play-based radio programs targeting parents of children 3-6 years.
Produced and broadcasted "Stressbusters" for parents and children
Produced a child-led handwashing song in English and local languages
Delivery
At the onset of the approach, caregivers were trained on ELM at home, delivering domesticated lessons with a focus on literacy and numeracy. Communities were divided in zones or sections and a specific number of caregivers given to be in charge of each section. Caregivers moved in pairs as they went into homes, this helped to uphold the approach of coteaching even in homes.
The initial plan was for caregivers to engage both the children and their parents so that they could leave simple assignments and activities for parents to continue engaging children, however, due to high rates of parent absenteeism due to garden work and trade, caregivers were forced to solely engage children on a continuous basis as per their home learning schedule. With time, a clear schedule was developed by caregivers and parents were now aware of which date and time a certain caregiver would come to their homes. Great cooperation developed amongst parents as they began grouping children for caregivers to meet them at once.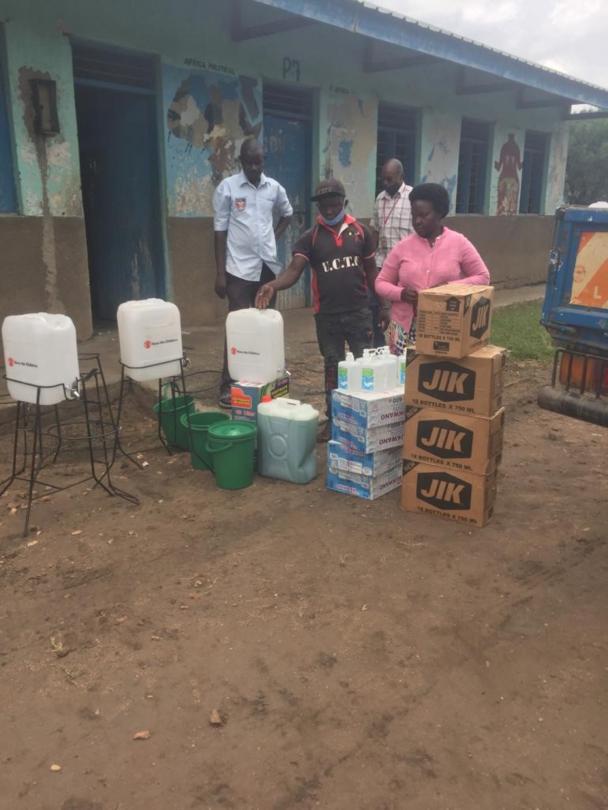 As part of the support towards schools reopening, Save the Children delivered WASH materials including soap, Jik, temperature guns, handwashing facilities to 50 schools in western Uganda as a way of supporting schools to observe standard operating procedures. Some of these schools were hit and destroyed by floods which occurred in August.
Achievements
A great number of children has been reached to date with the home learning enrolment surpassing 6,000 learners and weekly attendance going over 4,000 leaners. This is more than what some schools could handle during normal school time
Capacity of caregivers to conduct home centre lessons was improved
Teaching and learning was more learner centred than teacher centred
Learning outcomes for children were realised even amidst the COVID19 lockdown
Althoughschools have opened for candidate classes, the home learning approach is still being upheld for learners in low classes.
In West Nile, for instance, SC is implementing an education project called Centenary which is in its second phase and aims to improved access to quality and low-cost community based ECCD for children 3-6 for the whole of 2020.
Despite COVID-19 and school closure, the project was committed to ensure all children learn from a quality basic education and continues to deliver the home-based learning approach. To ensure effective implementation of this learning, ECCD caregivers received a refresher training on inclusive education & ELM with major focus on supporting the children to improve their skills in literacy, numeracy and social well-being. They were also trained to empower & encourage parents as well as the elder siblings to support their young brothers and sisters to recite & master what the ECCD teachers teach them.
As a daily routine, each ECCD teacher is expected to reach five homes a day every week.
Additionally, community radios have been installed where recordings on lessons are played daily and parents are requested to support children listen in to these education programs.
So far we have:
Enrolled out of school children (334 in both Arua and Kiryandongo refugee settlements).
Got parents involved in the learning of children. This can also be attributed to the training on 22 Key family care practices.
Children are no longer idle thus minimising their chances of being exposed to protection concerns.
Education projects in West Nile have enrolled a total of 4,780