Teachers making a difference!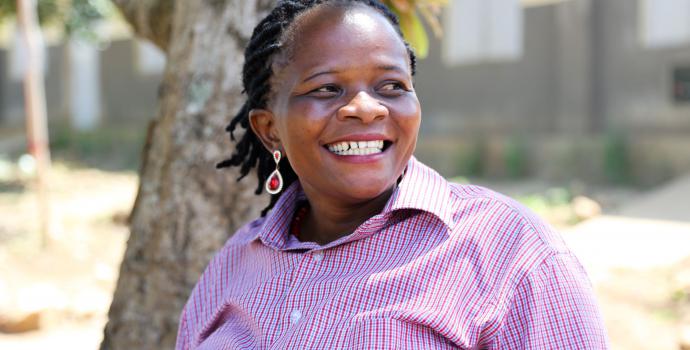 For World Teachers' Day we're celebrating the amazing impact of teachers we work with. With support from Save the Children, Harriet is turning her rural school around:
Three years ago St. Kizito primary school was "on the brink of oblivion," according to some of the parents. The classrooms were dilapidated and in desperate need of repair. Teachers were often absent or, even worse, drunk.
"They would buy alcohol and sit under the mango tree and drink," says Ms Gimbo Harriet, the school's new head teacher. "They just gave children the books and let them teach themselves. Sometimes they sent children to the shop to buy cigarettes."
Harriet took over the struggling school three years ago and is proof of how the right teachers can make an incredible difference.
In 2016 enrolment at the school – in Wakiso district of central Uganda – fell to just 123 children, as most parents chose to keep their children away. By this year enrolment has more than trebled to 415. Many of the children walk four kilometres or more to reach the school every morning.
When she started, Harriet immediately set about improving the teaching culture, empowering the children, and getting the community's support.
A new teaching culture
"At the time most children failed their exams," she says. "They only knew simple numbers in maths and just some of the letters in English. We studied each teacher and discussed with them what changes were needed." Harriet made clear that previous behaviour was no longer tolerated. "If they still came late or were absent, we discussed it with the school management committee (SMC) then reported it to the district (government) officials and recommended they be removed."
Now the school has seven new teachers – three of them provided by the government and four more paid by contributions from parents, who are excited at the direction the school is taking. Save the Children has also trained the new teachers on successful approaches such as Literacy Boost and Emergent Literacy & Maths (ELM).
Engaging the community and parents
"In 2016 the community was not on board," Harriet recalls. "They had a very negative attitude to the school." Now, as well as contributing to teachers' salaries, parents also provide money for school meals. "You can't teach a hungry child. Children used to have empty stomachs and doze in the afternoon – now they are active and happy."
"The parents are now happy to contribute because they see the impact and that we are transparent with the budget and expenditure. The SMC and Parent Teacher Association (PTA) have become much more active and even help with gardening and weeding the grounds."
Empowering and supporting children
Harriet knows that children learn best when they feel happy, safe and empowered. One of the first things she did was identify children's representatives to work with the SMC and teachers to develop new school rules.
Ending violence was also a priority.
"There used to be a lot of bullying and fighting. Some teachers also often used corporal punishment (which is illegal in Uganda). We made it very clear in early assemblies that this is not tolerated."
Harriet set up a box where children can leave feedback and complaints – anonymously if they prefer. "We open it in assemblies and make sure all the comments are recorded and dealt with by the SMC. Children tell us what they need."
Girls in particular often used to go absent from school, but this has been reduced since the school identified a senior woman teacher who girls can go to for advice and support.
Speech days and debate clubs have given children new opportunities to express themselves. Harriet also initiated an annual trip for the children, "to see a new environment like the airport or the national museum, something they've never seen before. It can transform their mind."
Support from Save the Children
Save the Children has worked with Harriet, the new staff and local authorities to turn the school around.
"Save the Children constructed new staff quarters and renovated two of the classroom blocks that were previously in very bad condition," says Harriet. "They trained the teachers, provided new swings and playing materials, new latrines, desks, chairs and many other things." A new school garden has also been set up to provide maize and beans, supplementing the parents' contribution.
Looking to the future
The transformation is incredible and everyone believes the school is on the right path. Gradually exam results are also improving. "We hope next year will be the best yet!" says Harriet.