TeamUp! Providing psychosocial support to vulnerable children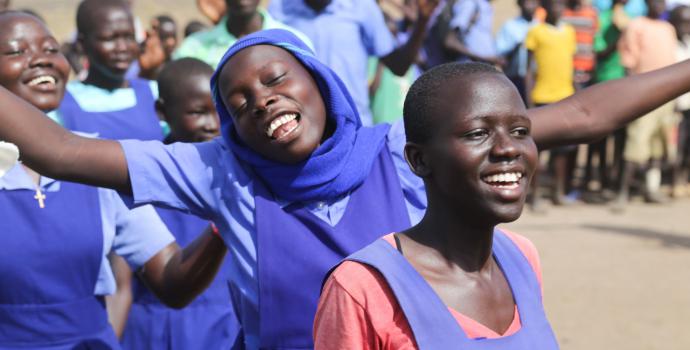 Above: TeamUp activities at a school in West Nile, northern Uganda
When the war came to Immaculate*'s village in South Sudan, her mother desperately tried to save her. She scooped her up in her arms and ran from the bullets.
But in the commotion she tripped and Immaculate fell to the ground, breaking her left leg. Hiding for their lives and unable to get medical treatment, the leg had to be amputated.
Now 10 years old, Immaculate and her mother made it to the relative safety of a refugee settlement in Uganda, but she grew sad and frustrated at being unable to play with the other children.
With a walking stick to support her, she stood at the fence of Save the Children's Child Friendly Space (CFS) – a safe place for children to play, learn and make friends.
But Immaculate stayed outside, watching the other children play and have fun. The CFS facilitators tried to encourage her to come inside but she refused.
"I came and stood at the fence watching children playing the mingle-mingle song. I love that song!" she remembers. "But when I looked at the children at the CFS, I didn't see any child with a walking stick. Everyone had two legs. This made me afraid to join them."
More than 60 percent of refugees in Uganda are children, and many have experienced terrible violence and traumatic events. The emotional and physical scars can affect their behaviour and make it difficult for them to make friends and learn. This psychological stress can manifest in many ways – from children becoming angry and violent to shy and withdrawn like Immaculate.
Save the Children started implementing TeamUp – a series of structured play, games and body movement activities that provide vulnerable children with psychosocial support to deal with their complicated feelings.
Developed along with War Child Holland and UNICEF, the TeamUp activities aim to help children deal with anger and stress, and learn teamwork and social skills.
Through TeamUp, CFS facilitators have been trained and mentored on providing psychosocial support, engaging children with disabilities and interacting with children with a range of different behaviours.
Livingston, one of the facilitators, started visiting Immaculate's home and building a rapport with her and her family. As Immaculate gradually started to trust him she agreed to attend the TeamUp activities.
Now she never misses a single session.
She doesn't just participate, she takes the lead – especially in the songs. Her shyness and fear has gone away and she's become confident and active among the other children. She gets to join in her favourite – MingleMingle – and enjoys other games that she used to think impossible, like skipping rope.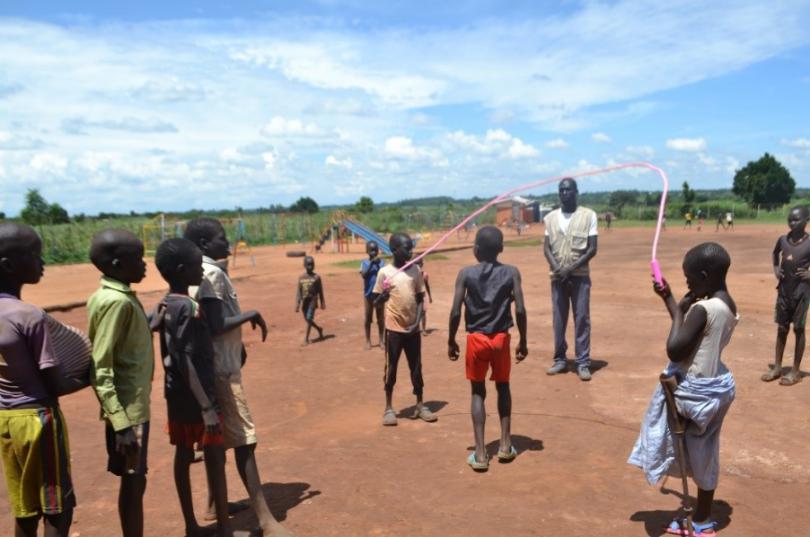 She's met other children with disabilities and joins them in playing freely with the other children. She's doing well at school and says she feels happy and supported at home, where her mother and grandmother get support and advice from the CFS facilitators.
"I can now play with children who have both hands and legs – there's no fear in me now!" Immaculate says.
"Thanks to TeamUp I have many friends both at school and at the CFS."
Other children respond to stress by becoming angry and violent. When 9-year-old Kuol* came to play at the CFS, every child avoided him. They knew his reputation as aggressive and looking for fights.
"Children used to chase me away," Kuol says. "They didn't want to play with me."
He played alone but soon felt bored and isolated, became withdrawn and stopped coming to the CFS altogether.
Kuol's mother believes that an injury to his neck when he was young may have caused damage to his brain and affected his behaviour. "He doesn't have recognition and memory at all. He was so chaotic," she says.
When TeamUp began, Kuol tried to participate, but other children feared standing next to him in the circles. When the facilitators saw what was happening they decided to focus on games and songs specifically about friendship and bonding. They started playing tug-of-war – where pairs of children work together to pull a rope – as well as blindfold games to build trust between the children.
Gradually Kuol's behaviour changed. He walks to the CFS with friends and his younger brother. Other children are happy to play with him. His mother says he's like a totally different child:
"He goes to the market when I send him and he fetches water on a daily basis. He goes to primary school and afterwards he does his duties at home and then goes to the CFS," she says.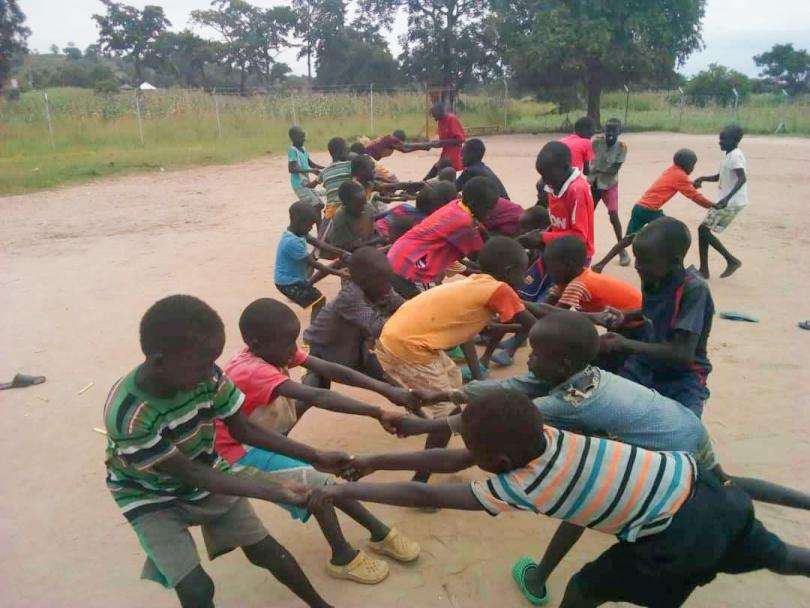 * Names changed to protect identities