Twin pupils accelerate to the top of their class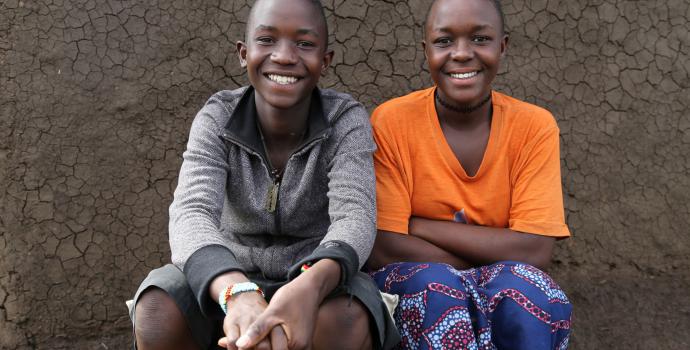 When their father was killed in fighting near their village, Sandra and Sammy knew they had to try and find safety.
The twin siblings fled their home in eastern DR Congo and sought refuge across the border in Uganda, along with their mother, brothers and sisters.
"I like being in Uganda," says Sandra. "No people are killed here, there's no fighting. We can live in peace."
They now live in Kyangwali, a sprawling refugee settlement that has doubled in size this year due to an influx of new refugees. It now hosts around 80,000 people, and more people arrive every day, putting huge strain on services.
The majority of refugee children in Uganda – at least 57% - are out of school. Like most, Sandra and Sammy's education was disrupted as they fled and tried to settle into new surroundings in a new country. When they arrived they spoke three languages but not a word of English, the language of school instruction in Uganda.
To help them get back into school, they enrolled in Save the Children's Accelerated Education Programme (AEP) – a specially designed condensed curriculum that teaches two to three years of Ugandan primary education in just one year. Targeting children aged 10-17 who have been out of school for at least six months – and many of them for several years – the AEP gets them quickly up to speed and helps transition them into the formal school system.
Sandra and Sammy spent six months in AEP and after passing their exams are now back in formal primary school. There are 96 pupils in their class and facilities are basic, but they're thriving and now near the top of their class and about to graduate.
Both like maths and science, getting over 80 percent in their last exams. "But I like social studies best," says Sammy. "We study maps of Uganda and learn about Uganda's climate and society. I like learning practical things like how to keep poultry and beekeeping. I also like school because I have lots of friends here."
Both would like to go on to secondary school. "But it will be difficult, as we don't have a father to help us pay the fees," says Sandra, who dreams of one day becoming a doctor, something she has grown passionate about as she suffers from asthma. "Sometimes I find it difficult to breathe and miss schools as a result."
Evariste, their teacher in the AEP class, says "They're both very good students, and very well behaved. They passed their exams after just six months in AEP, which is very unusual."
Ideally we aim to offer children up to three years of AEP to ensure they can complete the full seven years of primary school curriculum. But the response to help refugees from DRC is critically underfunded – the 2018 UN response plan still has only 11% of required funding – meaning in places like Kyangwali we can only offer children up to two years of AEP.
Teaching AEP can be a challenge. Like Sandra and Sammy, many refugee children have had parents or relatives killed. Thousands of children have been separated from their families on the journey to Uganda.
Evariste says, "Some of the children have psychological problems from what they've seen. Some saw people killing each other in front of them. In class sometimes children get distracted, thinking about all the things they've seen."
Getting vulnerable refugee children back into school not only helps them learn but can also give them the support they need to cope with the traumatic events they have been through, and give them a chance of a better future.