Uganda's bold new plan to improve healthcare in refugee areas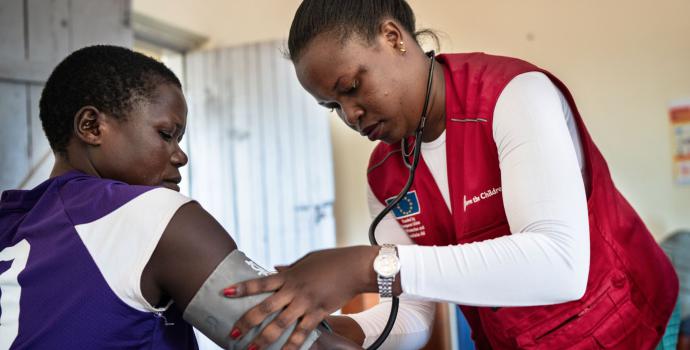 It's been a fairly typical morning for Save the Children clinical officer Agnes Alinde (above). She's the "in charge" at the Ocia health centre in northern Uganda's Omugo refugee settlement, and that always means a busy start to the day.
At the outpatient department, around 130 people crowd in with malaria, acute respiratory tract infections such as pneumonia and coughs, rashes and diarrhoea. Agnes sends two babies with malaria and another with severe acute malnutrition for immediate testing and treatment.
The clinic treats a population of around 24,000 people, including refugees and local Ugandans. It's one of only a few permanent structures in Omugo and provides care 24 hours a day, seven days a week. "We're serving a very big community of refugees who come in here every day," says Agnes. "They have very many diseases, things like cough which if not treated will affect everyone in the family."
Jane, a teenage mother from South Sudan, arrived in Uganda with only the clothes on her back after she was robbed on the way. She says the Ocia health centre saved her life when heavy bleeding during her delivery put both mother and child at risk.
"When my birth pains started my aunt ran here to the clinic to get the ambulance to come. I lost a lot of blood during the delivery, and I'm feeling really weak now, but I'm really happy. If I'd been in the bush, maybe I would have died or lost my baby. Maybe neither of us would have survived."
Before going home Jane's baby will be vaccinated for tuberculosis and polio and the new mother will receive antibiotics to ward off infections caused by living in unsanitary conditions.
The clinic sees cases like these every day, but it is desperately short of funds and faces the constant threat of closure.
Ocia has more and better medicines than most clinics in the region, but Agnes says they don't have budget for some important drugs. "We have very many cases of pneumonia and malaria but for the pneumonia cases we don't have syrups for babies. The drugs we have are catering for adults and the syrups are very few. If we don't have the treatment for cough then the child progresses to pneumonia when we don't have the syrups to prevent the cough in the early stages."
With Uganda hosting by far the largest number of refugees in Africa – close to 1.2 million – there are massive demands on essential services such as clinics and schools. Under the Comprehensive Refugee Response Framework (CRRF), which was adopted by all 193 UN member states in 2016, Uganda is developing detailed plans to try and resolve this pressure.
To improve access to quality healthcare, Uganda's Ministry of Health together with other government departments, NGOs and UN agencies, have developed a 5-year plan to improve the health sector. At an overall cost of just over $100 million per year, the Health Sector Integrated Refugee Response Plan (HSIRRP) will provide improved healthcare for 1.1 million refugees and more than 7 million Ugandans – but only if it is funded.
The Plan – which is integrated into Uganda's national health plans and policies – will upgrade existing health centres and build new ones, train health workers, and ensure that facilities have the medicines and supplies they need.
This is the second in a series of sector plans designed under the CRRF. In September 2018, Uganda launched the Education Response Plan (ERP) – the first of its kind, which if funded will provide quality education for more than 500,000 children. Now the health sector has followed suit, and will soon be followed by plans for 'jobs and livelihoods' and 'water and the environment'. The plans are designed to ensure a more coordinated and effective long-term response.
Back at the clinic, Rebecca's three-month-old son Lawrence is getting treatment. He was born in the bush as she hid from armed men near her home in South Sudan. "We were chased to the bush and I gave birth to Lawrence right there," she says.
Though Rebecca says the birth was without complications, baby Lawrence got sick with a cough and high fever when they arrived in Uganda. Agnes diagnosed pneumonia and admitted mother and son to Ocia for antibiotics and bed rest.
"I wanted to take him to another health centre but my neighbours saw that his health wasn't good and told me to bring him here," says Rebecca. "When I saw that Lawrence wasn't feeling well I was unhappy. But now my heart feels good. I feel good because Lawrence's body is now healthy."
What happens next depends largely on funding, and to what extent the international community upholds the commitments made under global agreements such as the New York Declaration for Refugees and Migrants and the Global Compact for Refugees.
If Ocia and similar health centres have to close, the impact on refugees will be huge.
Coreen Auma, Save the Children's area manager for West Nile, says: "Mothers will have to walk long distances to get services. Sometimes their children may even die on the way. People will resort to traditional methods of treating themselves. Maybe mothers will have to deliver at home and that means we will register a lot of maternal deaths."
Supporting the new health plan should ensure that doesn't happen.