Vision group appreciates partnership with Save the Children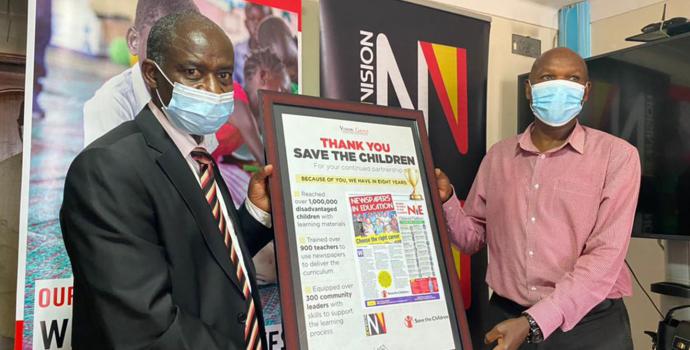 Gervase Ndyanabo, the acting Managing Director Vision Group, hands over a plaque of appreciation to Lawrence Tiyoy, the acting Country Director, Save the Children. Vision Group appreciated Save the Children's support in distributing Newspapers in Education for the last eight years.
Save the Children has for the last eight years partnered with Vision Group to support the weekly Newspapers in Education (NiE) pullout which aims to provide children with information about their rights and issues that affect them, and allows them share opinions and ideas. The NiE supplement is used in classrooms across the country to stimulate discussion among learners and promote literacy.
For Save the Children specifically, the pullout is used to support children in the hard-to-reach areas of Acholi (northern Uganda) and Karamoja (Eastern Uganda).
As a sign of appreciation for the partnership, Vision Group managing director, Gervase Ndyanabo, the Group Editor-in-Chief, Barbara Kaija, and a team of journalists paid a visit to Save the Children offices and handed over two plaques to Lawrence Tiyoy, the Save the Children acting country director.
Newspapers in Education has increased literacy, boosted confidence and reading culture among the vulnerable children of Karamoja and Acholi, Mr Tiyoy said adding:
"Reading stories and seeing their voices has exposed children in these hard-to-reach areas to a world beyond their own. Often, we hear success stories of how NiE has improved learning. The children are now more aware of their rights."
In Uganda, schools have been closed for 18 months now since March 2020 due to COVID-19 pandemic. Children in lower classes of Primary One to Three were last at school in March. But Ms Kaija said with this partnership with Save the Children, which has grown into Media in Education, "although schools closed, learning did not close."
And to Tiyoy, with COVID-19, there is need to adapt to new innovative ways of reaching learners.
"We should now look at using more radio and television as learning tools. As Save the Children, we are committed to ensuring children keep learning but also we will continue supporting government, districts and all stakeholders in their efforts towards safe reopening of schools."
The partnership – with funding from Norad – has supported the weekly delivery of Newspapers in Education (NiE) to 1 million children and enabled training of 900 teachers on how to use newspapers as an educational tool in the classroom.
The topics discussed in the pullout range from violence against children, sexual reproductive health, menstrual hygiene, environment and inclusivity in education which are some of the most pressing issues young people in Uganda are concerned about. This year, the partnership expanded to include distribution of Pass PLE and radio lessons on Etop radio.
It is important to note that the media has a crucial role to play in informing children and youth of their rights and the many laws that exist to protect them but also what is happening in the world around them. Newspapers in Education has delivered all this and hopes to deliver even to more children with increased support.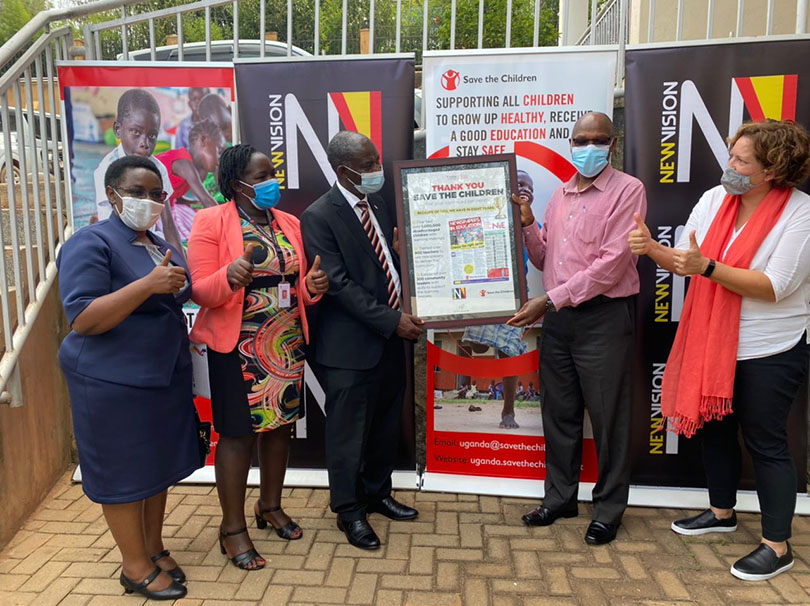 Left to right: Barbara Kaija, Vision Group Editor-in-Chief, Peluth Natumanya, SCI deputy director programme operations, Gervase Ndyanabo, Vision Group acting Manging Director, Lawrence Tiyoy, Save the Children acting Country Director and Bev Roberts, Director Programme Development and Quality pose for a photo at Save the Children offices.