Youth campaign for an end to child marriage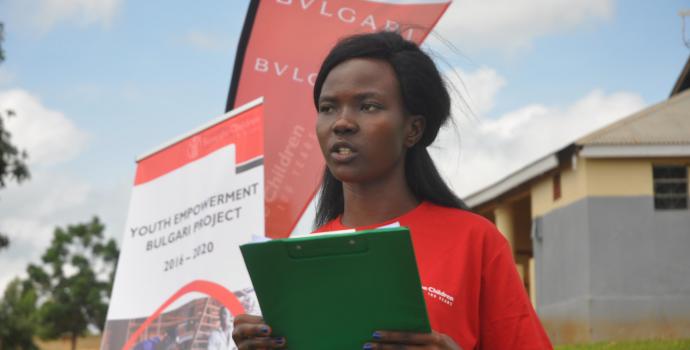 "For every 10 girls you meet in Nwoya, seven have been married off young," says Cynthia.
This week young campaigners from across northern Uganda came together to demand that local leaders take action to end child marriage.
They addressed a gathering of local cultural leaders, politicians, the police force and notables such as the Acholi Paramount Chief, His Royal Highness David Onen Acana II.
21-year-old Anena Cynthia Marion (pictured above) is one of more than 120 youth advocates in Amuru, Gulu and Nwoya districts who received training on advocacy, public speaking, power analysis, popular mobilisation and other skills. The training is part of Save the Children's Youth Empowerment Programme funded by a partnership with the Italian jewellery company Bulgari. It aims to help youth play a greater role in their communities and hold duty bearers to account.
The youth advocates identified child marriage and teenage pregnancy as one of the most pressing issues affecting young people in the region.
"A girl or boy who is protected from child marriage is more likely to stay in school, work and reinvest income into their family, and help lead their family and community out of poverty," Cynthia told the leaders at the meeting. Several of Cynthia's friends and relatives got married young.
The legal age of marriage in Uganda is 18, but in reality the law is often ignored. Nationally, around one in four girls are married while they are still children. In northern Uganda the rate is even higher, and has increased in recent years.
"Statistics from the probation and welfare office show that child marriage in Nwoya district is at 68%!" says Cynthia. "This means that for every 10 girls you meet in Nwoya, seven have been married off young."
Targeting and influencing local leaders and district officials is a key part of the youth advocates' strategy. In many poor rural communities, traditional attitudes prevail above the law. Local leaders can set the tone in changing these.
Investment is also needed if the laws are to be enforced, says Cynthia: "With such small resources allocated to the probation office it's hard to deploy law enforcers to arrest the perpetrators of child marriage." She says some parents prefer to settle cases outside the legal system as at least that way they get some financial compensation.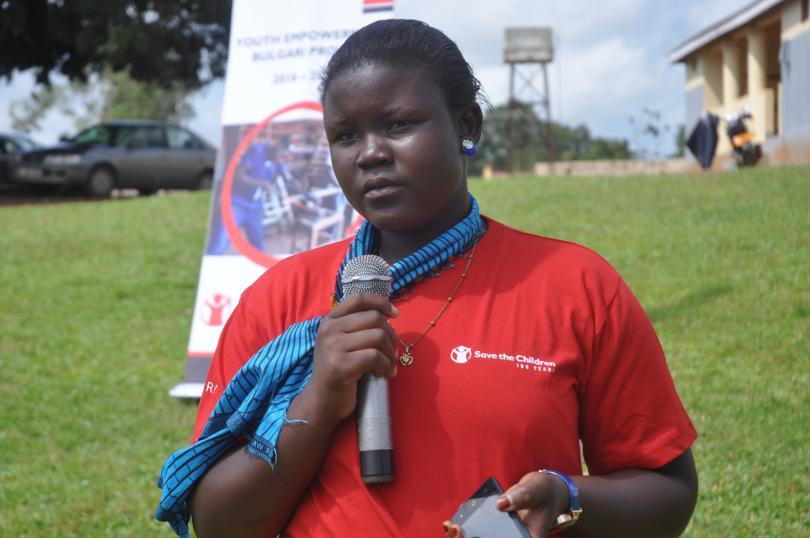 Another of the youth speakers, Daina (above), told the leaders how child marriage exacerbates the region's very high level of youth unemployment.
Daina was an enthusiastic school pupil until her father insisted she get married at the age of 15. Having to drop out of school to get married, she soon found herself an unemployed single mother struggling to provide for her two young children.
The Youth Empowerment Programme also provides vocational training and Daina enrolled on a course in leatherwork. Today she runs her own successful shop and earns enough to send her children – now aged 4 and 6 – to kindergarten. This, she says, is her greatest achievement.
"Government needs to do more to keep girls in school," says Daina. "Even when they get children or get married, girls need an education. There should be more investment in vocational training so that girls can start businesses and get jobs."
The Ministry of Education's guidance is that pregnant girls and new mothers should be encouraged back into class, but many schools continue to expel them or turn them away.
"Child marriage shuts every door to success," says Cynthia. "How can one aspire to be a teacher, nurse or successful business owner when they dropped out of school at 14? They lack the skills needed for meaningful employment yet they do not own resources like land and money to become self-employed."
Their words clearly made an impression on the leaders.
HRH David Onen Acana II pledged, on behalf of 52 Acholi chiefs, that he will champion the cause in the region, and committed to putting regulation of child marriage on the agenda at the next clan meeting. The Resident District Commissioner for Gulu committed to allocate resources to the probation office and pass a bylaw against child marriage. The police commander for Nwoya district agreed to enforce the law and work with the police's Child and Family Protection Unit to warn parents and communities of the dangers of child marriage.
Cynthia, Daina and the other youth advocates will be following up to ensure it happens.