Blazing a trail as the first female mechanic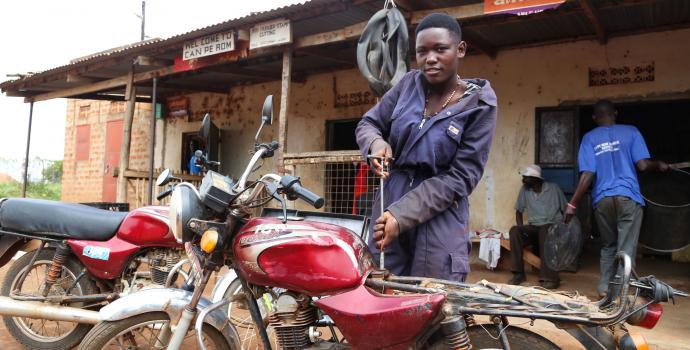 "Some customers are shocked to find a woman in the garage. They don't believe that a woman can fix their bikes. But slowly I'm changing their minds. And if they're not comfortable they can go somewhere else!"
18-year-old Harriet – her family and friends call her Lucky – is blazing a trail for young women in her district of northern Uganda. She's the first female motorcycle mechanic in her village, and it's stirred a range of reactions.
"People say it's for men and that it makes women dirty," she says, as she effortlessly inspects an engine. "It's not something that women usually do. But I like it. I prefer it to hairdressing and tailoring and jobs like that. Also, because there are not many women it's not a flooded market!
"Many of my friends and other people are against it and don't understand. But my father used to repair bicycles for a living and he encouraged me to do the same. He said that if I could learn to fix motorcycles too, I'd earn more money than he did!"
Lucky works mostly on boda-bodas – the motorcycle taxis that rural Uganda relies on. "I'm trying to improve on cars, and I can now do some minor repairs on cars. Occasionally they break down on the road and need help.
"I dropped out of school in P5 (the fifth grade of primary school) when my father died. My mother couldn't afford to keep sending me."
Unemployment in northern Uganda is high and jobs are scarce for young girls without qualifications. Last year Lucky joined Save the Children's Youth Empowerment Programme, which is funded by a partnership with Bulgari, the Italian jewellery company. It helps equip young people with skills to earn a living.
Lucky enrolled in training for mechanics. She did six months in a workshop, and then two months doing practical training in a garage, where she has now started a full-time job.
"This project is the first time we've trained girls," says Stephen Labeja, the owner of the garage. "Lucky was a very active and concentrated student. She learnt very fast and was as good as or better than any of the men. Some customers look at girls as inferior and weaker, but some are starting to understand."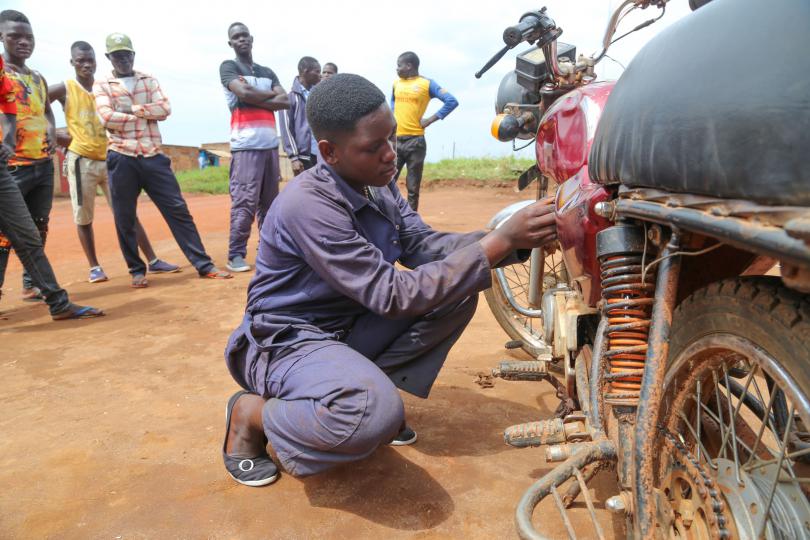 Read our photo book on youth empowerment in northern Uganda
The reaction is mixed, Lucky says. "The mechanics (at the garage) are good to me, they respect me. But the customers…!
"Some customers accept me. Some don't allow me to work on their bikes. Sometimes I feel like I'm being ignored for no good reason. I tell them I'm capable, but they don't believe it."
Lucky is still new in the job, so isn't earning much yet. But it's enough to support her three nieces – aged 8, 12 and 13 – to attend school.
"Last year they dropped out of school due to not being able to pay the fees, so now we're trying to get them back in," she says. She's gathering spare parts so that she can open her own business and supplement her income from the garage.
Lucky is already breaking new ground and challenging stereotypes, and she's not going to let anyone stop her.