Digitizing rural savings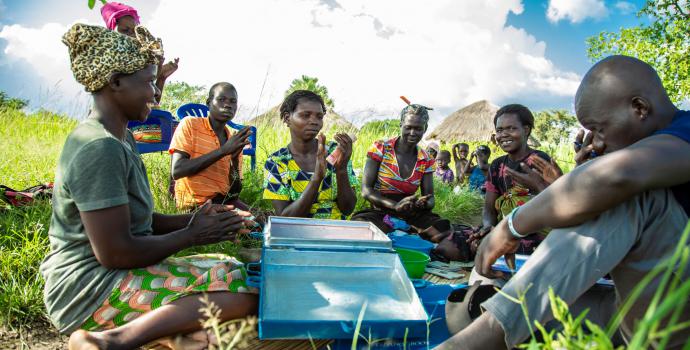 Above: Village savings groups often rely on storing their cash in insecure boxes
Providing humanitarian assistance to more than 1.1 million refugees in Uganda – one of the largest numbers in the world – throws up many different challenges. The Response Innovation Lab (RIL) was set up to try and find innovative solutions to these challenges.
The Lab recently launched its first call for ideas in Uganda, where it is hosted by Save the Children. Akaboxi, a Ugandan software start-up, was selected as the winner for its innovative plan to help digitise financial systems in refugee settlements.
Village Savings and Loans Associations (VSLAs) are a proven way of helping families and youth to escape poverty. However, many of them still operate in rudimentary fashion, often keeping their savings in metallic boxes in people's homes. Little wonder the media has been awash with stories of unscrupulous individuals who have abused members' savings and manipulated weak legal systems to go scot-free.
Rural areas and refugee settlements remain mostly underserved markets for formal financial services due to the physical inaccessibility and the lack of financial knowledge and capacity of potential users.
According to Sarah Atuhaire, a co-founder of Akaboxi, many savings groups "don't know how to utilise formal financial services and therefore can't make informed decisions."
It is these challenges, Sarah says, that Akaboxi – a for-profit start-up providing digital financial inclusion (DFI) systems for smallholder farming communities – seeks to address. It will provide a hand-held device that enables small saving groups to manage and monitor their savings and increase their chance to access credit, through credit-scoring each individual member in the saving group and linking them to a micro-finance institution or bank. This system replaces the ancient method of keeping money in boxes with a more secure, reliable and easy digital method to monitor savings and transactions.
The Akaboxi system, is a hand-held device (much like the PayWay device), which assigns every individual member with smartcards containing biographic information of each member in the specific folder (box) which is also used for transactions when one is saving or borrowing.
Every individual member in the box has their unique Identity Cards (ID) for clear identification. This ID card is embedded with Near Field Communication (NFC) technology which is used for identification of each member in the specific box and is also used for transactions either during saving and borrowing of money. The system also sends SMS notifications to all members of the saving group about their respective transactions.
Akaboxi also provides financial training to sensitise communities on the benefits of the different financial services and other inter-related topics like gender and livelihoods.
Charlene Cabot from the RIL team in Uganda says the idea won because, "it clearly articulated a known challenge faced by refugees and Ugandans in refugee-hosting villages – access to financial services – with a practical solution that has the potential to be adopted by many hundreds of saving groups once its success is demonstrated."
As the winning idea, the project will be piloted for six months. Akaboxi will train 15 refugee saving groups (each with an average of 30 members) already supported by Save the Children on using the hand-held digital device, the importance of keeping proper digital records, and available credit opportunities in formal financial institutions.
The Response Innovation Lab was founded by Save the Children, World Vision, Oxfam, George Washington University and Civic, and is currently active in five countries: Iraq, Jordan, Puerto Rico, Somalia and Uganda where it is led by Save the Children. The Lab functions as a support centre for all interested organisations and other stakeholders who wish to integrate more innovation in their humanitarian activities.