International community failing its commitment to the refugee crisis in Uganda, NGOs warn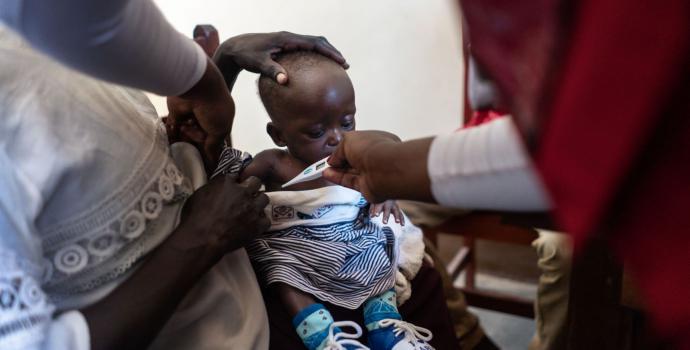 A joint statement by 40 NGOs
Download our latest joint brief: Uganda's refugee response - a global test

The international community is failing in its commitment to share responsibility for responding to one of the world's biggest refugee crises, 40 international NGOs in Uganda are warning ahead of the Global Refugee Forum that is taking place in Geneva this week.
Essential services that provide education, healthcare, protection and shelter for refugees and host communities in Uganda will shut down from January 2020 unless funding is urgently increased.
Uganda hosts more than 1.3 million refugees and more continue to arrive daily from eastern DR Congo and South Sudan[i]. Uganda is widely acknowledged to have one of the most progressive refugee policies in the world. However, the response is chronically underfunded. The 2019 Refugee Response Plan for Uganda is just 39 percent funded by December 2019.
"The lack of funding is already having a major impact on our ability to provide basic services to refugees in Uganda, many of whom have fled horrific violence and persecution, but we are now on the verge of a major crisis. Lives are at stake. By early 2020, funding will run out and force a number of vital services to start shutting down. There will be no money to pay teachers and health workers, and programmes that support some of the most vulnerable refugees will have to close," said Brechtje van Lith, Country Director of Save the Children.
Education: Funds to pay salaries for more than 1,000 school teachers will run out in early 2020, jeopardising the education of up to 100,000 pupils. Schools are now dangerously overcrowded, with up to 250 children crammed into dilapidated classrooms that urgently need repair. Lack of funding for inclusive education means only 25 percent of children with disabilities are attending school.
Healthcare: At least 200 health workers face losing their jobs from January 2020. Health clinics are already operating with shortages of medicine, trained staff and essential supplies. Cases of cholera have increased in recent months[ii], and health teams are working hard to prevent the further spread of Ebola.
Protection: At least 89 Child Friendly Spaces – where conflict-affected children get a safe place to play, learn and socialise – will have to close from January, affecting 52,000 children. Protection staff are already extremely overstretched and dealing with an average of 99 cases at any one time – four times the global standard of 25 cases per worker. This is putting the most vulnerable refugees at increased risk of abuse and neglect.
Nutrition: Malnutrition rates are rising again after improvement over the past two years. Latest assessments show Global Acute Malnutrition (GAM) in some refugee settlements has risen to 13.9 percent, approaching critical emergency levels[iii].
Mental health: Agencies providing mental health and psychosocial support services will have to close up to half of the facilities from January 2020. This comes as recent research shows a rise in suicides in the refugee settlements over the past year[iv].
Shelter: Funding for new shelters has almost dried up. More than 10,000 recently arrived refugees are particularly vulnerable and include people with disabilities, unaccompanied children, widows and elderly people. Lack of shelters is putting them at increased risk of theft and sexual violence. A recent assessment in one refugee settlement found 60 percent of highly vulnerable people do not have access to a safe latrine.
Livelihoods: Funding for livelihoods has been significantly cut and young people are increasingly frustrated at the lack of opportunities and hope for the future.
Environment: The lack of shelter and livelihoods support is also forcing many families to chop down trees and other natural resources, increasing environmental degradation and conflict between refugees and local communities.
Water and sanitation: Families are often queuing for hours to get clean water as supplies run low. Several settlements have less than 50 percent of the latrines that are needed to safely serve the population. The shortage of sanitation facilities and options for menstrual hygiene means women and girls struggle to manage their periods.
"The lack of funding calls into question the commitment to share responsibility that is at the very heart of the Global Refugee Forum. In our daily work we see the devastating impact of the lack of funding on people's lives and futures. The international community must step up and ensure that vital services can continue. What happens next in Uganda will have global implications for how the world responds to refugee crises. Uganda is the global test case that must not be allowed to fail," said Jean-Christophe Saint-Esteben, Country Director of Danish Refugee Council.
As part of its commitments to the Global Compact on Refugees and its Comprehensive Refugee Response Framework (CRRF), Uganda has developed detailed costed plans for education, health, and water and environment, and has taken significant steps to develop plans for jobs and livelihoods and sustainable energy response. These plans set out exactly what international support is needed to meet the needs of refugees and host communities, but are critically underfunded. Increased support from both humanitarian and development donors is urgently needed to ensure that the Global Compact on Refugee and CRRF concepts hold water.
The statement is made by 40 NGOs in Uganda:
Action Against Hunger, ADRA, American Refugee Committee, AVSI, AAR Japan, Ayuda en Acción, CAFOD,CARE, Catholic Relief Services, Cesvi, ChildFund, Cordaid, Dan Church Aid, Danish Refugee Council, Diakonia, Farm Radio International, Fida International, Finn Church Aid, Finnish Refugee Council, Food for the Hungry, HEKS/EPER Swiss Church Aid, Horizon T3000, Humanity & Inclusion, International Justice Misson, International Rescue Committee, Jesuit Refugee Service, Malteser International, Médecins du Monde, Norwegian Refugee Council, Plan International, Save the Children, Soleterre, Street Child Uganda, The Johanniter, Trocaire, Tutapona, Welthungerhilfe, World Vision, Windle International Uganda, ZOA
---