Six leading NGOs join forces to end violence against children in schools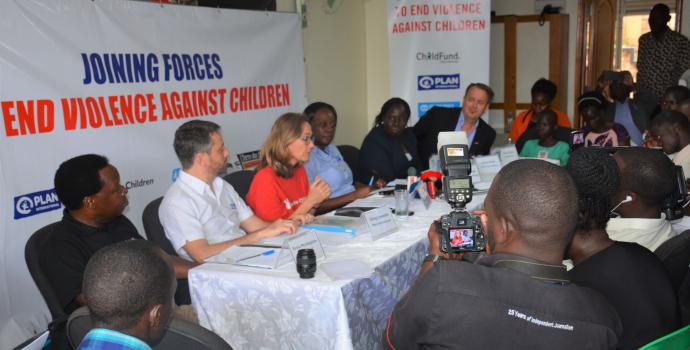 Six of Uganda's leading child rights organisations have today launched a joint collaboration called "Joining Forces" aiming to speed up progress on achieving the Sustainable Development Goals (SDGs) for children, with a focus on ending violence against children in schools.
Violence in schools in Uganda is one of the biggest barriers to quality learning and a main cause of children dropping out of education. 94% of girls and 86% of boys who have experienced physical violence first suffered it at the hands of a teacher, and 1 in 4 children missed school in the last year after experiencing violence[i]. Laws that are in place to ban violence against children are rarely enforced.
The Joining Forces NGOs – ChildFund, Plan International, Save the Children, SOS Children's Villages, Terre des Hommes and World Vision – will work together in Uganda and globally to strengthen the implementation of laws affecting children; improve child protection systems; and promote ideas and innovative solutions that are developed and led by children.
Learners frequently report a range of violence in schools, from corporal punishment and sexual abuse to bullying and emotional violence. Violence is widespread despite laws against it – for example, corporal punishment is illegal yet 75% of Ugandan children report having experienced it[ii].
"Violence in schools is one of the biggest issues facing children in Uganda today. Schools should be a place where children can learn in safety, but too many children are afraid while they are in or around the classroom. There are numerous good laws and policies in place to protect children, but there isn't the will or resources to enforce them.We need to work together to end violence and ensure children can get a proper education," said Brechtje van Lith, Save the Children's Country Director in Uganda.

"Together we can and must put an end to the violence that is robbing our children of their childhood. That's why we are joining forces to share expertise, information and innovations, so we can have even greater impact for children in Uganda," said Olive Lumonya, Country Director of SOS Children's Villages. "We all have a role to play. The government should allocate resources and ensure laws are implemented. Parents, teachers and communities must work to change attitudes. We must also ensure that children's voices are heard and children participate in creating solutions."
Together the Joining Forces organisations run education programmes in more than 1,600 schools that reach more than 1.5 million children across all regions of Uganda. The coalition will work closely with other organisations and the government at national and local level.
The first ever national survey of violence against children in Uganda, launched earlier this year, found that 3 in 4 young adults have experienced some form of violence – either physical, sexual or emotional – during their childhood. The majority of children (68% of boys and 59% of girls) have experienced physical violence, while 1 in 3 girls and 1 in 6 boys suffer sexual abuse[iii]. The scars can last a lifetime and often result in mental health issues and psychological distress during adulthood.
Joining Forces is calling for greater investment in ensuring safe, quality learning – particularly by allocating funds for school inspection and supervision to ensure policies are implemented, and providing gender-equitable facilities such as washrooms to reduce the risk of violence against girls. The coalition is also working for the adoption of the Human Sacrifice Bill and Sexual Offences Bill, which if passed would help protect children from violence.
Joining Forces is also committed to supporting child-led solutions to detect, report and prevent violence against children, and to helping strengthen national child protection systems. For example, it is piloting "Plan Z," an innovative programme which engages children to identify their biggest problems and develop prototype solutions; and is working with the government and civil society to develop and strengthen the new "Sauti" 116 toll-free National Child Helpline, which people call to report violence against children and currently receives 500-700 calls every day.
Joining Forces will also work with children to produce a series of national Child Rights Situation Analyses (CRSA), to provide much-needed information and analysis to improve national planning for children's rights and the implementation of the SDGs. These will feed into a Global Child Rights Progress Report featuring Uganda and up to 20 other countries.
#JoiningForces #EndViolenceAgainstChildren
Notes to editors
The Joining Forces initiative was agreed by the CEOs of the six organisations in 2017. It focuses on two key initiatives: Ending Violence Against Children – a national level effort in five pilot countries including Uganda, where it will focus on ending violence against children in schools; and Child Rights Now – an advocacy push in up to 20 countries to renew political commitment to child rights through implementation of the SDGs and support for the UN Convention on the Rights of the Child.